She has survived four marriages, two hip replacements, a visit to Betty Ford, a knee replacement, and a near-fatal bout with encephalitis. But her personal struggles have only endeared Liza Minnelli to us all the more. In the collective unconscious, she has become our Auntie Mame. She is the glamorous, eccentric, jet-setting elder stateswoman who lives on her own terms and has an entourage of fabulous friends. One of her most famous friendships, with the iconoclastic star of stage and screen, Alan Cumming, was highlighted during a two-night, sold-out engagement at Town Hall in Manhattan on March 13 and 14, to celebrate Liza's 67th birthday.

She arrives on stage in a glittering black pant suit, with her jet-black hair in that signature coiffure. By her side is Alan Cumming, 48, slim and natty in a dark tuxedo with a sleeveless pastel button-down.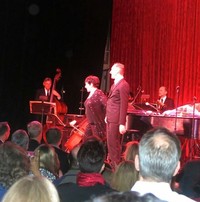 Behind them is an 11-piece band in front of a red curtain on which hangs a sign that flashes "Liza & Alan." After some chatter, they belt out New York, New York before Liza leaves Alan alone on stage to sing and tell stories. He is good, very good. An adept vocalist, he does some pop, like a show-stopping mash-up of Adele's Someone Like You mixed with Lady Gaga's Edge of Glory and Katy Perry's Firework. He also does some show tunes, like Wig in a Box from Hedwig and the Angry Inch. And he is a witty story teller, sharing anecdotes about suffering a concussion backstage while starring in Cabaret, and vignettes from his stage work in Scotland. But all we can think about is Liza waiting in the wings. Alan tells us that their prodigious friendship began in 1998 when he was playing the Emcee in the Broadway revival of Cabaret. She walked into his dressing room after the show and announced "I want to be your friend forever."

And despite her complicated life and his budding career in film and television, Liza and Alan have always made time for each other. When she was bedridden with encephalitis in 2000, they spoke every day, discussing each detail of his schedule using the collective pronoun, "we're going to a restaurant tonight" or "we've got a gentleman caller" so she wouldn't feel cut off from the world beyond her sickbed. But the duo had never considered performing together until Alan's long-time friend, Daniel Nardicio, a nightclub promoter who frequently holds events on Fire Island which cater to a gay crowd, invited Minnelli to headline a show with Alan. To everyone's great surprise, she said yes.

"It sounded like fun," said Cumming, grinning and slightly tipsy, after the Town Hall show on Wednesday.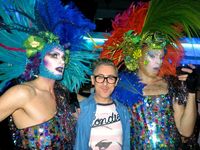 But as it turns out, the first Liza and Alan show wasn't so fun, at least not for the performers at the 500-seat Ice Palace in Cherry Grove, Fire Island on August 4, 2012. It was one of the hottest days of the year, and the air conditioning was out. "Everyone was complaining," said Nardicio. "But Liza was all about the show. She never once complained." Instead, the showbiz legend found her way to the meat locker where she sat on a beer crate, smoked a few Marlboro Lights and waited for her turn on stage. The New York Times hailed the show as a seminal moment for Fire Island. "It was like a Papal visit," said Alan. "If you can imagine the Catholic Church full of homosexuals."

Nardicio had arranged for Liza and Alan to stay at adjoining vacation homes at an estate in Cherry Grove. They had scheduled a weekend trip, but everyone had so much fun, they all ended up staying for almost a week. "It's hard for me to talk about Liza without tearing up," said Nardicio before the Town Hall show on Thursday. "On stage she has razor-sharp instincts. But in person, she has this magical, childlike quality. And she's got a real broad's laugh!" He noted that she is at her best and happiest when she's around people. So when they spoke after the Fire Island show about doing a bigger show on Broadway, she chose to do it around her birthday so she could celebrate with Alan and her new Fire Island friends.

"This is the first show that's ever gone from Fire Island to Broadway," announces Alan from the Town Hall stage. After winding down his Hedwig song, he says, "I have three words for you: Liza! Fucking! Minnelli!"

She runs through the tunes she is best known for, including Liza with a "Z", Ring Them Bells, and a haunting rendition of Charles Aznavour's gay anthem What Makes a Man?, which brings the crowd to its feet, dabbing tears. The four-time divorcee is particularly poignant on He's Funny That Way, a jazz standard about finding true love, which Liza has certainly found with her co-star and with this audience. She is both grandiose and casual. "I did something stupid to my knee. Do you mind if I sit down?" she asks. She sniffles and blows her nose to segue into her Sally Bowles character before she belts out the title song from Cabaret. With a flourish of jazz hands and a snap of the neck, Liza announces, throughout her one-hour set, I'm still here, dammit, and I've still got it.

Alan and Liza close out the show together with songs from Cabaret, the show that first brought them together 15 years ago.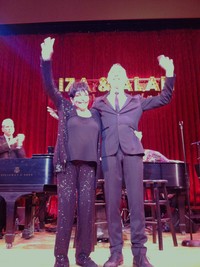 Their stage chemistry is magnetic, giddy, even, bumping pelvises on Money Makes the World Go 'Round. Nardicio says he is "fielding offers" to develop the Liza & Alan show further. A CD is in the works, and the possibility of a world tour is being discussed. But regardless of where the show goes from here, it is certain that Liza and Alan have blessed each other with showbiz cache. Her legendary status has added a certain levity to his game, and his edginess has injected her act with a certain vitality. At 67 years old, you could say that Liza's got more than her share. She's got a man crazy for her. Alan's funny that way. Photos for this story courtesy of Gerry Visco.