Note: Do not read on if you have not seen Season 10, Episode 21 of ABC's Grey's Anatomy, titled "Change of Heart.'"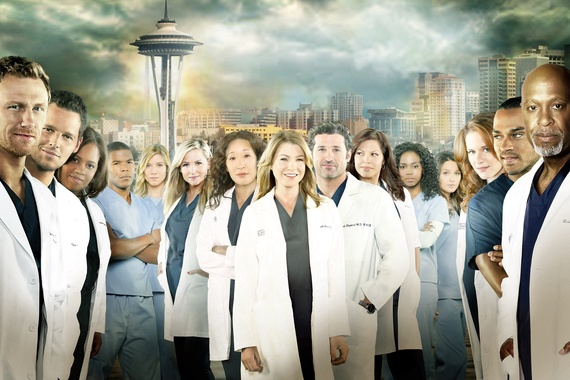 Here's the crazy, stressful, sad episode I've been waiting for. It's not like I want things to go wrong, but what comes up, right?
Webber goes to Boston to see Catherine for a romantic rendezvous, but it also ends up being a deposition as to why Yang lost. What's the Avery Foundation's beef? Turns out it's that she works at a hospital co-owned by the foundation. And now we know why Yang will be leaving. She can't fulfill her dream where she is. It felt like the whole world crumbled: Webber asks Catherine: "No doctor from Grey-Sloan Memorial will ever win a Harper Avery, will they?" And then he doesn't propose. It's horrible.
Moving on. "If they cut my funding, I cut their tires!" That may be the best Meredith line of all time. Jackson has to run around evaluating research and everyone's already mad at him. Meredith is pissed and jumpy, like a pit bull who sees a bunny. She's even down to interrupt her 'date night' with Derek in the OR to yell a bit. She wants to defend Cristina, but Cristina has bigger distractions.
One of the heart kids' transplant goes bad. Karev and Arizona hop on a plane to pick it up and duke his next career moves out (another one bites the dust). But then another one of the kids needs the heart and it's a gut wrenching horrible moment where she has to decide which kid lives for a family. They yell about it and at her anyway. Cue the faraway "I'm leaving" stare we've been getting used to.
On a lighter-ish note: how sweet was Owen's relationship pep talk with April? I never noticed how much of a stud he is. Must be that vulnerability in admitting that he and Yang are never, ever, getting back together.
What did you think of tonight's drama? Will Bailey ever have something work out for her? Are Jo and Callie BFFs? What does Amy have to do with anything? Commiserate with me.
in the comments or @karenfratti.
"Grey's Anatomy" airs Thursdays at 9 p.m. ET on ABC.