Note: Do not read on if you have not seen Season 6, Episode 2 of CBS's The Good Wife, titled "Trust Issues."
Sorry for the tardiness on the recap, guys, but I was moving and trying to chew on Cary still in jail, Peter snapping at Alicia, and Taye Diggs. Just everything about him.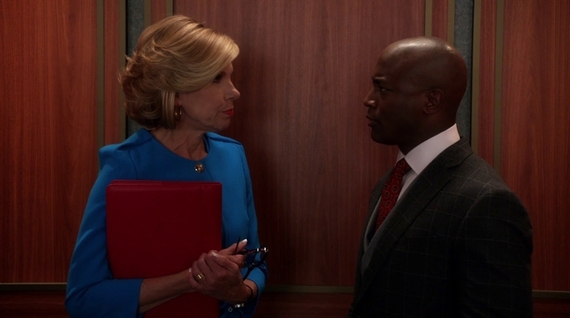 1) Let's talk about Bishop. He's being betrayed by his top aide, he's being subpoenaed, and cheering on his son at soccer. He's also withdrawn his bail cash, so Cary really is in for it. Kalinda and Diane crack the State's Attorney CI code. Bishop kills the best witness.
2) Valerie Jarrett shows up and is apparently BFFs with Eli. Between their goofy phone prank, the real estate mogul offering Cary's bail money in return for future favor, and the leaked poll, this election thing is possible. Let's take bets: will Alicia run or not? How did Eli put it? "Sometimes things just happen... college students vote!" I want to hug the writers for making Eli the best character ever.
3) Diane has enlisted Taye Diggs to join her at F&A, even though Gunter showers in the bathroom. They also want to bring a whole crew, which is sort of exactly what F&A doesn't want. And though Cary didn't really want to vote them all in, he does get out on bail from it. I'm so glad Diggs is here with us. So long, LG.
4) Peter needs to watch his mouth! Alicia asks him to help her sign off on a loan on her house. Firstly, why is on that thing? Second, he's finally getting snappy. He's paid for his sins, maybe. And he has a point about it not being the best of ideas, politically. But he's finally calling her out: she's different from when we all started this thing. Thank goodness.
Other things: Every renovation gag was perfectly cheesy and Robyn, while irritating, is starting to grow on me. Can Gunter be a recurring character? Also, the montage where Cary walks Alicia through the depositions -- Good Wife-y violin track and all -- was a good reminder as to why we watch this show in the first place. Bring it on season six.
What do you think about the plotlines so far? Let me know @karenfratti.
The Good Wife airs Sundays at 9 p.m. ET on CBS.