I lived in Brooklyn for five years and after a life of loneliness (my friends deemed Brooklyn to be about as far away as Florida), I decided to move over the bridge to Manhattan. I rented a shoebox-sized apartment (300 square feet) downtown and was just happy to be back in civilization where my friends would come and visit me. A fourth-floor walkup, the space was described somewhat generously as a one-bedroom.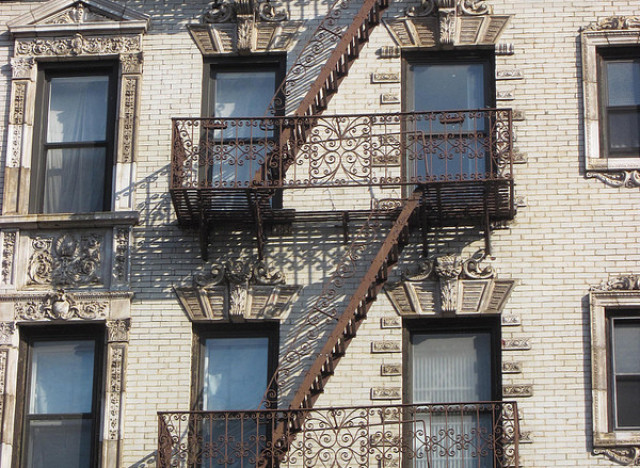 A classic example of a New York walk-up. Flickr photo by DougTone

I had one window which looked into an air shaft where a weird man would stare at me, and my apartment smelled like sweet and sour chicken. I had to climb over the sink to get to the tub, which was actually more like a crypt. The most disturbing part was that what looked like urine would leak through the ceiling from the apartment above. It felt like I was paying $2000 a month to live in a tenement.
The turning point came when the landlord said he was raising the rent. I started looking for something cheaper and couldn't find anything, so that's when I decided to take the leap, scrape together my savings and buy a place. I didn't want cookie-cutter: I was looking for something older with character. I found it in an elevator building just off Union Square. The 500 square-foot apartment had original details like old wooden beams, crystal doorknobs and exposed metal door frames.
Due to lack of funds I lived with things as they were for a while. The bathroom was something special: The shower pressure could only be described as a gentle spring rain; it took me half an hour to rinse the shampoo out of my hair. Moreover, the faucet leaked boiling hot water on my feet, so I had to cower in the corner in fear of third degree burns. The tiles were all broken and the toilet was temperamental, but despite all that, I saw potential.
A year and a half into my tenure, I decided it was time to get cracking. First to go was the tiny poorly-configured kitchen which lacked cabinets and had a stove that turned on when it felt like it. One night, I accidentally set the formica countertop on fire when I was searing tuna.
We reconfigured the space, which was no easy feat. We extended the countertop so it was under the window to maximize the counter space, moved the refrigerator, added a dishwasher and arranged the gas lines in such a way that the stove was no longer in front of the window. We also splurged on a Viking range and marble countertops. The kitchen is still tiny, but it's functional and elegant. It look three months and I had to move into a different apartment while it was under construction, but I love it and wouldn't change a thing.
Then it was on to the floors. Originally honey-colored parquet, I knew it was time to switch them out when, more than once, my stilettos sank into them. We chose long, narrow planks in engineered hardwood in lieu of choppy squares. As soon as they were installed I regretted my mistake. They were scratched immediately, and they just felt fake -- they weren't solid and they felt like they were floating under my feet.
Next was the wall in the living room, the focal point. I didn't do anything structurally, but this was a chance to flex my design muscles. I saw an image on the Wary Meyers site and asked my contractor to copy it. My color palette is white, black and shades of grey. I love black and white photography, coffee table books of obscure photographers, my cowhide rug (which was too cow-y at first so I exchanged it for a zebra-print version) and my assortment of photography, decorating and anthropological books, like "The New American Ghetto." It took me a while to get the curtains just right, but the magical combination of Restoration Hardware and Ikea did the trick. The key is to give about a 2-inch break at the bottom for the best 'pooling' effect on the floor.
The tiny bedroom was typical Manhattan: I had the requisite under-the-bed sliding drawers (by then they knew me well at Bed, Bath and Beyond), and a ceiling-height armoire to maximize storage. My shoes and coats had to be stored separately. I wanted a more subdued, different kind of glamour than the rest of the apartment, hence the robins egg blue and gold floral Cole & Son wallpaper.
A few years later I had saved up enough to start on the bathroom. Sayonara to the bathtub! We reconfigured it to maximize the space, which involved moving plumbing under the floor. We also moved the toilet from one end of the bathroom to the other and added a pocket door, which, though it involved ripping out the entire hall, was worth the hassle because it saves so much space.
Of course there were problems. Nobody told me that marble stains, so I would not have done the shower in marble, or I wouldn't have gotten a bench where the water settles. But I love it every day. Every day I plop my butt down on the toilet in there I appreciate its beauty. The water pressure is also a million times better -- and there's no longer a need for a paramedic on hand every time I shower.
With patience and time, my 500 square foot abode now feels downright palatial. As a New Yorker, you get used to foregoing traditional conveniences, but I'll happily take my single-closet apartment and minuscule sleeping quarters in exchange for the character and charm that comes along with it.