You don't understand. I never stay up late. I don't go out. I don't drink. I don't do coffee. I like to be in bed no later than 11p.m. When I heard Purple Lab and I would have a 2 a.m. slot on HSN, I immediately panicked. How would I make it?
Lots of sugar-free Red Bull (I know it's poison, but I had no choice). Lots!
First of all, for the slot, I got decked in purple Proenza Schouler sequins and skinny Current/Elliot jeans. Six inch heels go without saying. Hair, kind of Farrah'd out for the night.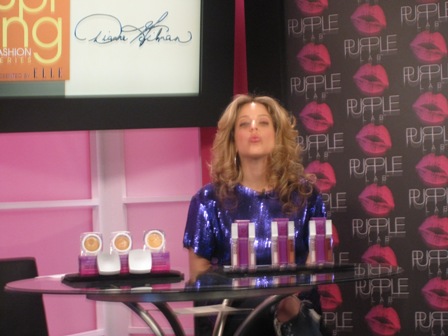 Bobbi Ray Carter, a sprightly petite brunette with loads of good energy, hosted. And I have to thank her right now. It was the first time she did a 2 a.m. spot in 27 years. Bobbi - to what do I owe this honor? Mwah!
I got to the green room at midnight and watched Diane Gillman's show, which was right before. The woman is madness on HSN! 28,000 pairs of jeans sold in two hours! I worship at her altar!
Her models were also wearing Purple Lab makeup!
I'm a fan of the cross promotion! Bobbi was donning her white skinnies - and looking skinny!
Oh! Gigi Levangie called in to give a testimonial! She's the best-selling author of Queen Takes King, Maneater, and the Starter Wife, which was a Lifetime movie with Debra Messing. And she said Huge Lips Skinny Hips is the only gloss she uses! Love you, Gigi!
When a caller is on the line, there's a screen on set that says "Phone Call from Gigi, Los Angeles, CA" to alert you. The first time we had a call in, I got so excited and blurted it out.
Oops! That's what the hosts are supposed to do.
I was totally loopy after the show - oddly high on energy and exhausted at once. I had a 10 a.m. flight back home the next day. And when I got there, I literally slept for sixteen straight hours!
Before I sign off, I thought I'd share two pictures and moments.
This is Jen Bates, one of the producers I worked with and fellow Jersey girl. She was on hand at speed dating as well, capturing it on film (will have footage soon).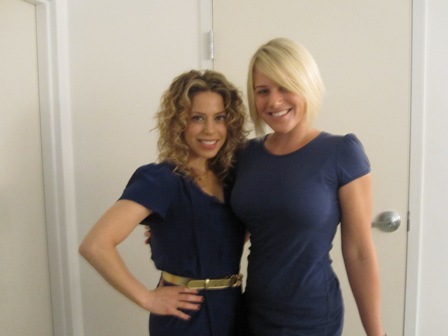 I'll be back on HSN in April (click here for the dates). There will be new shades of Huge Lips Skinny Hips and Lashionista Modelista in midnight blue (it's so dark, it's like black but the blue brings out the whites of the eyes - it's called Modern Classic because, like a trench, it's a staple we should all have in our repertoire).
Be on the look out for Purple Lab's new luxe, silicone-free primer, Pearlesque Show. Details to be revealed soon.
Mwah!
Karen
Purple Lab Creatrix