A break in the journey to share some breaking news: Purple Lab is going on HSN!
Yes, HSN!
HSN was the whole reason Todd and I went belly up, stressed, cried, freaked out, lost sleep, and gave up our lives for the past two-plus years. And the day has finally come - or will come, I should say, in February.
For alerts, please click here so you can watch - and while I'm at it, I'd love for you to sign up for our newsletter on our own site (I never send junk!).
But I am far from ease - I'm in the midst of planning the world's largest speed dating event (more news on that one next time), thirty HSH screening parties across the country, massive promotion, and what the focus is on today's post - a model search to find a face for Purple Lab for the HSN debut!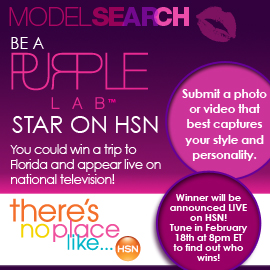 Forget supermodel. I want a "purplemodel." My mantra: Beauty comes in all shapes, sizes, colors. You don't have to be two-pounds and a gazillion feet tall. It is really about the energy of Purple Lab - confidence, savvy, fun and glamour (whether it's in your attitude or in your life).
So I'm not searching for the unattainable, 5'11" next Gisele. I am searching for a real woman, someone who emodies the spirit of the brand - sassy, sexy, glam, smart, sophisticated, chic, cheeky, all wrapped up in one. No age limits required (just have to be over 21 years-old to enter).
HSN reaches 90 million homes, so the winner could be on national TV, showing off Purple Lab's makeup products in front of millions!
Millions!
Enter a photo or video here! You can share, vote, comment. There are additional prizes for the most viral and runner's up. So please come play with us.
When it gets down to the top 100, HSN and Purple Lab will choose a winner, who will be announced LIVE on air on February 18th at 8p.m. ET.
Tune in to see who works it with us! YOU could be on air in millions and millions of homes!
Mwah!
Karen
Purple Lab Creatrix