Our seven-year-old daughter loves chocolate. She also loves Paris.
Put the two together, and you don't just have the totally unsanctioned, sugar-laced, chocolate tour of the City of Light. As a bonus, you also settle the eternal argument of which is better -- dark chocolate or light chocolate?
Erysse (rhymes with Paris) had but one wish for her recent visit to France, and as responsible parents -- well, sort of responsible parents -- we felt obligated to fulfill it. Of course, the French capital has dozens of renowned chocolatiers, so we left this decision to the professionals. Our tour guide, Alex, who runs Discover Walks Paris, selected three of the top Parisian chocolate shops.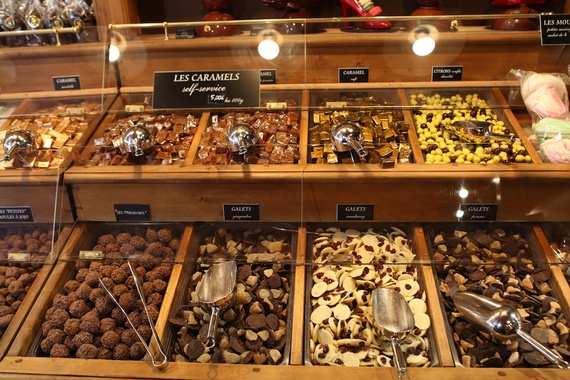 The places proved to be as varied as the Paris chocolate scene: one chocolatier created its own confections from beans to box; another processed block chocolate into some of the tastiest confections in the 4th Arrondissement. Yet another treated chocolate as art, fashioning all manners of chocolate sculptures for shoppers to gaze at longingly from the display window. They were too beautiful to eat.
After an invigorating walk from the Pullman Hotel, where we were staying, we met up with Alex at Alain Ducasse chocolatier the day after the man himself had prepared dinner for both the French and Chinese prime ministers at the Chateau de Versailles. Talk about pressure.
Ducasse is obviously a purist. They buy raw cocoa beans, roast them on sight, process them and then fashion them into small, delicate chocolates that melt on your tongue and cost a fortune.
Chocolatiers are notoriously camera-shy. After all, they don't want to give away all their secrets. So at the sight of our professional cameras they nervously pointed out that taking photos was strictly prohibited.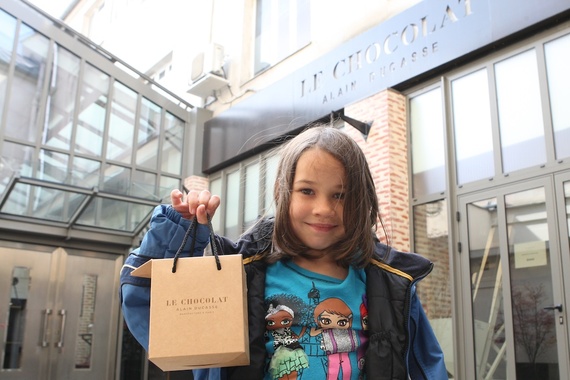 Fortunately for us, eating chocolates was not. And there were plenty of samples to be had, along with the fascinating story of how Ducasse came into the chocolate making business. Turns out his sous pastry chef was planning to leave his employ to start his own chocolate factory. Ducasse, who had worked with the chef for many years, didn't want to lose such a valuable employee and insisted in backing this new business venture. And what an operation it is! They provide the unique rich chocolates for all the Ducasse restaurants across the globe.
Personally, we've never seen someone use so many nuts in a chocolate bar as these guys. Among our favorites: an egg-shell cleaned and steamed out and lined with dark chocolate. After three or four layers coat the inner shell, the egg it is filled with a decadent praline mixture featuring hazelnuts.
Our tour was conducted entirely in French, with Alex translating. But you know something? When you're talking about chocolate you don't really need a translator. Chocolate is the universal language.
Oh, and in case you're keeping score, dark chocolate 1; light: 0.
A short walk past the Bastille into the 4th Arrondissement, and we were at our next stop, Benoit chocolates. Madame Benoit, the proprietor and sister to the chocolatier, greeted us and proceeded to show us her Easter creations.
The top-selling items at this time of year? Any number of animal shaped chocolates are involved. There were chocolate Easter bunnies, fish, and birds. And all of them delicious.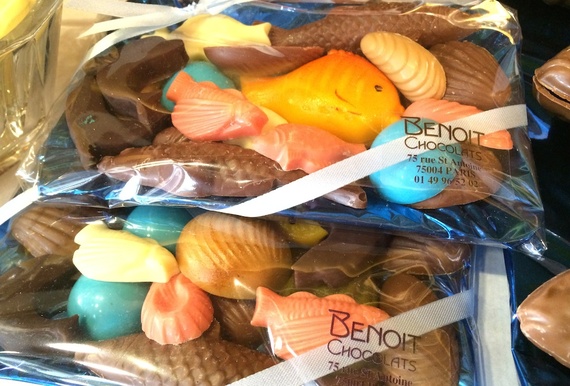 Yet it was the more delicate chocolate blocks that are available year-round which drew the attention of our two boys, ages eight and 11. So our host at Benoit offered them a blind taste test, which they aced. We're so proud of them.
Our favorites? The dark chocolate filled with tangy passion fruit and the one-inch-square milk chocolate covered caramel ganache that seem to dissolve on your tongue and linger there for half an eternity, allowing you to transcend the world of flavor.
The adults were drawn to the award-winning Caramades. They are oversized triangles of thin praline crisps covered with a generous layer of milk or dark chocolate. Incredible.
A few blocks away, there's a quirky little chocolate shop that makes pedestrians do a double take. Its founder has a very special designation, which requires little explanation once your eyes travel to the shiny, intricate sculptures with finely detailed features all made of chocolate.
Yes, at Maison Georges Larnicol they take chocolate to the elevated level of fine art. Our favorites were the bees, lady bugs and flower sculptures in dark chocolate with tinted white chocolate accents, but we caught many people filling up a sexy red stiletto with a handful of les boules a Jojo chocolats, a round chocolate with a crispy outer layer and gooey praline inside.
Monsieur Larnicol is recognized as the Meilleur Ouvrier de France, or best in his class as determined by his peers. But we can't tell if this was strictly because of his artistry as a sculptor or his chocolates. Perhaps it was a little of both.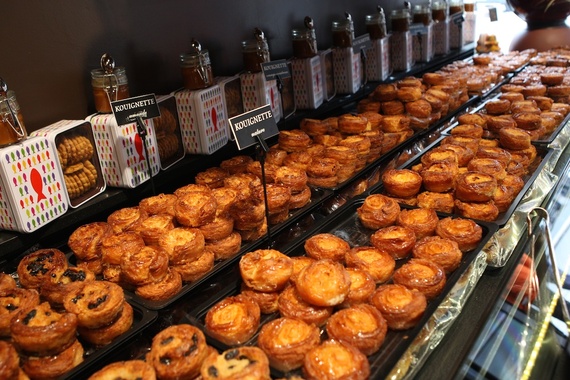 Unlike many chocolate shops in Paris, Larnicol pays homage to his heritage. His original shop is in Brittany, where it is customary for a chocolatier to also offer a selection of pastries. So at all his shops you can come and grab a Kouign amann, a traditional buttery Brittany cake, for now and save your chocolates for dessert or gifts.
Even though it's a city known for amour, Paris is also passionate about its chocolate. We only stepped through the doorways of a handful of shops, but the decadence and rich texture combined with the tangy fruit compotes and nutty pralines leads us to believe that there may be more chocolate treasure to find.
And more milk chocolate, if you please.