High in the Canadian Rocky Mountains, where ski resorts go by strange names like Norquay and Marmot, ghosts are everywhere.
And it's not just snow ghosts -- the towering pine trees draped in snow and encrusted by a layer of ice -- which sparkle against an unforgivingly cold blue sky. It's the kind that send chills down your spine.
Western Canada is, for lack of a better word, a spirited place. And there may be no better time to discover its otherworldly qualities that during the winter, when we visited with our family.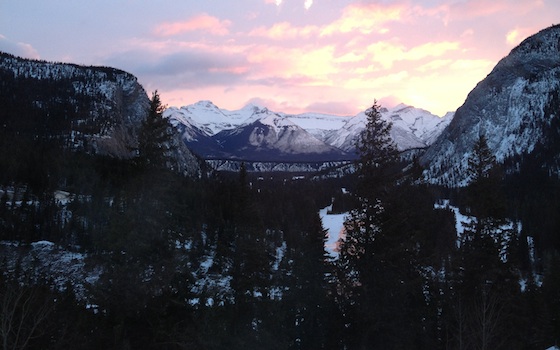 You're going to Canada when?
Yes, winter. When we told our friends we were visiting Alberta during the coldest time of the year, they thought we'd lost our minds. That's a perfectly natural response when you live in Florida, and the average temperature is in the mid-70s.
By contrast, the Canadians were impressed by the balmy 20-some degree temperatures (not including the wind chill) when we arrived.
Most visitors to this region arrive in Calgary and head out to Banff, which is within striking distance of several great ski areas, including Norquay and Sunshine Village. But we did it the other way around, flying into Edmonton and trekking across the plains by rail.
In researching this leg of the trip, the train ride from Edmonton to Jasper on Canada's VIA rail, we found our first ghost. No, we didn't see anything out of the ordinary, but our two youngest boys were asking us to explain this video of a VIA ghost train they'd found online. We couldn't.
Ghostly ice formations of the canyons
In Jasper National Park, just a few miles from where we were staying at the Fairmont Jasper Park Lodge, the strangeness continued when we visited the icy Maligne Canyons, the deepest caverns in the park.
Reaching the bottom of the deep canyon isn't easy. You have to strap on a pair of ice cleats over your boots. Our adventure started at twilight, which only added to the mystery. Every crunch of ice and howl of wind above the narrow canyon ramped up the tension. Our oldest son asked, "Are there wolves?" Yes, said our guide, but you don't see them often, and they're not dangerous.
Columns of ice formed by the still active river's flow glowed translucent and ethereal in the light of the headlamps needed to navigate the icy river bed as night descended. Then the clouds crept past the moon to reveal a thousand stars set in the sky. As one of the world's largest dark sky preserves, the Japer area is ideal for stargazing.
Spooky? Sure, but it wasn't until we arrived in the nearby Marmot Basin ski area that we heard our first authentic Rocky Mountain ghost story.
A spirit with ... spirit
Charlie Dupres was known for his practical jokes as well as his wild runs at the mountain. So it shouldn't be surprising to hear about how he still likes to move things and make prank phone calls to the mountain lodge. Never mind that he's been dead for more than 50 years.
In 1955, Dupres was killed in an avalanche in what is now known as Dupres Bowl. A few years later, there were some unusual experiences at the Eagle Chalet, where Charlie's equipment is on display. And according to wardens at the upper chalet, he would cause the phones to ring during the night.
When we visited Marmot, we didn't get any prank calls. Then again, our cell phones were buried deep in our ski jackets. We did, however, find plenty of uncrowded runs and snow the consistency of powder sugar.
Reflections of the lost
A few hours to the south, at Lake Louise, the ghosts are a legacy of conservation.
The story does go back to 1896, when Philip Stanley Abbott became the first person to die in a rock climbing accident in North America. The Canadian Pacific Railroad had developed the Chateau Lake Louise as a hotel for outdoor adventure and alpinists and decided they needed to bring some professional guides on site to help train their guests in the sport.
These Swiss and Austrian mountain guides brought more than safety to the area. They can be thanked for starting the ski industry and our favorite apres ski food - specifically, fondue.
And before the Chateau Lake Louise, the Canadian Pacific Railroad built the Banff Springs Hotel sometimes known as Canada's Castle.
What happens at the Banff Springs Hotel stays eternally
The original building was erected in 1888, but the current configuration was reimagined in the 1920s after fires and other problems plagued the address. The ghosts from those fires have reportedly moved on, but there are still a host that haunt this historic hotel.
Our favorite story was that of Sam McCauley, the old bellman. Sam was a dedicated employee at the hotel and enjoyed his job so much that he didn't want to retire. He would tell regular patrons that he loved it so much that he would probably return to the castle after his death. In 1978, he was forced to retire but passed away before he could pick up his last paycheck.
Then a funny thing happened. Two women were locked out of their room and called down to the front desk for help. A short while later a bellman arrived to help them but they were already in their room.
They said an elderly gentleman in an old bellman's uniform let them in but disappeared before they could thank him. There were no current staff that matched this description on property.
It is said that since his death Sam McCauley continues to help guests into their rooms and with their luggage, always to disappear before they could pass him a tip or say thanks.
Ghosts in sunshine
Though we found all these tales fascinating -- a little eerie, too -- the ghosts that left the most lasting impression were the ones that lined the ski trails at the treeline of resorts like Sunshine Village and Norquay. They are a haven to life in the deadly freeze of winter.
If you are quiet and pay attention you can see that these snow-burdened trees are shelters to the weasel and white rabbit as they seek food and also hide the rare lynx looking for camouflage as it stalks its prey.
Their ice crystals glimmer in the sunshine and cast a ghostly blue in the moonlight as winter-weary sentinels of the Canadian Rocky Mountains.