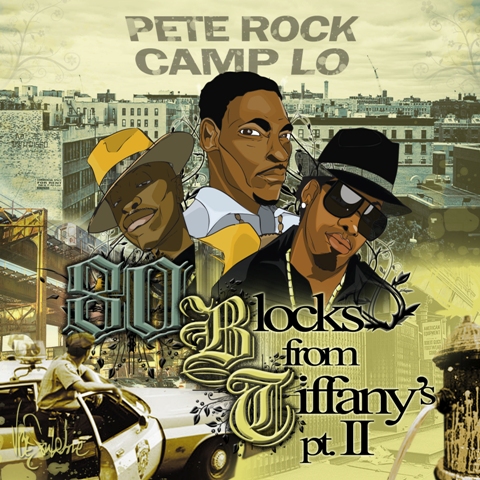 I'm from a different hip hop world. I'm '70s born old school hip hop from SounView Projects in the Boogie Down Bronx. I like my hip hop in basements, with beats banged out on tables, while brothers free style and battle. I like my hip hop raw over fat beats, and scratches in the records. I like music with funk you can feel in your gut. The dirty south bottle poping blinged out hip hop is not really my thing, (no disrespect). I respect the game, but I just don't play games with no clear winners.
Finally for me I have a winner as I listen to "80 Blocks from Tiffany's Part II" produced by the legendary hip hop beatsmith Pete Rock. Pete has always stayed true to his raw boom bap roots but remains amazingly current even amongst the most blinged out bottle popping crowd. His new mix tape and group is a perfect collaboration featuring lyrics delivered by the Bronx duo Camp Lo.
Camp Lo (members Sonny Cheeba and Geechi Suede) hit the music industry by storm in 1997 with the album Uptown Saturday Night. Their flow and originality makes the song Luchini a hip hop classic to most. The first collaboration we heard between Pete Rock and Camp Lo was the 2008 underground hit called "On Smash," also featuring Styles P. Pete Rock had this to say about working with Camp Lo on this project:" I decided to work with these specific dudes because I knew they would deliver something good. Teaming up with Camp Lo contributed to making this project authentic, explicit, and shocking." When asked about the very vintage but modern sound the mixtape has here is what Pete had to say: "It's basically a push and pull situation when it comes to the sound of the 80 blocks mixtape, but you also have a few joints on the mixtape that today's young generation can get with."
80 Blocks from Tiffany's Part II is named after a 1979 documentary about gang life in The South Bronx. The film was directed by Gary Weis. The mix tape also features Mac Miller, Ab-Soul (TDE), Talib Kweli, Uncle Murda and M.O.P. The mix tape is available starting today for FREE exclusively at www.Datpiff.com. This is the first time producer Pete Rock has released free music, and with him at the helm you know it pure fire. This is like no other mixtape in circulation right now.
Camp Lo who has been low key in the industry but around for years. They feel like they are bringing back something that had been lacking in the hip-hop community with this collaboration. Here are their thoughts on the project: " By combining Pete Rock's beats with our flow and releasing free music to the hip hop community it give us an opportunity to bridge the gap of true school to the new school." My advice download this incredible contribution to Hip-Hop now before it's to late.
Click here to download 80 Blocks from Tiffany's here