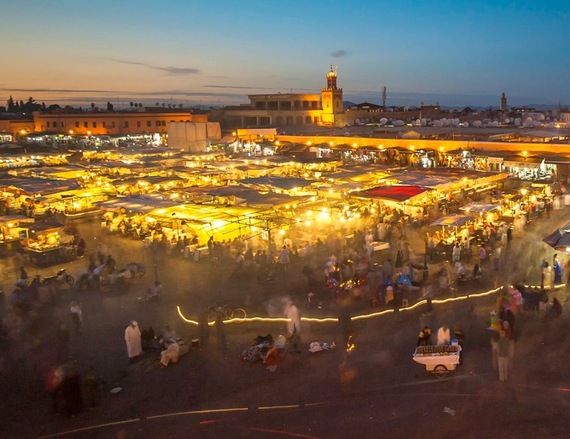 In seven short years, the Hult Prize has catapulted to a leadership position in the impact space. The Hult Prize is today a massive (650+ Universities) global platform for student-led innovation and entrepreneurship. Founded in 2009 by American entrepreneur Ahmad Ashkar, it was named 'One of the Top 5 Ideas Changing the World' in 2012 by President Clinton and TIME Magazine. Just this year, 8 of the 'Forbes Top 30 Under 30 Entrepreneurs Changing The World' were individuals who founded their innovative and game-changing companies as part of the Hult Prize annual acelererator. Companies launched include Aspire Food Group, WiCare, Plenoptika, Tembo, Impct, and many more who today employ hundreds of people and solve some of the world's greatest challenges.
In the US and other developed nations, investors are increasingly looking to impact enterprise (JPMorgan estimates $46bn of impact focused assets under management in 2014 alone). The technology stalwarts of Silicon Valley are shifting focus towards models of impact (Zuckerberg, Case, Stone, etc.). Michael Porter (Porter's 5 Forces), Harvard's famed strategy guru who founded the Monitor Group, is now focused on re-aligning some of the most successful for-profit companies around improving customer outcomes (impact) at his newest Boston-based firm, FSG.
Yet, the next billion-dollar impact opportunities are not in San Francisco or Boston - they are on the doorstep of Mumbai, Shanghai, Beirut, Istanbul, Brasilia, Accra, and other developing countries. These are the nations facing the world's greatest socio-economic hurdles, dealing with the aftermath of conflict, and managing increasingly strained physical resources. They must overcome great challenges educating, treating, healing, moving, and caring for billions of people, and consequently, will have tremendous opportunities for market-driven innovation. This unprecedented shift presents a fleeting chance for developing nations to lead rather than follow.
In an increasingly global and singular world where an Asian city steeped in history looks much like Arabian emirate, both littered with glass skyscrapers, and both built on a model of imitation rather than leadership, it is challenging for less developed nations to view themselves as offering a unique, innovative perspective worth sharing. Rather than seeking to solve their health, transportation, food, immigration, social, and economic problems in a better way, these cities and countries often choose the more convenient and easier route. They fly in the wrong experts, welcome large multi-national corporate bureaucracies with open arms, pay exorbitant sums of money to import know-how that doesn't fit (at the behest of aid agencies), and hire leading brand name consultants for advice that creates increasing cycles of dependency.
Africa alone will require an estimated 700m housing units over the next 30 years to meet a population that is set to double by 2050. The Middle East will need to create 35-40m jobs by 2020 just to keep up with current levels of employment. The time is now for nations to tap their resources in unique and creative ways to solve the greatest challenges they face. This will require confidence, courage, and a willingness to lead by accepting and embracing the possibility of failure on the pathway to developing alternative and better solutions. Domestic entrepreneurship and innovation focused on improving outcomes are key building blocks of this strategy.
With the above in mind, the Hult Prize has launched an innovative global development program that allows nation states around the world to implement the Hult Prize's methodology and framework in their country with the help of National lead entrepreneurs. This will enable local students to solve local problems and compete in a local accelerator for a significant monetary prize. The optimal characteristics for the launch of a Hult Prize National program are a vibrant University base, large and untapped market potential, and a robust legal framework to spur innovation and entrepreneurship. Nations with the above inputs who also suffer from huge crises (refugees, unemployment, regional instability, etc) are the better fit. Will you accept the challenge?