The acting is stilted, the orchestral score too sentimental for my taste, and the storyline etched in obvious contours. James Gray's film The Immigrant, the story of a Polish woman's hardships upon her arrival to Ellis Island, begins with a longing shot of the Statue of Liberty, and that sets the predictable tone. From the first dialogue, in which the woman (Marion Cotillard) pleads with big eyes to an immigration officer, "Don't take my sister!", the forced quality of the story does not change.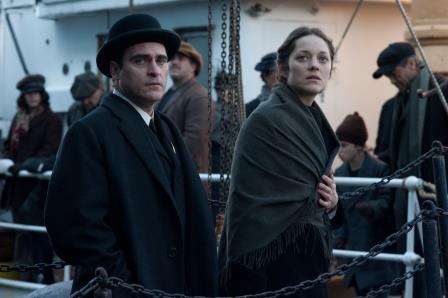 The core of the story is the psychological relationship that ensues between Ewa, the penniless immigrant played by Cotillard, and the devious louse (Joaquin Phoenix) who protects her only to suck her into prostitution, preying on her need to find money to get her sister out of the Ellis Island hospital. Bruno the pimp seems to both love and manipulate his vulnerable hostage, who sleeps on a couch in his home. Ewa hates and loves him as well, recalling, in a loose way, the Patty Hearst syndrome.
This relationship, while promising as a storyline, unfortunately lacks subtlety: the man is a loveable (and handsome) monster, the woman a wide-eyed victim. As for interiority, there is none. Cotillard's big brown eyes are actually too beautiful to reveal much; we see them--and the oh-so-feminine flickering eyelashes-- rather than anything going on inside the woman.
"Why is she so dumb?" said one female journalist leaving the screening.
One attractive element to this melodrama is the period sets: the boarding houses and cabarets of 1920s New York, filmed in sepia by famed cinematographer Darius Khondji. There is also the evocative background of the Great Hall of Ellis Island. To prepare for the look of the film, we learn, Khondji and Gray watched numerous atmosphere-rich movies, from La Strada to Godfather II.
But they also tried "to go completely away from these films," Gray told us in the press conference. "We realized that there is no way [...] you can show a street on the Lower East Side in the 20s and not have a spectator say 'Hey I see Godfather Part II'. So we also looked at autochrome photographs of the period as well as paintings, such as those of John Sloan and Reginald Marsh."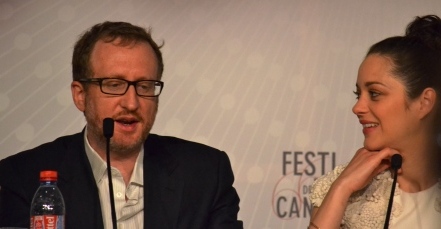 James Gray and Marion Cotillard
In terms of what Gray intended for this film:
I thought about opera with its grand emotions. My film is really about the sincerity of the emotions. One of the best quotes about movies is Stanley Kubrick's. He said he always wished movies could be more daring and more sincere. I wanted something so sincere that it would be daring, like an opera that has been put on film. I wanted to tell a fable.
He was inspired by the story of his Russian Jewish grandfather who arrived to Ellis Island in the 20s: "Few films have been shot on Ellis Island, which was a mythic station between 1900-1924, while 40 percent of Americans can trace a historical link to Ellis Island."
But, beyond the immigrant theme (a classic in Gray's films), why did the psychological story of the woman and her pimp, at the core of the film, interest him?
I bicycled to the after-party at the Magnum Bar to find Gray to ask him, over a glass (or two) of champagne.
"You don't seem to have understood the story at all," Gray admonished me, leaning forward with earnest eyes. "It's about self-loathing. Bruno hates himself for what he does. He's despicable."
Gray was referring to the most powerful scene in the movie, where Bruno, in a tour-de-force performance, breaks down in apologetic tears before Ewa, who reassures her abuser with tender love, gazing at him with big brown eyes.
"Yes I saw that," I said. "But I didn't see this self-loathing before in Bruno. I never got into what makes him tick."
"That is because the story is not about him. Unlike my movie Two Lovers, The Immigrant is told from the female perspective."
He paused with chagrin. "But if you didn't get this about Bruno, that means the movie did not work for you!"
'Well," I admitted. "I would have wished to have more of Bruno's interiority..."
"But what about the scene where he gets drunk? Doesn't that show how much he hates himself, how he prostrates himself before Ewa?"
"I just thought he was drunk!" I said.
I returned to the question of the Patty Hearst syndrome. Why was Gray personally interested in this?
"The Patty Hearst syndrome did not begin with Patty Hearst!" he exclaimed, brushing away a blonde fan who interrupted us. "She did not invent it! And why am I interested? Because the relationship between men and women is like that. Manipulation and power domination."
"Really?" I said. "I thought only my relationships were like that---but so it's universal!"
Gray laughed. "My film is about how patriarchy works, subjugates women. People like Ewa really existed. Do you realize that the great percentage of the immigrant women coming into Ellis Island were raped on the boats?"
I kissed him on the cheek and biked off.