This afternoon I met actor Will Forte, famed for his comic character sketches on Saturday Night Live,, to discuss his serious role as a caring son in Alexander Payne's new movie Nebraska which premiered this week in Cannes.
In the film, Forte plays David, the son of a poor elderly man (Bruce Dern) who is convinced he has won a million dollar lottery. The first shot is David finding his elderly father tottering on the road en route to Nebraska (two states away) to redeem his ticket. Despite the oddness of the situation and despite having had a bad relationship with his father, David breaks down and caters to "Woody's" need and decides to drive him to Nebraska himself, with an extended stop in the old man's hometown.
What ensues is the story---one personally familiar to many of us---of a child discovering who his parent really is. The son learns about his parents' sex-spurred courtship, about his father's traumatizing war service, and other such facts that were previously mysterious to him. He learns to know his alcoholic failure of a father as an adult and (what seems impossible in the beginning) to love and respect him.
The movie is a pleasure to watch, heartwarming (the man next to me was in tears) and also humorous, as David's family is a goofy bunch of rednecks.
How does Will Forte relate to this tender story himself?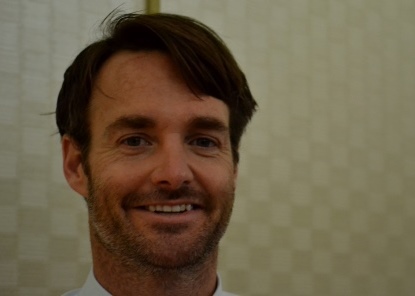 "Unlike David, I have a very good relationship with my parents. I never had to do this search for my father. Of course, I have learned things about my father. As a child, you look up to your parents like heroes, then they become just normal people who make mistakes. Over the years, I just learned little things, an interesting story here or there."
What does seem similar between Forte and his character, however, is that they both show a knack for acts of compassion. "David" sells his car to help his father out. Forte, in his real life, helps as a spokesman for charities such as the Wampler Summer Camp, for kids with Cerebral Palsy, and Food on Foot, an organization that helps the homeless.
"In a lot of ways, the character of David is someone I felt connected to," Forte said, as we sat together in the Carlton's "Movie Star Lounge". "Not always super confident, not always sure-footed. Not perfect. Hesitant. But a compassionate person; he has a good heart."
Forte leaned forward and continued with sincerity. "Actually I was too similar to my character. In comedy, I am so used to playing absurd wacky characters that it was intimidating to play a more real man. You feel vulnerable; you are letting spectators in on your life a bit. When I am sad in the movie, it is kind of how I am sad in real life. When he is emotionally stunted, that could also be me."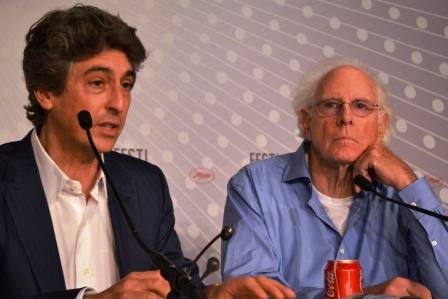 director Alexander Payne and actor Bruce Dern
The journey between these befuddled characters, father and son, is, despite human flaws, a lyrical experience. As director Alexander Payne told us in the press conference, he meant his film to be "both melancholy and humorous."