The 25th edition of the Tokyo International Film Festival opened this past Saturday with the world premiere of Cirque du Soleil: Worlds Away, produced by James Cameron and directed by Andrew Adamson. It is not the first time TIFF has honored Western filmmakers. In its 25 years, the festival has seen such invitees as Elia Kazan, Federico Fellini, Wim Wenders, Michael Gondry, Carlos Reygadas, John Sayles, and Mel Gibson. This year, in a nod to the importance of American cinema, heading the jury this year was famed American producer-director Robert Corman, aged 86. "I am honored to be here for the second time," quipped Corman, referring to his previous jury duty at the festival in 1994. "I like the green ecological theme." Instead of a red carpet, the festival has a green carpet.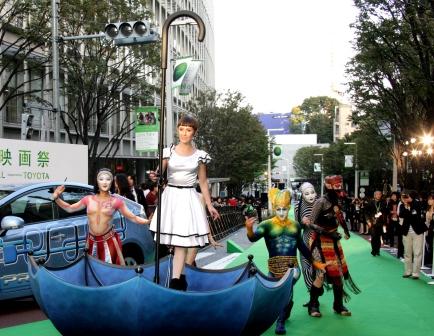 The festival, acknowledged to not yet be in the first-league of world festivals, has made significant headway in the last years, as chairman of the festival Tom Yoda, former music mogul, reminded us. "Last year's winner Untouchables became the most popular film in France," he told us proudly. There was also a 33 percent rise in film submissions for the competition, from over 90 different countries, including, in the selection, Indonesia, France, South Korea, South Africa, Italy and the United States.
As for the Cirque de Soleil premiere, this 3-D extravaganza, featuring a compilation of the famous acrobatic troupe's performances, divided critics. Some left the screening thrilled by the beauty of the acrobatics and sets. We have tremendous scenes of elastic bodies in water, pink dotted legs kicking up to the surface, floating octopus ladies in gossamer gowns, flexible flips that defy the normal relationship of leg to head, all taking place in sensuous waters and on sand-scapes that seem eerily lunar. Who would not enjoy this splurge of physical prowess and costumes to the upbeat tunes of the Beatles, in 3-D?
Yet the story -- what there is of one -- is thin, perhaps because the film is a compilation of performances, not just one narrative. Basically a woman, played with an absurdly blank stare by Erica Linz, arrives at this magical world of sand and water, and plays Alice in Wonderland as the spectacles unfold before her eyes, spectacles which include at least one dramatic battle between teams of magic creatures (but who are these evil monsters shooting arrows? No one had any idea... ), all in the hopes of re-finding one gorgeous hunk of an acrobat, a love interest that predictably (yawn) pays off at the end.
To its credit, the movie gives credence to the theory of mirror neurons, developed by Italian neuroscientists Vittorio Gallese and Giacomo Rizzolatti. The mirror neuron theory is that when we (or to be more exact, monkeys) watch actions happen before us, neurons fire in our brains just like they would fire if we ourselves were performing that action. In other words, while I watched this film, with an intense stress headache in my muscles from jet lag, I slowly relaxed, believing the stretching of the limbs by these able twirling acrobats, to be my own. By film's end, the headache was gone.
That said, I still prefer to watch the less glitzy films in the festival, such as the Asian films that I normally do not see in my own hemisphere. The festival offers many opportunities to travel the world, including the "Japanese Eyes" division, "Winds of Asia-Middle East" and a green section, in honor of the ecological theme.
The first Japanese film screened in the festival, Tetsu Maeda's My Departure, about a man who re-finds his long lost teenage love subsequent to a mid-life crisis, was a delight to watch, for example, for its glimpse into contemporary Japanese culture, even if this film was generally considered a sentimental flop. We first meet the Japanese businessman in his high tech business office, with great windows overlooking the glittering city. It is his last day at work, and now he is a lost pensioner, concerned about his ensuing loneliness and the fact that he is estranged not only from his ex-wife, but his daughter who he has not seen in 25 years. The next scene: He chats with a concerned friend in a piano bar about how he can meet a new woman, through taking a cooking class or perhaps going online.
Throughout, the Japanese touch pervades; we have meals of noodles on tatami mats in subdued two-toned restaurants, performed as near-rituals. We have high-speed shinkansen rides across the country, cherry blossoms, onsen baths and temples.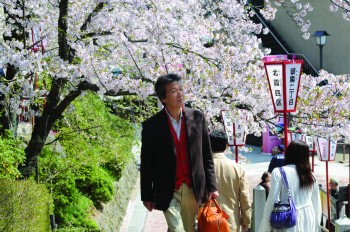 Tetsu Maeda's My Departure
What is most curious about this film is its unusual emphasis on intergenerational relationships. While the young love to middle-aged love is the predominant story, there is throughout a celebration of how generations interact harmoniously among each other. A musician -- a frequent non sequitur character in the film -- is mentored by a wise older man; the love object of the film -- the pretty girl turned mature woman -- has dedicated her life to beautifying the hair of the elderly. In fact, the happy ending of the film is not just that she rediscovers her mate, but that, in her new life, she will have a salon of her own to help old women feel beautiful.
One climatic scene is a concert in a retirement home, with young and old singing together.
The oddities of this film remain longer than the frill and dance of Cirque de Soleil: Worlds Away. Then again, I have a weakness for all things Japanese, from the extreme respect that makes being in Japan such a treat for foreigners, to the ethics of honesty, which means that when I leave change in my hotel room as a tip for the maid, it is returned to me scrupulously in a little plastic bag, in case I forgot it.
The festival closed this weekend with Trouble With the Curve, starring Clint Eastwood playing an aging baseball scout. I did not see it. I was off biking from one temple garden to another in Kyoto, skirting along the river coast in the mild autumn climate, among the maple trees, and racing down bike lanes past countless flower shops. Around the time the film started, I was sitting before the fifteen rocks in the white stone garden of the Ryoan-ji Temple, listening to trickling water in the twilight.