The travelers who come to Ganges View Hotel are unusual: a sophisticated Danish woman who works with trauma victims in Iraq, Columbia and other war areas, an Italian pianist exploring yoga, a business couple from Chile en route between Shanghai and Dubai, their new adopted home, and -- a real treat this afternoon -- an Irish woman cum Turkish citizen who beamingly told me that going through the shock of the loss of her beloved husband, twenty years ago in India, at the end of the day, was a blessing.

"The shock of loss makes you question everything about your life: who you are, what you depend on. You go from comfort and security to absolute inner upheaval. You have a choice then. You have a choice every second. To choose life or not."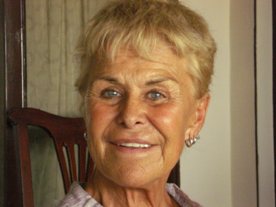 I related quite strongly to this elder woman -- whose luminous eyes fascinated me, with their strength, whose smile seemed serenely joyous -- and so we spent the afternoon together going through -- literally going through -- the town of Varanasi to buy handmade cloth; She insisted that a green edged towel was better than the blue plaid.
The town is thickly three-dimensional, with horses and buggies and rickshaws and cars dashing towards one another at constant speed, and at every angle someone doing something: fixing a shoe, pouring chai, seeding a pumpkin, fixing an electric socket, hammering metal. All of this in a thick brown-reddish dust, with ancient buildings, in ornate curves, one after another lining the streets, muddy and rich.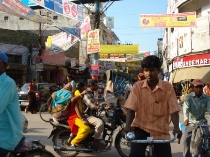 The woman and I parted in the street; She gave me a taste of Indian crackers from her bag, insisted I take a second handful, and I bought tomatoes for a poor family on the road (though they preferred the crackers). En route to my hotel -- longing for the sweet silence of my green veiled air-conditioned antique room -- I ran into the young man.
The young man had offered to find me a beer on the black market for this evening, and I had missed the appointment.
As soon as he came close, in the dusky heat of the town, I felt the heat of his forearm close to mine.
"Where were you?" he said.
I laughed and he took my arm, and we got into that easy rhythm of walking -- two people who have both nothing in common and the same thing in common.
We walked through the falling night of the town, between rickshaws and bicycles, he guiding me lightly with his hand, and telling me about himself, that he had finished university studies and had worked as an engineer in Mumbai, and I noticing that he was handsome, tall with strong arms and a very erect chest.
So, after he found the illicit beer, I just followed him. I followed him through the alleys of the city, between temples and ancient wells, as he searched for one ghat after another, that would be isolated for our beer.
"Won't this do?" I said.
We were at the temple before a nandi -- a small black bull -- in front of the night-black Ganges, with steps rising to a sculpted terrace facing the river, while the bells clanged below for the evening pooja, and three women scurried forth in the dark to bow their veiled heads to candle-lit shrines.
"No, there is a man there..." the young man said, and he took my arm and led me down more narrow streets, to other dark temples and shiva lingams, and always we got to a dead end by the Ganges.
"Road closed," the strangers he asked from time to time would say.
We went back to the original temple, he hurrying as well, as I told him I had ten minutes to drink this beer, and we climbed down l00 brick steps to the Ganges, where two men in white cloths--bearly visible in the dark--were bowing and praying and chanting---
"Come," the young man said, gesturing around a wall.
And before this majestic wide-floating dark Ganges -- seeming very sacred indeed -- we sat and shared a beer, very close, though frequently interrupted by the young man's fear that one of the men would find us.
"Hide the beer!" he would say -- every few minutes, reminding me of the best moments of high school. "It will go badly for you, if we are caught."
As for my skirt, he kept placing it back over my leg, to hide my knee.
There is nothing more exciting than hiding from pilgrims praying in the Ganges, at nightfall--one came towards us, dripping in the dark, after throwing a basket of flowers thunk in the water--while sipping a beer illicitly, pressed against the hips....
I thought, for a moment, is it unholy, to do this, here before the mother goddess of eternal death?
The more I thought about it, the more it seemed absolutely appropriate