Woody Allen's new film Blue Jasmine is a harsh contemporary remake of A Streetcar Named Desire, with Cate Blanchett playing the Blanche role (Jasmine) of a dissolute vodka-swigging widow who must go live on the mercy of her sister (played by the charming Sally Hawkins), after she loses her pampered homestead in New York. What makes this version contemporary: Jasmine lost her home because her financier husband (Alec Baldwin) was a Wall Street crook, stealing money so as to afford their Park Avenue glitzy lifestyle.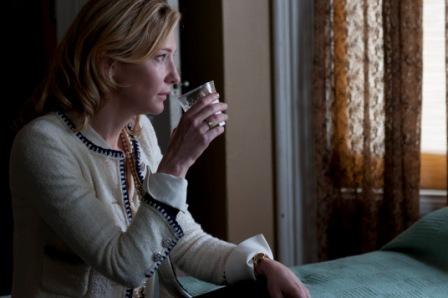 This film is a far cry from Tennessee Williams' own empathetic exploration of fragility. While Blanche DuBois was a compelling hysteric whose sensitive "nerves" are what leads to her downfall, here Cate Blanchett comes off as a spoiled rich ditz, deliberately out of it. "She turns the other way" comment a couple characters in the film, referring to Jasmine's main character trait, especially when it comes to how her husband made his money. The only redeeming quality that this well-dressed Park Avenue woman (she looks great in beige) with no talents whatsover, not even a hidden artistic side, can boast is that she occasionally shows kindness to the children in her midst, saying hello politely to them when she can forget her self-involvement.
The crux is that Woody Allen does not like his protagonist. Unlike Tennessee Williams who once said that "Blanche is me", Woody Allen's approach to his neurotic protagonist is to depict her in scene after scene as a pathetic woman who at best is the victim of gender conditioning and at worst deserves what she gets. "I can't do a menial job," Jasmine cries when she finds she has to pull up her bootstraps and work as a dentist's secretary. Meanwhile her ever-grinning sister works as a cashier.
Woody Allen comments on his character's downfall: "Jasmine has really been through the mill. In a fit of anger she did something that caused dire consequences she never anticipated, and she brought on herself an extremely potent series of traumas."
As for the storyline: Blue Jasmine moves as inexorably as a crucifixion to nail the protagonist to a tragic end. Blanchett's character does not have enough complexity to allow for evolution, and the plot does not allow for it either. The climax in Streetcar is the prospect of marriage to Mitch: a prospect which makes Blanche's dreams come alive again. She and Mitch share an intimate moment of confidence, so emotionally raw that she bursts out: "Sometimes--there's God--so quickly!" In the parallel climatic scene in Allen's movie, when Jasmine gets her new chance at love, she is just relieved to have hooked a new wealthy living situation for herself, i.e. the chance to go back to playing social hostess decorator to an elite social set. Blanche had dreams and sensitivity ; Jasmine needs social standing.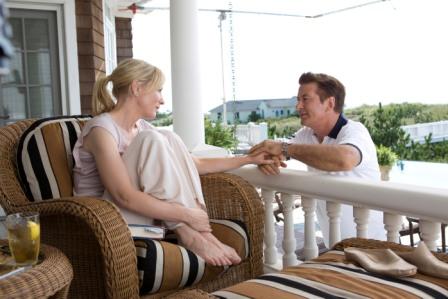 Poor Jasmine--described as "lost" by Woody Allen in the pressnotes-- is not the only character who does not evolve. Her husband Hal, whom we see in flashbacks, is a criminal louse in the beginning; he is a criminal louse in the end, with the same affable fake grin. The "Stanley" character--the sister's loveable boyfriend--never bursts loose and rapes the annoying "Blanche" (we almost hope for that, to give the plot some umph). As for the sister Ginger, she tolerates and loves her Xanax-popping sibling in equal doses, scene by scene. She, played by the same actress who captivated audiences as Mike Leigh's vivacious "Poppy", repeatedly proves the point, with her spunky buck-toothed smile, that being lower-class is more attractive than being upper-class.
While predictable in its arch-plot, the movie is still quite enjoyable as a series of animated vignettes. Cate Blanchet is visually stunning in several of her monologues, as she mutters lines from her old posh life in total madness. Her face, raw with quivering lips, is rivetting. So are her Park Avenue clothes: Gucci, Nina Ricci, Chanel. And the sets, from the hokey "poor" sister's over-stuffed home in San Francisco to the posh bayside apartment of the potential life-line fiance, are fun to enter. Woody Allen's comic eye shines through the campy dialogues, especially when the feisty sisters are at each other. Despite the bleak look at failed humanity, some of the one-liners make us laugh.
Perhaps Woody Allen's cynical version of Streetcar is deliberately so: there is no redemption for capitalists--or those married to them.