Dita Von Teese, the personification of modern, classic glamour, has ascended to the forefront of the burlesque revival, serves as a muse to Christian Louboutin, designs vintage-inspired dresses, lingerie, and cosmetics, and is a global ambassador for Cointreau. Recently, she added fragrance purveyor to her resume.
In this day of sartorial casualness, Dita stands out. Not interested in blending in, she happily shows the world she enjoys making an effort. She succeeds in looking pulled together for every occasion, and her dedication to an elegant yet sensual retro-inspired style is an inspiration to women around the world.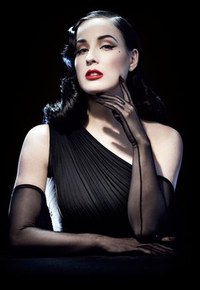 Dita unveiled her first fragrance, Dita Von Teese, in Germany in 2011, and has just introduced it in the U.S., along with her second fragrance, Rouge. Pondering "what a Helmut Newton photograph would smell like" and inspired by 1930s photos of women in Parisian nightclubs, they created a seductive, heady concoction of peonies, Bourbon pepper, bergamot, Bulgarian rose, Tahitian Tiaré, jasmine, musk, patchouli, Gaiac wood and sandalwood.
I spoke to Dita at the U.S. launch of her two fragrances at Fred Segal in West Hollywood last month. Impeccably attired in a black vintage Thierry Mugler suit, sheer black-dotted hosiery and her trademark sky-high Louboutins, she spoke to and posed with her fans, occasionally breaking away to check on her bids on the Greta Garbo auction taking place in nearby Beverly Hills.
How are the two fragrances different from each other? "Rouge is more ambery, like Lapsang Souchong. It's softer, more sensual. The first one is more powerful and sophisticated, more like my signature. It's womanly."
Sophisticated Dita has no interest in smelling like a little girl. "I always wanted to be a grownup," she shared. "I don't want to revert to childhood memories or smell like candy or anything like that. I always wanted to be a grownup, and I like to revel in being a woman, so I don't want girlish, powdery, sweet perfumes."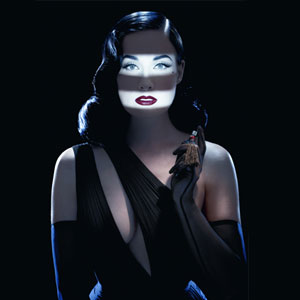 I commented that the fragrances, selling for $30 to $75, are well-priced, particularly considering the quality, and Dita agreed. "It's a challenge to create a perfume that's successful, but at the same time smells sophisticated. I worked really closely with the noses in Paris. I wanted to make something really great, but still at a low price point."
Wondering what Dita's first fragrances were? "My first perfume was Love's Baby Soft. Only Americans really know what that is. It still has a special place in my heart. My first grownup perfume that I really loved was Lou Lou by Cacharel. I loved that, and then I wore Quelques Fleurs for many years, which is a very obscure fragrance but I just loved it. It was the first perfume that I really saved up my money for. I bought it when I was 15. I always felt it was important. I wanted something special. I didn't want to smell like my friends or anybody that I knew. Quelques Fleurs is one of the first commercially available perfumes."
Dita's admiration for the glamorous stars from Hollywood's Golden Age is undeniable. "Betty Grable is one of my favorites. That era of film that she made, the '40s grand Technicolor musicals -- those are films that inspire my shows and my style. She's my number one. I don't look like her, but that film era gets me excited. Anytime Betty Grable and Carmen Miranda are in a film together, for some reason that's one of my favorites. All those films are exotic and set in exotic locales I love. I made a show kind of devoted to one of those recently, a really tropical-themed 40s show."
Which era is this vintage aficionado most influenced by? "I feel like my look is a combination of so many different things. My hair is kind of a '30s Marcel wave, but '40s length. My eye makeup is very '50s. I like '40s clothes. My look is a combination of many different eras that I really love that's developed into one solid thing."