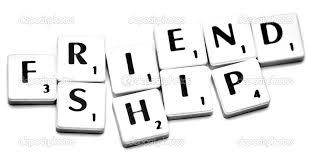 In the past few weeks, I made a conscious effort to rekindle my friendships. Since last year was such a whirlwind, my time spent with friends has definitely suffered. Sometimes with life's obligations and craziness, my friends get pushed to the bottom of my priority list. Luckily, I have understanding and caring friends who don't get offended and will "wait in the wings" until I can circle back around and connect with them.
Beginning in kindergarten, I can remember the elation I felt when I found someone who wanted to play with me, invited me to their birthday party and told me that they wanted to be my FRIEND! Throughout my elementary, high school and college years, I had the good fortune of acquiring friends who had similar interests and morals... some that have come and gone and others who have always been considered as one of my special friends. I have made acquaintances during my adult work life and fostered friendships with my immediate family and relatives.
The lesson on friendship below can be found throughout the Internet. I continue to be moved by the meaning of this quote. I hope it will resonate with you!
Friends come into our life for a Reason, Season or a Lifetime -- abridged
REASON:
"When someone is in your life for a reason, it is usually to meet a need you have expressed outwardly or inwardly. S/he has come to assist you through a difficulty, to provide you with guidance and support, to aid you physically, emotionally, or spiritually."

SEASON:
"Then a person comes into your life for a season, it is because your turn has come to share, grow, or learn. S/he may bring you an experience of peace or make you laugh. S/he may teach you something you have never done. S/he usually gives you an unbelievable amount of joy."

LIFETIME:
"Lifetime relationships teach you lifetime lessons. Those things you must build upon in order to have a solid emotional foundation. You must accept the lesson, love the person/people anyway, and put what you have learned to use in all other relationships and areas of your life."
Source: Anonymous
When I reflect on my 36-year marriage to my wonderful husband, I realize that becoming best friends first before becoming lovers was absolutely vital in our marriage longevity. William Shakespeare summed it up perfectly: "A friend is one that knows you as you are, understands where you have been, accepts what you have become and still gently allows you to grow."
Take the time to reach out to one of your friends and thank them for listening, laughing, supporting, consoling and celebrating moments in your life. To all my delightful friends... I say THANK YOU!