I love the first lady, I really do. But lately she looks like Cruella de Vil's aesthetician has gotten her hands on her. What's with her eyebrows? When she kicked off her campaign to fight childhood obesity on Tuesday they looked almost like stick-ons.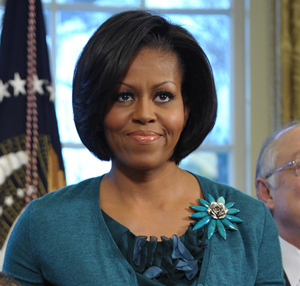 Eyebrows make the face Michelle! And yours is gorgeous, so it's time to get those eyebrows looking more like a delicate arch over your pretty peepers and less like two boomerangs hogging all the attention.
When Barack Obama was in it to win it, journalists wrote that Michelle Obama's brows were going to lose the election for him. Too harsh, too severe they said. Well that seemed a tad harsh, but they did look almost triangular. Americans were screaming that they were more angled than Jack Nicholson's, Bill O'Reilly said her intense look was too angry, etc. etc. and Michelle Obama's makeup artist Ingrid Grimes-Miles finally listened. They came down a few millimeters and were filled in a tad too.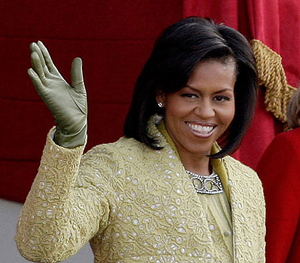 When Michelle graced us all with her elegant presence during the inauguration, she had the brows to match. They were arched in a "power brow" way and every part of her face showed how happy she was. But now, they're back! They were short and thin and arched to the sky during her husband's State of the Union speech and from what I can see in recent photos, they are still riding high.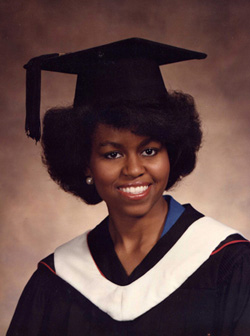 Having done some research on Michelle's brows, her college graduation photo shows off her very pretty natural arch. Her brow is also a lot bigger than it is now. As a gal who would be rocking a uni without the aid of Tweezerman tweezers, I know that the one good thing about a bigger brow is that you have more room to work with. I could probably turn my eyebrows into animal shapes if I wanted to. So Michelle has the ability to take them up back and around, but just because you can, doesn't mean you should. Even urbandictionary.com has an entry for "Michelle Obama Eyebrows" and the definition isn't pretty.
Are you listening Ingrid Grimes-Miles? Unlike some of us, FLOTUS is way too busy to sit around with a spotlight and two pairs of slant tweezers. Fix it for her! Her face is fabulous, can she please have brows to match?