In one of the most expensive cities in the world, the Chirkizovsky market was a place where the everyman could still go shopping.
Located in northeast Moscow, it was a sprawling compound of stalls, restaurants and small shops, where Chinese, Vietnamese and other immigrant vendors sold clothes, household goods and just about anything else for rock bottom prices. Until one day in late June, the metal gates of the 740 acre bazaar-- the largest in Europe-- slammed shut, leaving an estimated 100,000 people without work.
Authorities cited a slew of reasons, including the sale of contraband goods and the fact that Chirkizovsky vendors did not pay taxes. But the real motivation may be revenge by the Kremlin and Moscow mayor Yuri Luzhkov against the owner of the market, the Azeri-born Telman Ismailov who got too big for his britches and boasted about a new hotel he was building in Turkey.
Whatever, the reason, vendors had exactly two days to pack up their wares and shove out. Those who didn't, lost thousands of dollars worth of merchandise, some of which is still being kept at the market.
"They should have warned us about it before and given us at least six months to prepare," said Nguyen Thu Oanb, 48, a vendor from Vietnam. Oanb has worked in Russia for 22 years, sending the money she earned home to pay for her children's education. "We are all bankrupt now, we have nothing left."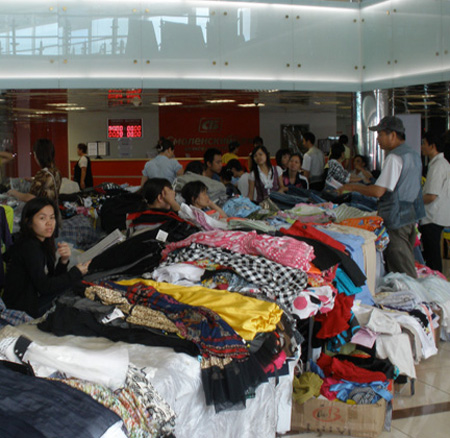 The closure of Chirkizovsky in the midst of Russia's economic crisis, has exposed the love-hate relationship Moscow had with the market: it was loved for its cheap prices, but despised for the many immigrants who congregated there. It has also left an important, but vulnerable economic group, the independent vendor, without any protections.
"Instead of seeking ways to boost business, especially small business, which is highly adaptable and flexible, the government clamps down on it, which raises prices and decreases taxes and competition," explains Kirill Rogov, an economist at the Institute of Economics of the Transitional Period in Moscow. "That's one of the worst things you can do in a recession."

While some vendors were able to get their goods out within several weeks, many others say police asked them to pay upwards of $6,000 to get access to their shops. The sum is impossibly high for many vendors, whose entire inventory might be worth only slightly more than the bribes officials are asking for.
Jasgul and Ainura are two Kyrgyz women in their 30's, who sold jeans, blouses and other women's clothing at the market. The friends said they came to Moscow from the former Soviet republic bordering China for work, and made a decent living at the market, renting a room and sending money home. But when the market closed, their livelihoods ended.
"We don't know where we will go, what will happen or where to keep our goods," Jasgul said. Moving to another market is hard because the closure of Chirkizovsky has raised rent prices at other shopping centers. The women are surviving through the charity of friends and colleagues who owed them money from previous transactions. "But it's really simple," Jazgul said. "If we don't work, we don't eat."
The implications of leaving so many people without work are dire and some former vendors have turned to crime as a means of survival. The police say that's evidence that Chirkizovsky was a breeding ground for illegal activity and disease. Immigrant advocates say it's a small group of desperate people who have no other choice. They also say authorities have prevented migrants from getting help, as when they disbanded a soup kitchen that a nonprofit had set up, on grounds that it didn't have a health permit.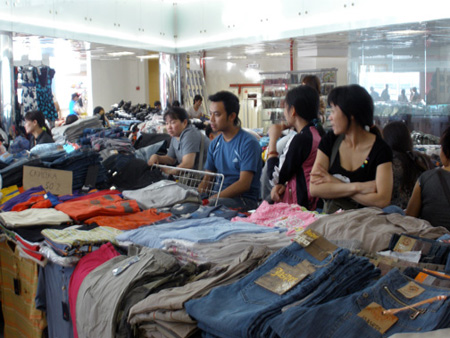 "We have definitely felt a massive lash back against foreigners, an immigrant phobia, if you will," said Muhammad Amin, president of the Federation of Migrants, which has met with Moscow city officials to ask that the market be reopened for six months to give businesses time to sell of their wares. Amin says police searches and arrests at the market were common, not as a way to look for contraband goods or crack down on businesses who don't pay tariffs, a common problem, but as a way of shaking down both legal and illegal immigrants.
"There are major abuses of international and Russian human rights law," Amin says. "We need to make systemic changes to protect immigrants, as well as small businesses, many of which are run by immigrants. If not, Russian government's reputation will be tarnished abroad and within the country."
Jasgul and Ainura say they are routinely harassed by Russian police, who stop them on the street and demand their passports. They have Asian features, but like many from the Caucuses and other regions of the former USSR, they are citizens of Russia.
"One time I started arguing with them, because I have all of my papers in order," Ainura recalls. So the police hauled her off to jail, only releasing her several hours later. The abuse and profiling are constant, she says. "We won't go out at night. We're too scared."
Some are still hopeful authorities will open the bazaar. But many others have accepted the closure as yet another injustice against immigrants in Moscow. "The tragedy is it was a very informal network of vendors; they just came to the market and knew where to find us,' said Abdullah Dganibekov, 54, whose family sells woolen clothing from his native Chirkiziya in the Norther Caucuses. "Now,we will have to start all over."