Unless you spend time in Illinois driving on Interstate 72 between Springfield and Decatur, I doubt you have ever heard of Illiopolis -- my hometown with a population of 963, and the moniker "a small town with a big heart".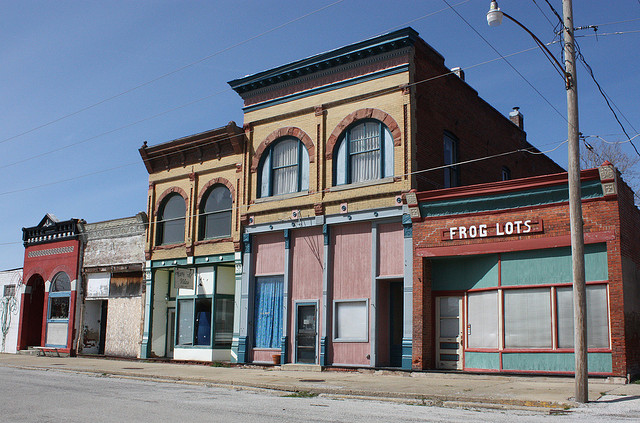 A picture of "downtown" Illiopolis.
Until the district was consolidated in 2004, one school building served all 260 or so K-12 students. My graduating class contained just 22 graduates, only two of whom did not start kindergarten with me. Because the teachers knew each of us intimately, students rarely "fell through the cracks," and looking back on it, I think all of my teachers would have given their lives to protect us.
Having said all that, the school wasn't perfect. Being small and lacking diversity made it difficult for some students to feel accepted. Offering diverse extracurricular activities, advanced courses, and exposure beyond our tiny town and cornfields presented a real challenge to the staff and administration. However, I look back fondly on my childhood, and give a great deal of credit to my teachers for any success I achieve.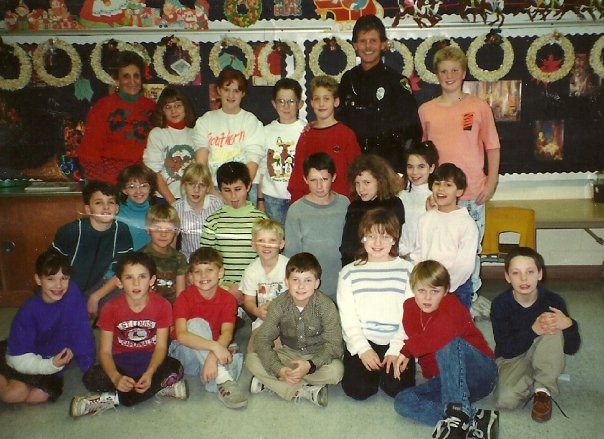 My classmates and I graduating from the D.A.R.E program circa 1989.
Unfortunately, I don't get many chances to go back to Illiopolis. Therefore, when Missouri State Representative Steve Cookson (R-Fairdealing) invited Lea Crusey, StudentsFirst State Director, and me to join him on a tour of his rural Southeast Missouri legislative district, I jumped at the chance, knowing it would likely feel like home. Rep. Cookson wanted us to meet the administrators, teachers, students and families who live in some of the most rural and impoverished communities in Missouri and who sometimes get lost in the debate about education reform in Missouri's General Assembly.
Southeast Missouri, though similar in many ways to my hometown, was also quite different. It was similar in that, there is a sense of community that I have come to realize is unique to small towns. Like Illiopolis, it was also clear that the teachers, administrators, and community leaders see the students in these towns as their own children.
On the other hand, I saw a level of poverty that doesn't exist in any place I have ever lived, including in Saint Louis and Washington, DC. In at least one district we visited, it is estimated that 70 percent of the adults do not have a high school diploma. Visiting these districts awakened me to the fact that adults need to reimagine how education is delivered to at-risk children in rural Missouri just as they need to do in suburban and urban Missouri. Not because they aren't doing everything they can with the system we have built for them, but because that system fails to provide simple, pragmatic avenues for rural schools to do even better.
Take for example the roughly 75 school districts that serve only students in grades K-8. In these districts students can choose high schools in neighboring districts for 9th-12th grades. We visited two K-8 districts on our trip and heard from superintendents at both of them that many students base their decisions about where to go to high school on such arbitrary things as where their parents went and which one has the best basketball team. Students make this important decision this way because in Missouri, we haven't given students and parents access to transparent, understandable, and accessible ratings for individual high schools. For this reason an A-F school report card would help the students in these districts make informed decisions that could change the trajectory of their life tremendously.
In the districts we visited with high schools, they were, like Illiopolis, struggling to offer non-basic courses because they could not justify the additional staff. There is a simple, cost effective, solution that would not require consolidation or more money -- expanded virtual education options. If Missouri would get on board and expand its virtual education options, students in districts like East Carter could enroll in a forensic biology class in another district. Likewise, the kids in Malden, Missouri who are doing amazingly well in the Missouri Beta Club could enroll in advanced government or politics classes in St. Louis County. The only thing keeping these students from these kinds of options are the policy-makers who possess an incredible fear of change.
Lastly, every single administrator we spoke to talked about the challenges of recruiting and retaining high quality teachers. Like, urban and suburban districts, rural school districts need a system of recruiting, retaining, compensating and evaluating teachers that shows they are valued and respected.
These are just three of the many changes that need to be made to Missouri's current education policies to support a more robust rural education system. But the bottom line is this -- all Missouri's kids, including the rural ones, need a framework that: 1. sets high expectations for kids; 2. establishes a strong and transparent accountability system; and 3. allows professional educators and parents the autonomy they need to choose and deliver a high quality 21st century education.