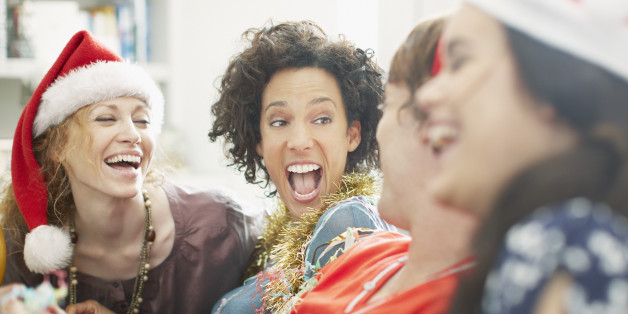 The holiday season has arrived. Brace yourself! Here come the pressing questions, yet again.
"Are you dating anyone?"
"Seeing anyone special?"
Old friends, distant relatives, neighbors, you name it -- they're all of a sudden very interested in your love life, and are probably wondering why they have not seen you tagged in Facebook photos gushing over a guy, or posting pictures of yourself on Instagram with a handsome, well-dressed gentleman captioned with the hashtag "#BAE."
Am I dating anyone? YES.
Seeing anyone special? No one to bring home to Mom, if that's what you're asking.
However, I am quite enthralled with a specific part of my life -- my career. It's getting pretty serious, and I definitely see a future there. Sure, some days are more stressful than others, but with these challenges, I am able to grow as a result. Professionally, emotionally and mentally, I am happy. When did being single around the holidays become such a negative?
Here's why being single during the holiday season is actually awesome:
1. You don't have to compromise. No need to split up holidays at each respective family's home, you're flying solo. Go to the parties that serve your favorite booze and give the best gifts. Sorry, Aunt Joanne, you lose again this year.
2. You can spoil yourself. You wrote your holiday list, so it just seems like the best idea that you just buy them for yourself. You deserve it; you've worked hard this year.
3. You don't have to buy someone something just because they want it. "Oh, you want a new PlayStation game? I just LOVE when you sit in all day and play. Of course I will contribute to the habit!"
4. You can create new traditions for yourself. Go for a quick run before everyone else wakes up, take a long bubble bath or sip coffee on the front porch by yourself as you watch the snow fall.
5. And keep the old traditions. Run around in your onesie pajamas with a top knot and no makeup on. Sip hot chocolate with your Mom while you help her make your favorite cookies.
6. More eggnog for you! And hot toddies, Irish coffees, even a Tom and Jerry or two. Stick a bottle of whiskey in your own stocking -- Who put that there?
7. You can run into an old fling from your hometown. There is nobody to tell you no; go ahead and make the bad decision. For old time's sake!
8. Donate your time to those in need. Single or not, we are very fortunate. The holidays are a great time to find ways to make a difference in someone's life and make them feel loved.
9. You can kiss all of the babes you want. Kissing under the mistletoe is an old tradition, and let me tell you, that stuff is plentiful around the holiday season. Boom!
10. You don't have to experience the awkward meet and greet. Because sometimes, when you're off work and in relaxation mode, the only thing you want to do is eat ice cream out of the carton and catch up on episodes of Pretty Little Liars.
So yes, I will come home for the holidays alone. I will spend my time with friends and family (who never judge me for drinking too much wine) and help my parents decorate the Christmas tree. I'll catch up with those that I may have lost touch with in the past year, visit the local bar that I used to work at, go shopping for myself and take time to volunteer and give back to others this holiday season.
Life is very full. Full of fun, laughter, adventure, success, change and most of all, love. Remember, if you're single, in a new relationship, married or whatever else, spread the love this holiday season. And if a young suitor does happen to come your way, keep your eyes peeled for some mistletoe nearby.
ALSO ON HUFFPOST:
PHOTO GALLERY
Online Dating Fails