In the summer of 2013, Dr. Ganesh Dangal boarded a plane from his home in Kathmandu, Nepal, to Addis Ababa, the capital of Ethiopia. It was a trip that would set his professional life on a new and exciting path: he was to become one of the first surgeons trained through the International Federation of Gynecology and Obstetrics (FIGO) Global Competency-Based Fistula Surgery Training Program. This is the world's first and only internationally recognized fistula training program, based on a path-breaking manual developed for the treatment of obstetric fistula, a childbirth injury suffered most commonly by poor women who give birth in places without access to emergency obstetric care.
Dr. Ganesh (pictured right) attending the FIGO fistula training program.

An obstetric fistula occurs when a woman's labor becomes obstructed and constant pressure from the baby's head on the pelvis cuts off the flow of oxygenated blood, causing tissue to die. As a result, a hole develops that causes her to become incontinent. The smell of the incontinence too often spurs her husband to leave and the community to abandon her. She sometimes thinks it's her fault, believing she's cursed. Even worse, her child usually does not survive. This injury devastates the lives of one million women globally.

Fistula can be complicated for a surgeon to repair. While some cases can be treated quickly, in under one hour, more often than not, treatment requires a surgeon with advanced skills and sometimes even several rounds of surgery to complete. In the hands of a surgeon whose level of skill does not meet the complexity of the injury, more harm can be done to the patient than good. This is why it is so critical for fistula surgeons to be properly trained, and is what prompted FIGO to develop its training manual.

When the manual was released in 2011, Fistula Foundation worked with FIGO and our partners at Johnson & Johnson to develop and fund surgical training fellowships that would help increase the pool of skilled surgeons in places where fistula was most common. Dr. Gangal was was a fastidious student who paid meticulous attention to every detail of his training. He completed the program with high praise from instructors and returned home eager to implement his newly minted skills. But his operating conditions were far less than ideal.

In his operating room at the Kathmandu Model Hospital, the table on which Dr. Gangal performs fistula surgeries is 50 years old. The hand cranks that raise and lower the bed no longer work, which can make for awkward and less than desirable operating conditions. It's the kind of operating table that many surgeons would complain about using, or perhaps use as an excuse to avoid operating at all. But Dr. Gangal carries on, treating poor women who are suffering and giving them a new chance at life.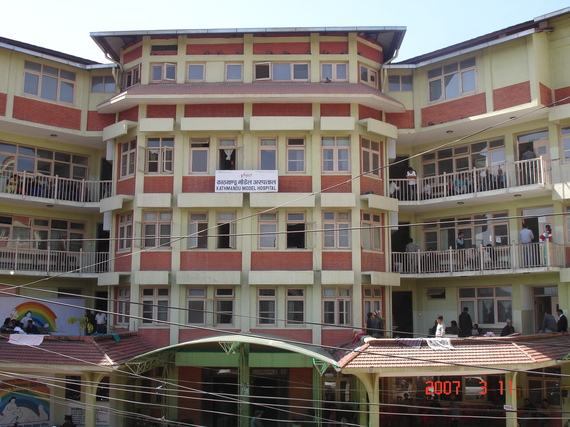 Kathmandu Model Hospital

Learning about Dr. Gangal's operating table, and hearing, too, from other surgeon trainees who shared obstacles to their work, we realized: if we were going to invest in a surgeon's training, it should be equally as important to invest in that surgeon's success back home. That's why our support for fistula surgeons is not limited to training and operating room equipment. We also fund patient transportation to hospitals, stipends that entice nurses to work extra hours to care for recovering fistula patients, and even the development and distribution of community-specific outreach materials that will help women and their families understand that fistula is a treatable condition and that treatment is locally available.

Dr. Gangal will soon have a brand new operating table. And, to further ensure that the surgeries he provides are as safe as possible, we will also be providing a new set of lights for his operating room. We hope that he will never have to operate on a bad operating table or in bad lighting again.

Fistula Foundation works with FIGO, Johnson & Johnson and so many other partners to transform the lives of women who suffer from obstetric fistula. We've done that together in a number of ways, in a number of places, but we're confident that by forging ahead to invest in surgeons and their ability to apply the training we helping them to receive, this be one of our best investments yet.
Kate Grant is CEO of Fistula Foundation, which works in 29 countries to treat women who suffer from the childbirth injury obstetric fistula. Follow the organization at @Fistula_Fdtn.
Editor's Note: Johnson & Johnson is a sponsor of The Huffington Post's Global Motherhood section.