The children at Bronx Prep are clamoring for vegetables. Not fries soaked in hot sauce from the Chinese take-out across the street from the school on Third Avenue in the South Bronx.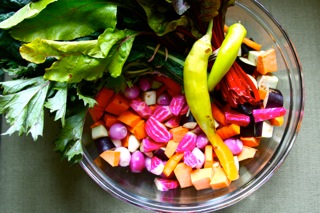 Not ranch-drenched iceberg lettuce from the Wendy's down the block. Nope. These kids want the good stuff. Fresh. Organic. Locally grown.
I've been teaching at Bronx Prep for seven years, bringing my lunch to school in a plastic container most days since the beginning. A lot of things have changed since my first year teaching back in 2003--my kids aren't beating each other up in the back of my room anymore, for starters. But while I may be getting some respect in the classroom nowadays, in the lunchroom it's always been a different story.
"Eww, Ms. Q, that's gross," says Tiffany, sneering at my cold sautéed green beans from last night's dinner.
This is the game we play. I unpack my lunch and the kids try to out-do each other on the good-natured insults.
"Ms. Q, that looks like dinosaur food," Amber chimes in, shaking her head at my other leftovers--a stir fry with brown rice, chicken and spinach. "And by dinosaur food, I mean food that a dinosaur has already chewed."
In the beginning, I used to try to talk to the kids about making healthy eating choices. Mostly they just rolled their eyes and reached for the Doritos. After a while I gave up and settled into my routine of playfully deflecting their food-related ridicule. But then last spring, one of my high school theater students, Keegon Robinson, came up to me in the middle of a rehearsal and asked me how to cook.
Keegon's a magnetic performer--his expert timing honed, at least in part, by his relentless comic assault on my icky-looking leftovers.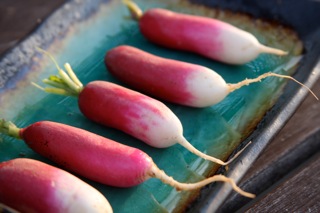 "How to cook what, Keegon?" I asked.
"That nasty stuff you eat. Your peace-and-love organic vegetation or whatever."
I raised my eyebrows at him. He explained.
He'd always been a bigger dude, he said, but he'd never given much thought to his weight or his health. But the day before, he was getting off the train and saw a man trying to climb the stairs out of the subway station.
"The guy was big," he said. "Belly hanging over his pants. He was huffing and puffing. And I thought, 'Oh my God. If I don't watch it, in a few years that's going to be me.'"
From that day on, Keegon radically changed his eating habits. He stopped drinking soda. He cut way down on sugar. He limited his breads and cereal intake to items made with whole grain. And risking the ridicule of his peers, he even started eating vegetables. As the pounds have melted off, Keegon's confidence has soared.
But it hasn't been easy. As any health-conscious or food-savvy South Bronx resident will tell you, fresh, healthy food is hard to come by in the 'hood.
That's starting to change, though.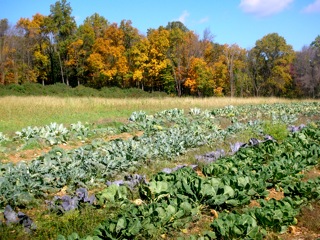 A friend at school recently forwarded me a New York Times article about Dennis Derryck, a professor at the New School for Management and Urban Policy, who's created a commercial community-supported agriculture plan (C.S.A.) that gives South Bronx residents access to fresh produce from an upstate farm for a small weekly price--government subsidized in some cases and also payable in food stamps.
Response to Derryck's South Bronx C.S.A. has been positive so far. But he'll be the first to acknowledge that without true community momentum behind a project like this, a small pack of non-resident do-gooders armed with crates of organic radishes won't be launching a food revolution in the South Bronx anytime soon. His model will reward community members who commit to the program with ownership shares in the actual farm.
Implicit in this push toward true grass-roots change is an understanding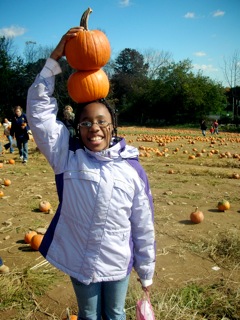 of the importance of helping kids--and their parents--become empowered consumers, savvy about their food and where it comes from.
This is the goal at the center of the ambitious plan to teach kids at Harlem's Promise Academy, part of social activist and educator Geoffrey Canada's Harlem Children's Zone, how to resist the marketing ploys of the fast-food industry and actively choose food that's healthy and fresh. Another recent New York Times article reports that Canada has hired a chef to serve kids breakfasts, lunches and snacks made with fresh, unprocessed foods, subsidizing the nearly doubled daily per-student cost with government reimbursements, grants and private donations. The article says that at first the kids resisted. But little by little, they're learning to curb the knee-jerk "nasty!" comments and dig into healthy eating with gusto.
Even a year ago, I wouldn't have believed that Bronx Prep kids would be jumping on the healthy food bandwagon. Maybe it's the zeitgeist effects of Michelle Obama's Let's Move program, or maybe we've just hit the old tipping point, but it's clear that this is a movement whose time has come.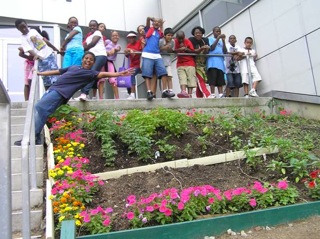 Right around the time Keegon was making big changes on an individual level, whole classes of Bronx Prep kids were engaging in other projects that raised their awareness about how their eating habits impact their own health and the planet's. A group of fifth graders planted a garden on a plot of ground in front of the school. Another group tracked their food intake over a two-week period. And a class of 8th graders watched Food, Inc. and then visited the farmers' market at Union Square.
So when Josh Levin, agriculture/food/social justice guru and founder of goodeater.com, and I sat down with our head of school Samona Tait a few weeks ago to talk about bringing the healthy food revolution to Bronx Prep, the first thing she said was, "The kids are already one step ahead of you." Apparently those 8th graders had come back from the farmers' market, drafted a petition and started to mobilize their friends--and that very morning they showed up at Samona's office with pages of signatures and a list of ideas ranging from a healthy snack vending machine to student entrepreneurship projects in collaboration with local greenmarket organizations.
Working hand-in-hand with the kids, we'll be ramping up plans over the next month or two to bring healthy, sustainable food to Bronx Prep and the South Bronx community. We're looking forward to sharing more as the work unfolds.
Dinosaur food for everyone!