Keeping homes maintained is important to residents' health and safety. In a city like Alexandria with so much older housing and many homeowners of limited means, providing health and safety home improvements will ensure that many of our clients can keep their homes and live in them safely.
Rebuilding Together Alexandria -- a nonprofit dedicated to creating and preserving affordable housing -- has helped thousands of limited income homeowners maintain their homes so they don't have to make a choice between buying medicine and making a home repair. Now we are upping our game. In partnership with the National Center for Healthy Housing, we have created a Health and Safety Check List, which includes the top 22 items that directly contribute to healthy and safe housing.
Before our volunteers go to a client's home, they will receive this check list as part of their overall list of repair tasks. Examples of checks they will perform include making sure the client has: rooms and stairs free of tripping hazards, a working smoke and carbon monoxide alarm on each floor, proper ventilation of exhaust fans and clothes dryer, no electrical hazards, adequate lighting, no active water leaks and serious moisture issues, and grab bars and handrails.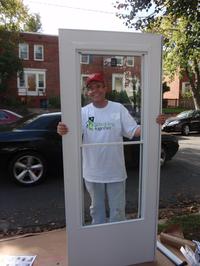 National Rebuilding Day on April 26th is our first large-scale chance to put the Health and Safety Check List into practice. During this national day of service, we will have more than 600 volunteers fanning out across the City to do repairs on 40 homes of vulnerable Alexandria residents. In addition to the client's wish list of repairs, we will also make sure to help them with these other 22 items.
Through this simple check list, we know we can eliminate multiple hazards and significantly improve the lives of struggling homeowners. If you would like to volunteer or need your house repaired, visit www.RebuildingTogetherAlex.org or call 703-836-1021.