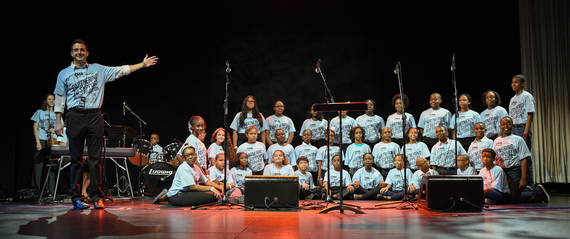 If there is one thing I have learned from my tenure in academia, it's that teamwork is the heartbeat of a successful education. In my 19 years as Executive Director of Education Through Music, I have seen a simple vision of bringing music education as a core subject to schools, grow into a beautiful reality. Yet with that growth, comes new hurdles and new goals.
It is at these checkpoints that you discover who truly believes in your cause, and at these pivotal moments you look to see who will actually stand up and fight with you. For the second year, the Country Music Association Foundation stood up and loudly displayed their dedication to the cause of bringing music education to students throughout New York City.
A partnership that goes beyond financials, The CMA Foundation has helped create new music programs in the Bronx, as well as providing opportunities to children who need it most, to meet and perform with music's biggest stars. From Dierks Bentley to Darius Rucker, Education Through Music students have been exposed to experiences that will stay with them for a lifetime.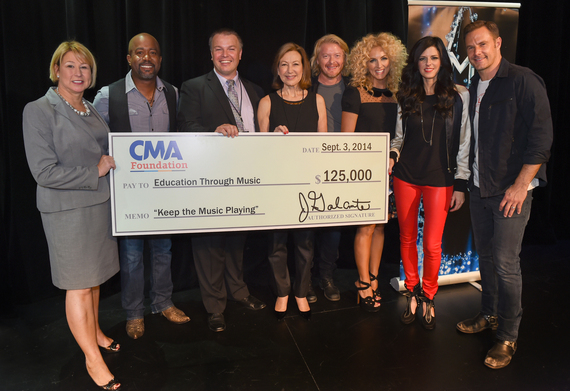 Deepening their commitment this year, the CMA foundation kicked off the 2014-15 school year by pledging $125,000 to ETM's Partner School Program, a donation that will support music education programs in 38 schools throughout New York City. The CMA Foundation's understanding of the importance of the well-rounded nature of education, also saw them inviting ETM teachers to their famed Songwriters Series, supplying teachers with in-depth knowledge and wisdom to pass on to their students.
Providing these new avenues and opportunities is at the heart of what a makes a good educational system function, and as someone who has seen a lot in the world of education, the commitment from the CMA Foundation is among the most comprehensive that I have ever experienced.
We teach students early on about the importance of teamwork. We assess them on how well they collaborate, and troubleshoot when we see a student not reaching their collaborative potential. Teamwork is in the DNA of a functional classroom, boardroom, as well as home life. As cliché as it may sound, teamwork really does make a dream work, and I can attest to this, as I witness the joy on our students' faces as they experience opportunities that they never could have imagined.
The CMA Foundation has truly bolstered what we do at Education Through Music. Those lifelong lessons have been applied to a great cause, and on a daily basis, children throughout New York City reap the benefits of the fundamental principle of working together.
For more information about the partnership between the CMA Foundation and Education Through Music, visit www.ETMonline.org/CMA