From November 25, the International Day for the Elimination of Violence against Women until December 10th, Human Rights Day, global organizations are participating in 16 Days of Activism to catalyze action to end violence against women and girls around the world.
In recognition of 16 Days of Activism, and in anticipation of December 17, the International Day to End Violence Against Sex Workers, here are seventeen things everyone should know about sexual violence and sex work.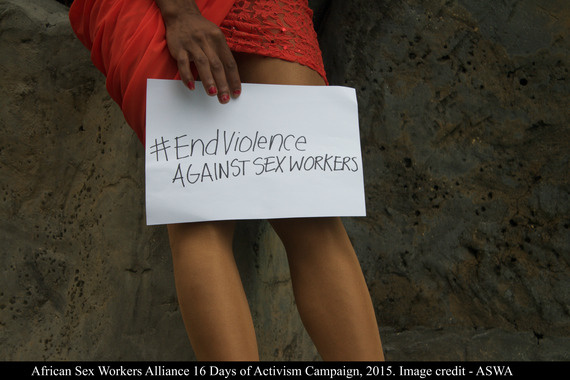 1.) Sex workers experience high levels of sexual violence. Globally, sex workers have a 45 to 75% chance of experiencing sexual violence at some point in their careers and a 32 to 55% chance of experiencing sexual violence in a given year.
2.) Sexual assault against individuals engaged sex work (especially criminalized forms of sex work) in the United States is also high. In Phoenix, AZ 37% of prostitution diversion program participants report being raped by a client, and 7.1% report being raped by a pimp. In Miami, FL, 34% of street-based sex workers reported violent encounters with clients in the past 90 days. In New York, 46% of indoor sex workers reported being forced to do something by a client that they did not want to do, and over 80% of street-based sex workers experienced violence.
3.) One in five police reports of sexual assault from an urban, U.S. emergency room were filed by sex workers. Sex workers were younger, poorer and suffered a greater number of injuries than other victims.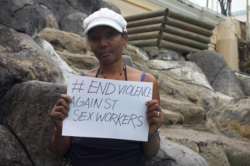 4.) Lots of variation exists in sex worker vulnerability to violence. According to a systematic review of research on violence against sex workers, criminalization and policing, population movement and mobility, work environments, and broader economic conditions and gender inequality are correlated with increased violence against sex workers. In other studies, youth, homeless individuals, individuals who had previously been arrested for prostitution, migrant sex workers, sex workers who use drugs, and street-based sex workers were especially at risk of violence.
5.) Stigma increases violence. Various studies have noted a correlation between anti-sex work rhetoric that sees street-based workers as a nuisance or threat to public order and an increase in violence against workers.
6.) Sex workers frequently aren't protected by rape shield laws. New York and Ohio explicitly exclude prostitution to be used as character evidence against rape victims. Judges in states without explicit exclusion of sex work often allow for prostitution to be brought up.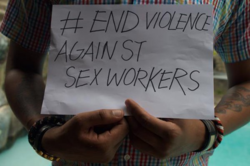 7.) Sex workers are often ineligible for rape victim compensation funds or receive reduced amounts. In the United Kingdom, anyone with a minor conviction, including a conviction for public solicitation, is barred from receiving full rape victim compensation. In United States, sex worker survivors cannot receive compensation for lost wages from engaging in illegal forms of sex work. In Arkansas, Louisiana, Missouri, Florida,and Ohio, individuals with felony convictions are not eligible for compensation at all while in others, such as Rhode Island, discretion is given to agency administering the victims assistance fund. Perhaps the largest barrier, many states deny or reduce awards for any actions which may have contributed to victimization, with most states categorically denying compensation if the assault happened to the victim while they were voluntarily engaging in illegal activity. For example, Indiana specifies that "a victim who was injured while committing, attempting to commit, participating in or attempting to participate in a criminal act" is ineligible for victims' compensation.
8.) Judges, police and juries often hold bias against sex workers. In Philadelphia, Judge Teresa Carr-Deni called gang-rape of a sex worker at gunpoint "theft of services" and refused to allow prosecution to press aggravated sexual assault charges. In South Africa, police routinely refuse to even pursue rape cases involving sex workers or laugh at victims when victims come forward.
9.) Sometimes sex workers are arrested when they report violence, including trafficking to the police. This practice has been documented in the United States, United Arab Emirates, and Central and Eastern Europe. Undocumented migrant workers can face deportation if they report crimes, and while visas exist for migrant trafficking victims, some countries, including Norway, regularly deport non-native victims of trafficking in the sex trade when they come forward for help.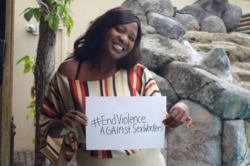 10.) Sex worker rape victims rarely report victimization to the police. In Toronto, 100% of migrant sex workers interviewed by the Migrant Sex Workers Project said they would not call the police if they experienced violence. In Vancouver, Canada, only 25% of youth engaged in survival sex who had been sexually assaulted reported to the police. Of the youth who had been victimized, 18% did not receive help from anyone, including boyfriends, other sex workers, friends or parents. Sex workers express barriers to reporting sexual and other forms of violence to the police across the world - in Central and Eastern Europe, in Asia, Africa, and South America.
11.) Sex Workers are especially vulnerable to police violence, as police officers can threaten victims with arrest or stage an arrest and sexually assault victims. In former Soviet Bloc countries, a high proportion of sex workers report being sexually assault by police--with rates as high as 90 percent in Kyrgyzstan. In Bangladesh, between 52% and 60% of street-based sex workers reported being raped by men in uniform. In South Africa, sex workers are routinely harassed, beaten, and assaulted. Police sexual violence against sex workers also exists in the United States: 17% of sex workers interviewed in a New York study reported sexual harassment and abuse, including rape, by police. In a Chicago study, 30% of erotic dancers and 24% of street-based sex workers who had been raped identified a police officer as the rapist. Approximately 20 % of other acts of sexual violence reported by study participants were committed by the police. In Bolivia, police regularly arrest sex workers and either extort money or force them to engage in coercive sex.
12.) Migrant sex workers, women (especially trans women) of color, drug users, and individuals with criminal records are especially vulnerable due to intersecting bias.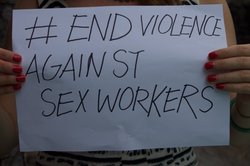 In Norway, several migrant sex workers were evicted from their apartment and had their cash and electronics seized after reporting violent rape by individuals impersonating police. Migrant sex worker victims also face risk of being deported in Canada and the United States if they seek law enforcement help, and while relief from deportation for victims theoretically exists, it is inconsistently applied, high-barrier, quota-capped and temporary, and the process of applying for relief is labor-intensive, lengthy, and biased against imperfect victims. Trans women of color face disproportionate profiling as sex workers and disproportionate police misconduct and sexual assault while in custody. And as a current, all-to-common example of how race, class, and criminalization of drug use and sex work intersect to make women vulnerable to state violence, Oklahoma City police officer Daniel Holtzclaw preyed on 13 black, low-income women, many with criminal records for prostitution and drug use, systematically using threat of arrest and the victims' vulnerability due to race, class, and status as a sex worker or drug user to assault them.
13.) Criminalizing just clients increases violence against sex workers. Rape and sexual assault reports increased two-fold after Scotland introduced laws criminalizing solicitation in 2007. Generally, criminalization of clients can result in displacement of street-based sex workers to more dangerous areas, make it more difficult for sex workers to access outreach services, result in sex workers working in isolation to avoid detection, and result in sex workers "rushing" conversations with clients to evade arrest, ultimately jeopardizing safety.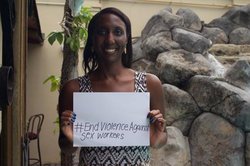 14.) Rates of sexual and physical violence against sex workers are lower in contexts where sex work is not criminalized. A recent academic article found that decriminalization is the only framework that would secure human rights for sex workers in South Africa. Across contexts, decriminalization allows sex workers to work together and for street-based sex workers to work in safer areas, factors which increase safety. Decriminalization also increases sex worker access to justice and allows sex workers to report violence to the police without fearing arrest. 70% of sex workers and social service providers in New Zealand say that sex workers were more likely to go to the police after sex work had been decriminalized.
15.) Sex work is not a form of sexual violence, but sex workers are especially vulnerable to sexual and intimate partner violence. Conflating sexual violence and sex work can increase violence against sex workers by perpetuating stigma, it can alienate sex workers from social services, and it can result in sex workers who are victims of violence being ignored.
16.) Sex workers sometimes also face structural violence from healthcare and social service professionals, but there are things agencies can to to help fight violence against sex workers. They can train staff to be culturally competent towards sex workers. They can organize bad date lists. They can support policies that increase sex worker access to justice, safety, and human rights. They can support or create space for peer-led efforts for safety and organizing.
17.) Sex workers - even the most vulnerable sex workers - are resilient, and in the face of individual and systematic violence, they support each other in staying safe and fighting back against violence. They organize bad date lists and share information about bad clients. They work together and look out for each other. They serve as safety buddies for each other. And they come together to support other sex workers who have experienced victimization. They conduct their own research. They teach service providers how to serve people in the sex trade without stigma. They educate each other about legal systems and their rights. Sex workers don't need rescue or sympathy, they need solidarity in their fight for human rights.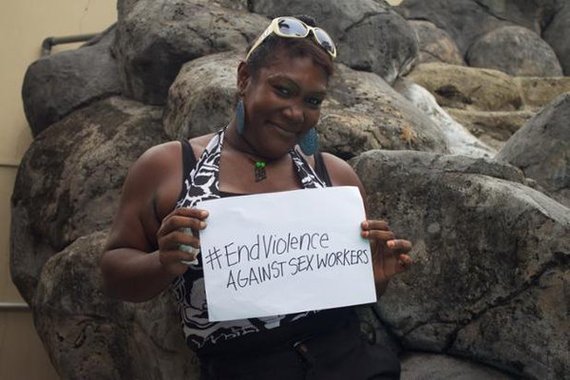 All Images are from the African Sex Workers Alliance[ASWA] 16 Days of Activism Campaign. ASWA is the Pan African Alliance of sex worker led groups, and works strengthen the voices, empower, advocate for and advance the health and human rights of female, male, and transgender sex workers through networking, movement-building, and partnership development. The images are part of an online campaign of African sex workers, activists and human rights defenders showing solidarity to end violence against sex workers. Tied with this campaign is the build up to the December 17th International Day to End Violence against Sex Workers campaign marked globally to highlight injustices committed to sex workers.
To learn more about the Aftican Sex Workers Alliance and their 16 Days of Activism campaign, visit the ASWA Website.
To learn more about violence against sex workers and Day to End Violence Against Sex Workers, visit the December 17th Website.