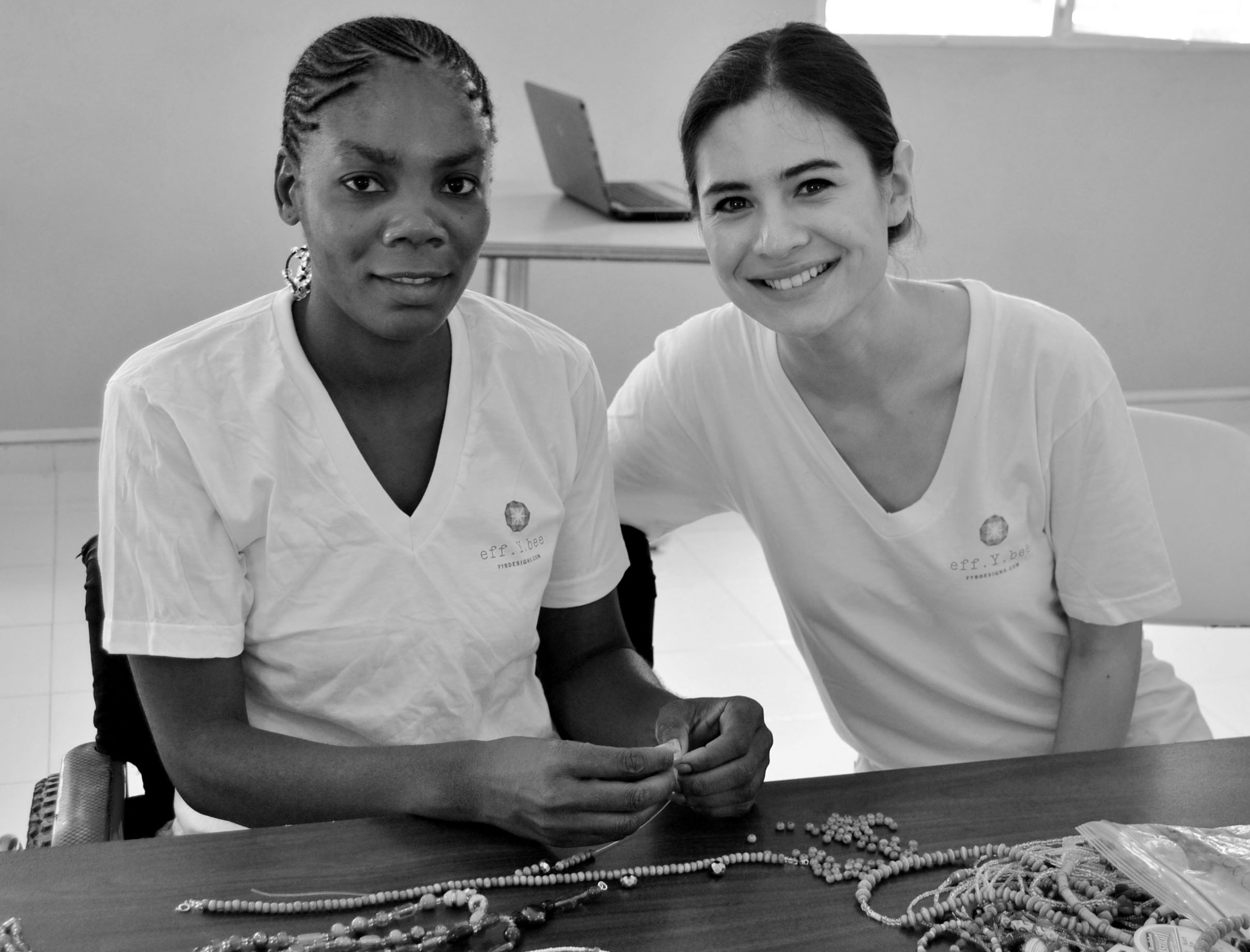 Alyssa Kuchta is the founder of eff.Y.bee, a lifestyle jewelry brand that has an employment program for women in Haiti called Bay Lavi, or "give life." Initially started as a charity line during Kuchta's senior year at the University of Delaware, the line has since become a collaborative employment program working with non-profits in Haiti. The brand focuses on employing and uniting the most vulnerable populations of women through jewelry-making, subsequently providing them with an income and set of skills. Kuchta will be selling jewelry from the line at the Holiday Shops at Bryant Park, starting on November 1.
eff.Y.bee, said aloud, is actually FYB -- an acronym for "follow your bliss." In what ways have you followed yours, and how have you seen it change your life?
There's a difference between finding your bliss and following your bliss. The moment I realized starting a jewelry line would incorporate everything I enjoyed -- fashion, creative freedom, passionate individuals and dedication to a worthwhile cause -- the risk I undertook financially, personally and mentally while starting FYB never crossed my mind. Each day I wake up excited to work. The entrepreneurial path has not been easy by any means, but there is something refreshing in the uncertainty of what will come next and the certainty in knowing that the success of my business is determined by my passion for this company.
How did you become involved with Haiti?
As a junior in college, I became involved with a campus group called Students for Haiti. To help raise $70,000 with the group, I created a unique bracelet to sell. I named the line Bay Lavi, Creole for "give life." After our efforts, I traveled to Haiti with Students for Haiti. This past summer, I found myself back there, ready to establish Bay Lavi and launch the program for the first time at St. Boniface, with women who have spinal cord injuries. It was surreal getting to meet these women, and such an experience to hear their stories and work with them during our training program. They are all such strong and amazing individuals. It was a week filled with laughter and tears, and I came back to the U.S. feeling more inspired and motivated than ever before. Jewelry allowed us to communicate without words and bond and connect through a creative outlet. I believe more strongly than before that what these women need is not charity, but financial and personal freedom and independence. Bay Lavi is a program that provides these opportunities by working directly with reputable non-profit organizations and their communities, listening to their needs and targeting specific groups of women who need help the most. Bay Lavi products are actually not meant to be a charitable item, but part of a sustainable movement. By creating jobs, we are providing dignified opportunities for these women to better their lives independently.
What's the production process between New York and Haiti?
After traveling to Haiti several times, I have been able to develop a relationship with some amazing organizations. My trips have allowed me to monitor and evaluate the organizations that eff.Y.bee partners with, guaranteeing that the money made from each sale goes back to quality working conditions and wages for these women. These trips also allow me to meet with the women we hope to empower -- a connection that I hope to spread through the sale of the Bay Lavi line. During these trips, I also help assess what materials can be locally sourced and what must be shipped to Haiti. I then purchase these materials in New York and send them to Haiti. Once finished, the jewelry is sent to the U.S., where it is marketed at a higher price than could be sold for in Haiti and 30 percent of each sale goes directly back to the artisan. I hope to continue this model until I'm able to order in volume, with a long-term goal of being able to provide a stable monthly salary for these women.
How else do you hope to see Bay Lavi grow?
My long-term vision is to collaborate with multiple organizations throughout Haiti and beyond to replicate this program -- extending this opportunity to more women. It's not a simple process, but I'd like to start by breaking down the barrier of accessibility and create a sustainable model for economic and community development. This month, our second Bay Lavi program is launching at Edeyo in Bel Air, Port-au-Prince. Partnering with this organization, we will be providing employment for single mothers living in poverty. They'll be creating a new line of accessories we've never had before.
You're part of the Holiday Shops at Bryant Park, starting on November 1. What do you most look forward to about retailing in one of New York's most famous parks?
This will be our second year in Bryant Park, and yet I still have intense butterflies thinking about setting up the shop! It's an amazing place to be during the holidays because it truly captures a classic New York City holiday experience. I'm looking forward to meeting new people and seeing returners, sharing the story of the brand and for each person who enters our booth to leave feeling inspired.
Did you ever dream that one day you'd be selling your product in Midtown Manhattan?
I feel blessed to have this opportunity, and I genuinely believe I've gotten to where I am thus far because I followed my bliss. At end of the day, what matters most to me is being able to inspire others positively: to get them believing that their goals are reachable and to help them feel the urgency to get out there and start doing.
Follow eff.Y.bee on Twitter at @effybee.