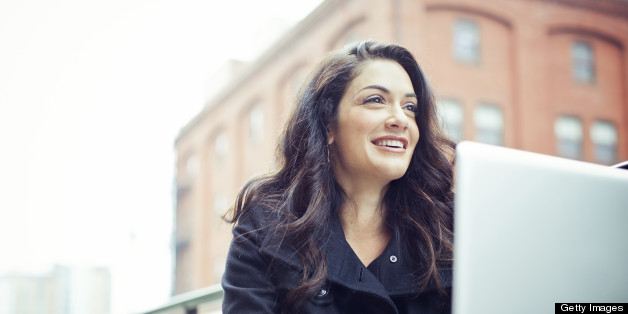 It can be daunting -- mining through job sites, editing your cover letters, sweating through interviews -- trying to pin down a basic entry-level job. Where do you even start looking? How do you write a cover letter without sounding like you are reading your resume out loud? What even happened to that old resume?
The job market is starting to creep back up, but finding a job right now is a little like landing an unwanted, and unpaid, part-time gig. Although I have not been at it for long, I found there is a particular etiquette that comes with job hunting. And so, from my own etiquette mishaps out in the world of the college grad, I found some method to the madness.
1. Go digital. Marketing is everything; so first off, make yourself digitally available. I had a hiring manager contact me through LinkedIn, just from having an updated and professional profile. Yes, it is important to delete your drunken college party photos from Facebook, but don't over do the deleting. If you have a link to a website you built, a YouTube video, or blogs you have written, flaunt them. As long as the content is appropriate and will not harm your chances of employment, you reserve full bragging rights. Companies are increasingly turning to social media to find new employees. You want to stick out -- in a good way, of course.
2. Drop the mass cover letters. When you are ready to sit down and crank out applications, give the cover letter extra care. Unless you do not own or have access to a computer, there is no reason why you cannot take the time to write up a cover letter specific to the job you are applying for. Chances are, you will miss a critical detail, like not changing the company's name that you have, so cleverly, embedded into the letter. Cover letters do not need to be memoir-length; keep it short, sweet, and specific.
Some people find key words, or adjectives, listed in the job posting and repeat them verbatim in their cover letter or resume. I think it's better to describe experience or have had that explains how you meet the description, instead of giving a formulaic qualifications.
3. Stalk. This is not the same as digging up dirt on your ex-boyfriend's/girlfriend's new fling. Think of this more as casual research. Follow the company or organization on Twitter, Facebook, MySpace, LinkedIn, Tumblr, Flickr, Pinterest, Google +, and any other social media site you can find. Unlike a first date, the more stalking you do, the better. You want the employer to like you, and if you find that you share the same quirky taste in music (and there is an appropriate time to talk about music), you are well-armed.
4. Do your homework. The "I got this" attitude may have worked for winging a presentation in your Spanish 101 class, but interviews are not for winging. Interviewing is tricky because you'll never know exactly what questions will be asked. It is easy to get caught off-guard if you do not know much about the company's objectives, or do not prepare to ask questions. Always ask questions. While confidence is golden, being overly confident enough to not do your homework will only embarrass you. Oh, and one more thing: always ask questions.
5. Be the it guy/gal. If you are doing a phone/Skype interview, go somewhere quiet, with a good connection. If you are at home, make sure whoever is in the house knows to not pick up the phone, or disconnect the internet for the duration of your interview. Recently, my cell phone dropped a call right as the interviewer asked me if I had any questions for her. Horrified, I ran outside and called her back. I was lucky that she was good-humored enough to laugh it off, but employers won't always be amused. I used the home phone for the next interview to be safe.
6. Eat bananas. Weird, I know -- but bananas are rich in potassium and magnesium, which help the brain release serotonin and melatonin, according to Livestrong.com. In other words, they are a de-stressing fruit. If you get major butterflies before the big interview, like I do, put down your third cup o' joe and grab a 'naner.
7. Always follow up. Even after you stun the pants off the hiring manager (metaphorically, of course), your work is not done. Follow up with an email or thank you letter after an interview (even a phone or Skype interview). This shows you are enthusiastic, professional, considerate, and determined -- all great qualities of a prospective employee. Plus, showing up in the hiring manager's inbox will help keep you on their radar. The squeaky wheel technique also works if you have sent your resume in, but fear it got lost in a black hole. Hiring managers are busy people, so they are usually grateful for little reminder from you.
8. Brush up on your Excel skills. After awhile, I wanted to follow up with some companies and found myself digging through my Sent folder to find contact information. Make it easier on yourself and exercise your skills in Excel. Make yourself a simple spreadsheet to keep track of what you applied for and when. Include the position, the company, the date you applied, the job database or email address you used to send the application, the contact person's information, the date you need to follow up, and the status of your application, and any additional notes to help you remember. This will pay off when you get a call from a company you applied for two months ago.
9. Take breaks. Job-hunting is frustrating and just plain hard sometimes. Go for a run or bike ride, hang out with friends, do something to get away from the computer. You'll also be less likely to make stupid mistakes if you pace yourself.
10. Be picky, kind of. Unless you are completely desperate for cash (most of us will claim we are), do not waste your time, or an employer's time, applying for jobs you think you will hate. You probably will. Be patient and keep looking for one you are excited about. Employers can tell when you are genuinely interested in the job, you'll have a more productive interview, ask better questions, and concentrate on what you can give to the company.