Aside from a bevy of devoted mountain bikers who pay homage to the place every year in the 24-hour Mountain Bike National Championship, Moab, Utah, doesn't usually hover at the top of most people's vacation wish lists. That's a shame, because it's one of the most uniquely beautiful destinations in the country.
Arches National Park and Canyonlands National Park are short drives from the center of Moab. Each one features breathtaking red rock formations that virtually glow in the fading light of sunset. By itself, Arches offers days of exploration via short walks or extensive hikes under and around 2,000 stone arches formed by the imprecise art of natural precipitation. The rugged grandeur of these monuments -- each idiosyncratic and constantly changing -- is unparalleled.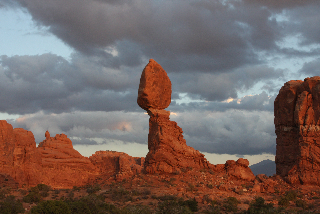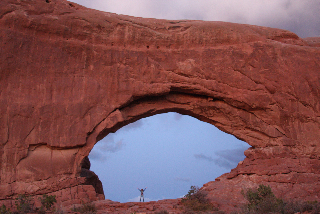 Flying into Salt Lake City or even Denver would save time, but lower airfares inspired us to transition from Las Vegas, where David and I rented a car and drove to Moab, covering nearly 1,200 miles on the entire trip. Zion National Park is an easy stop along the way, with myriad hikes (such as the famous Narrows... next on our list), beckoning for much more than a side trip. Instead, we lingered at Bryce Canyon National Park, just a few hours outside of Vegas, for a short hike to investigate the stalagmites -- conical mineral deposits that create spectacular rock pinnacles called hoodoos.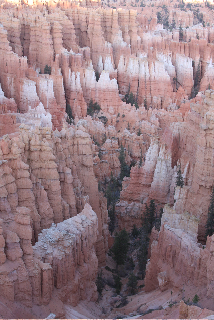 Taking this detour stretched our drive to about 12 hours, but it was well worth the delay, and made me want to return to the explore the maze of trails beneath these eerie red, rust, and white natural towers. In fact, there wasn't any place I didn't want to linger. We made a note to return to explore the maze of trails amid the eerie red, rust, and white natural amphitheater -- when we weren't on our way to another destination.
Several hours later, hungry and growing fatigued from trying to anticipate random deer and cows wandering onto the road through the inky blackness, we stumbled across Hell's Backbone Grill in Boulder, Utah, a tiny town (population 180!) that feels like it's in the middle of nowhere (maybe because it is?). Expecting mediocre food, we were thrilled to discover a restaurant with mouth-watering dishes accented with herbs and vegetables from the restaurant's organic farm and on-site gardens. They even get their eggs from their own heritage-breed hens. When I explored the log cabin-like interior, I found an article about the eatery from Oprah Winfrey's magazine framed on the wall, along with dining awards and a piece in the New York Times travel section. Guess I hadn't broken the big news after all.
When we finally arrived in Moab at 2 a.m., we settled into our three-bedroom condominium at Moab Springs Ranch, with a full kitchen, two bathrooms and the wild addition of a fire pole exiting the loft. In all, it could sleep eight people comfortably. Moab is casual and fairly economical; our condo was among the nicest accommodations, which sort of peak with the Hampton Inn. Super spacious and comfortable, it came with the one essential component for any mountain bike trip: A washer/dryer unit.
Dining is simple, too. Preparing oatmeal in the kitchen and packing sandwiches before heading out with our mountain bikes and hiking boots suited us fine and saved money. Though a few expensive restaurants have managed to survive, we weren't impressed. After a long day outdoors, what enticed us most was the Moab Brewery, where a burrito bursting with fresh vegetables and a side of steamy homemade cornbread satiated us for around $10.
Now that traveling with your own bike has become ridiculously expensive, renting makes sense. It seems like there's a bike shop every block in Moab -- it's a Mecca for off-road enthusiasts -- but making reservations in advance is a good idea. For about $60/day at Poison Spider Bicycles, I found top-flight Yeti bikes with 5.75 inches of travel (mountain bike-speak for the range in the suspension), and super helpful mechanics/cyclists who provided helmets and the right pedals (bring your own shoes). They also offered to tune the bikes each day, and suggested routes -- there are dozens of highly technical to moderate courses -- based on our abilities.
The highlight was undoubtedly Slickrock, the iconic ride of the area. Full of steep climbs and descents reserved for only the most skilled cyclists, precarious drops into canyons, soaring views of the Colorado river, and stunning smooth rock (which has an unexpected and comforting grip on mountain bike tires), it was nothing short of exhilarating. Of course, it took me the usual 60 to 90 minutes to conquer my fear of spending the rest of the trip in the hospital. But when I did, I launched into one of the most rewarding experiences of my life.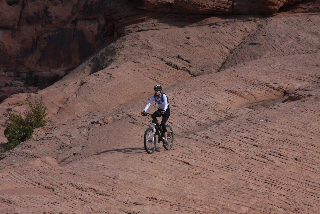 And that was just the beginning. Opportunities abound for activities outside the standard biking and hiking. One day, we arranged for a private mountain climbing guide to take us on a six-hour excursion through Pritchett Canyon. We called Jackson Hole Mountain Guides, told them we were reasonably fit, asked for something challenging, and got that and more. After a couple of hours of hiking and climbing (no gear; hands only, but with some intermediate to experienced moves in steep, narrow places), we arrived at our first rappel -- about 60 feet and relatively easy against a flat wall. Still, the first time you step off the edge of any cliff in a harness and lower yourself down, it's terrifying. When trust finally replaced dread, I couldn't help but shout my enthusiasm, which bounced off the cavernous walls all the way down. The second rappel, completed only if people do the first one without incident (um, obviously), is a 90-foot free fall.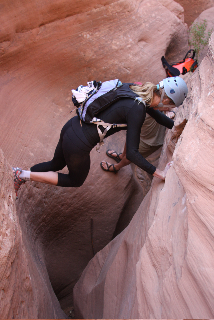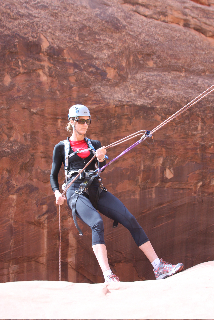 Several days left us yearning for more. A camping trip under the luminous stars. Mountain biking new routes. Hikes we saw only from the car. National Parks that promised days of escape. With all that we saw, there's much we missed. So Moab remains at the top of our vacation wish list. And you know what else? All that outdoor adventure, laughter, and teamwork capped with isolated, moonlit evenings made it one of the most romantic getaways we've ever shared. Yep, we're definitely going back.