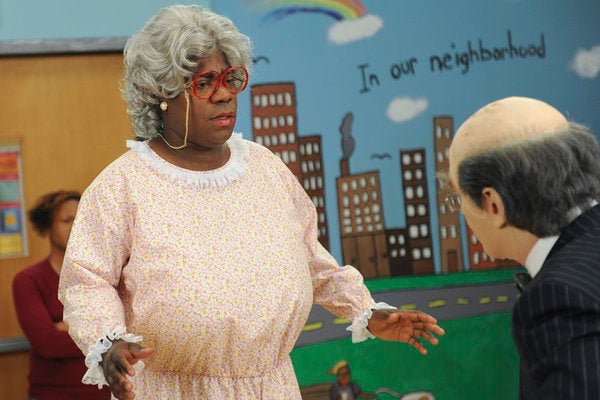 I'm a little devastated. It seems Liz Lemon won't be able to have it all after all, no matter how many times she's insisted it in elevators and mid-sandwich at the airport over the last seven years. Now that we know she's getting married in the Nov. 29 episode, does that mean she'll be leaving "TGS"?
All wild speculation aside, time to get to business:
This week, Jack Donaghy was baffled when his go-to phrases were endlessly quoted back at him ("Gabe, Google 'Jack Donaghy' and 'black laughter.'"), until he discovered that he's the villain in Tracy Jordan's latest "Aunt Phatso" movie. What's more, there was already a sequel in the works. Furious, Jack demanded that it be scrapped, which angered Tracy, who said Jack didn't respect him even though they were essentially the same. To prove his point that he had just as much power, Tracy made a huge donation to the New York Philharmonic and had them play the theme song of "Sanford and Son" for four hours straight, ruining the concert for Jack. In response, Jack brought in a Japanese and a German attorney (the German one played by "30 Rock" executive producer Robert Carlock) and told Tracy he'll sue him for libel if he goes ahead with his sequel. However, since nearly all of Villain Jack's actions and lines in the movie were true to what Actual Jack says and does, Tracy ptoved he doesn't have a case. The only thing that happened in the film that Jack hadn't actually done was shutting down an orphanage, until he realized that the funding of the film was tied up in an orphanage in Knuckle Beach. As a result, Jack can't sue to shut down the film without also closing the orphanage, and if he shut down the orphanage, he no longer had a libel case. And that's the tale of how Tracy Jordan bested Jack Donaghy.
Color me surprised, Tracy Jordan. I hope this doesn't become a trend because a) Jack is infallible and b) these tricky storylines are so much harder to recap in any kind of concise way. I yearn for the days of Tracy pretending not to know how to read to get out of work ...
Liz Lemon needed foot surgery because her bunions have gotten so bad that the podiatrist says the only explanation is that her ancestor mated with a dinosaur. However, she can't take off time from the show without it falling apart because she basically does everything herself. Hazel, who was still looking for an in to show business, had been taking advantage of her relationship with Kenneth by listening to him talk so he'll tell her something useful. Upon hearing about Liz's troubles, she positioned herself to be Liz's personal assistant, which enabled Liz to get the surgery.
Since Liz needed to stay off her feet, Hazel pretended to set her up with a video feed of that night's show so that Hazel could force her way into the show without Liz finding out. Liz eventually figured it out, and both clawed and flailed her way to the set while, brilliantly, "Swan Lake" played in the background. This ruined her carefully protected post-surgery "baby feet" in the process. Liz fired Hazel (free at last?!), which prevented her from getting on the show and ruining it, except the show was ruined anyway because nobody wrote anything while Liz was out of the office. Liz sadly concluded she can't work at "TGS" and have a family.
Jenna, who dislikes Hazel, was concerned with the way she could manipulate and take advantage of Kenneth. Jenna asked Kenneth why he's so attached to Hazel, and he said it's because she listens to him when he talks. Jenna claimed she can do that too, but of course, got lost in her own self-absorbed thoughts about how awesome she is for listening to Kenneth talk while Kenneth talks, thus missing everything he says and was unable to recall it at a critical moment later on. Once he realized she wasn't listening after all, Kenneth was furious and downgraded everyone on the show to being merely work colleagues for whom he would do anything.
A few noteworthy things from this week:
Jonathan has gone missing again. Sad emoticon.
Jack and Liz's exchange:
Jack: "Do you think I'm a villain?
Liz: "I have heard you say 'Guards, seize him!'"
Jack: "I was a Knicks game, they needed to stop the clock."
"Why are you limping? A foot illness or fell running for food?"
Virginia's adorably profanity-laced limo rap with an entourage of stuffed animals
'Old-timey football' as an eye color
Hazel's departure. Maybe this was the "30 Rock" version of fading her into the mist, but she also doesn't seem the type to take "You're fired" or "Get out NOW" for an answer.
Speaking of, Hazel's forged Liz email to Pete was brilliant: "P-Dog, Let's use Hazel in the cold open. Don't call me about this. Catch you on the flippy-floppy."
Seven episodes remaining, "30 Rock" fans. Catch you on the flippy-floppy!
Agree? Disagree? What did you think of this week's episode? Tell me in the comments below!