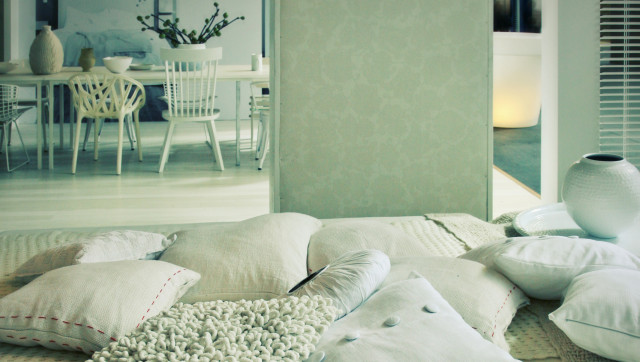 Whether your home or your wardrobe, isn't it time you just shook it up a bit?
Imagine wearing a light blue shirt instead of that black top. Wear a pair of slacks instead of jeans. Put a vase of roses on your living room table, instead of all those papers and books. Paint a room a new color or change the pillows for a new accent color in a room.
It's amazing what a little change can make to your mood, attitude and energy.
Little reinventions can go a very long way and as you realize that you can make the smallest and most fun changes in a matter of hours or days that will have a major impact on your mood and your sense of empowerment. It will remind you of the control you have in your life and the ability to impact your own state of being and happiness.
Look around you -- really -- at your closet, your living room, your office. Sometimes, we go for years without noticing the little details that surround us. What is that pile of books under your coffee table? How long have some of the clothes in your closet been sitting there that you never wear? Remember -- out with the old, in with the new!
So pick a "project" -- a room, a closet, your wardrobe, your food habits -- and give it some serious focus. What can you do to bring change into your life?
You may need someone to help you -- a fresh look with objective eyes. Don't be afraid to ask a friend to come take a look and ask what they'd do with that garage, that closet or a room that needs a fresh look. Sometimes, we only see what we're accustomed to and may not have the inspiration to make that change. Others see that space differently, and certainly don't have the emotional attachment we do to that favorite sweater in the closet you haven't worn in three years!
You will feel light, energized and motivated in ways you can't imagine so put a little time aside, call a friend, open a bottle of wine and allow yourself to get creative with your life and the space around you.
I'd love to hear your stories and what you did so please visit www.TheReinventionExchange.com and let me know what you came up with and what little reinventions you created in your life. Join the conversation and see the great links to other inspiring websites and content on the "Get Inspired" page; sign up for the newsletter and please share with everyone.
Enjoy and #HappyReinventing
Follow me on:
TWITTER: @KathiSR #HappyReinventing
Facebook: The Reinvention Exchange
LinkedIn: The Reinvention Exchange