Edgar Oliver has been described as "Steve Buscemi playing the role of John Waters," or simply "Personality, with a capital P." Most people probably know him as the eccentric gentleman with the funny accent hunting down straightjackets and the like on the Discovery Channel antiquing show, The Oddities. But when Edgar welcomed me into his home for a tour of his art collection, the exchange wasn't odd in the slightest. In fact, with him at the lead, everything felt as natural and warm as being with an old friend.
Edgar is a cult figure in New York, mostly due to his relationship with the Moth, a nonprofit that holds storytelling events around the city. He has been performing at these events for over 20 years, regaling audiences with tales from his childhood in Savannah, Georgia, which he spent with his sister, Helen, and their intimidating mother, known simply as "Mother." In a new production which opens tonight at Theater 80 entitled, "Helen & Edgar," the exiled Southerner is in a position to prune the myth of his fascinating family, which over the decades has grown wildly, and perhaps in one direction.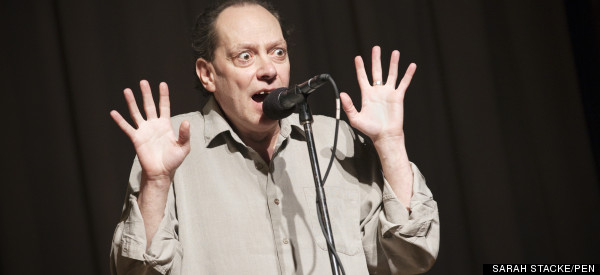 "I feel in a way some of the stories I've told in the past led people to think of Mother as this lunatic, when she was this amazing Mother and artist and lunatic," Edgar told me as we stood in his apartment, in view of one of her paintings. "It's an homage to Mother, really, and to my childhood and to Helen."
Walking through his apartment, Edgar pointed out giant paintings by Helen and smaller ones by Mother. At first, it seemed clear that Helen tackled portraits (mostly of Edgar and his friends), while Mother concentrated on unsettling landscapes. Then we got to a beautiful acrylic work of a young brother and sister dressed in adorably large hats. As we passed it, Edgar remarked, "We grew up posing."
Edgar and Helen ran away to Paris when they were teenagers, slipping free of Mother's grasp and saying goodbye to their Savannah home for good. But Paris wasn't a panacea, of course. For those who remember Edgar's Moth session where he describes learning French to thwart Mother's omnipotence, it might seem obvious that his linguistic escape route eventually lost its power. "It was our secret language where we poured out our hearts, and then we got there [to Paris] and we became terrified, because our secret language was everyone's language," he said. Edgar soon made his way to New York, where life in the East Village made him aware of his sexuality. When Helen got sick of Paris, the two reunited, starting an ill-fated art gallery named Pompeii with a couple of friends in the mid-80s. "It was sort of insane because none of us were good business people at all. The worst thing that could have happened to us would have been for the gallery to be successful, because it would have driven us crazy!" says Edgar.
Now in his fifties, the poet and playwright moved south of Houston Street, and lives on his own amid artwork by his friends and loved ones, including, of course, Helen and Mother. Kembra Pfahler's work is on a wall in his office, and Genesis P. Orridge's name comes up in casual conversation. If "downtown" New York still exists, Edgar is certainly a part of it.
In the hallway, we passed a practical household object propped against the wall. Was it a Duchampian readymade piece? I pointed, asking, "That's not art, right?" Edgar, in his curiously elongated cadence, clasped his hands together and said, "That's the broooooom!"
Obvious, but I had to ask. With Edgar, you never know what to expect.
"Helen & Edgar" is through October 27th at Theatre 80 in New York.