It is 6:57 a.m. The school bus leaves in seven minutes (and the bus stop is a five minute drive). On my way out the door, a pile of mail, untouched for three days, catches my eye. As I wait for my son to come barreling down the stairs in his inimitable way, half-dressed and hollering that we're going to miss the bus, I begin to flip through the local newsmagazine. With half my brain, I register something about a mom and her foundation and make a note-to-self to circle back to it when... Barreling, hollering, running to car, racing to bus and -- my son was right (again) -- missing it.
An hour later, as the dust settles on the typically chaotic morning routine, I'm back home wrestling the mail away from the dog. While a number of bills are apparently already somewhere in his digestive tract (oh well), the local newsmagazine remains unscathed. I flip to the article that I'd mentally earmarked earlier and, as if I'd just donned a pair of noise-cancelling headphones, all of the surrounding mayhem instantly fades away. For the next 30 minutes, I'm fully engrossed by the tale of bravery and self-giving that's unfolding before me and, truth be told, remain so to this day.

On March 9, 2007, Liam McNamara's tiny body succumbed to an illness from which he'd suffered for most of his 16 months of life. Lissencephaly (Miller-Dieker Syndrome) had subjected little Liam to countless seizures, stomach and respiratory problems, and much of his short life was spent with his twin brother (mercifully unaffected by Miller-Dieker) in a hospital room where his older brother and parents stood vigil. But their story is not just one of tragedy. Far from it. It's the story of a morphmom transforming her tragedy into a gift for other families afflicted by this and other terrible childhood diseases.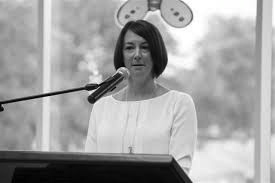 When I put that magazine down, one thing was clear: I had to find Lisa McNamara, Liam's mom, and ask her if she'd be willing to share her story on video, if she'd do me the honor of allowing me to harness the power of the Internet to help spread the word about what she was doing. Through friends of friends, I got contact information for Lisa and blindly reached out. Within an hour, Lisa responded that she would love to do the interview.
Inside of a week, I was sitting in Lisa's living room, camera in hand, an interviewer rendered speechless by her subject's poise and generosity as she shared the story of her painful yet ultimately uplifting journey to help others who find themselves in the same terrible circumstances that she and her family endured.
The interview lasts for hours. Lisa traces the arc of Liam's struggle and the seemingly unending hospital stays. A cold, sterile room with a small bed, a solitary chair, white walls. A room that, for the duration of Liam's illness, a family of five called home. Where meals were shared, homework was done and a sense of normalcy was desperately sought. Where Liam lived virtually his entire life. The story of his family's resilience under such difficult conditions would itself be enough to inspire other similarly embattled families. But Lisa's and Liam's story does not end there. Instead, it goes down a path that Lisa never expected to take, but was simply too big of heart to bypass.
Born of a desire to bring light to what her family had experienced, and to harness the harsh lessons they'd learned to help others, Lisa started her own foundation, "Liam's Room," whose self-described mission is "to create inpatient pediatric palliative care rooms and services for families whose children are suffering from chronic, potentially life-limiting, conditions. Our purpose is to give these children, and their families, a feeling of a home away from home, during their period(s) of care."
In other words, to somehow infuse those cold sterile rooms with that ineffable warmth that we associate with "home." Happy murals painted on the walls. A soothing star nightlight in the ceiling for those long, scary, uncertain evenings. A place where parents can shower with actual soap, sleep in a bed (as opposed to a chair), have access to the simple luxuries that we all take for granted (a microwave, a refrigerator). Where siblings have a desk for homework and can sneak video games in the middle of the night. A place where a family in the midst of tremendous hardship can be made to feel as close to normal as physically possible.
Suddenly, I flashed back on my own family's typical, chaotic morning routine -- so often a source of consternation - and saw it in a whole new light; I realized, as Lisa spoke about her mission, how so many families out there, living through the same sort of ordeal that the McNamaras had, would trade the world for that brand of chaos.
If you do nothing else today, please take a few minutes out of your own daily routine to watch Lisa's video and see and hear a consummate morphmom (and now a dear friend) in action. Any mom who finds herself in unexpected circumstances, whether through tragedy or good fortune, and about to chart a new course will benefit from Lisa's detailed explanation of the steps she took to begin her non-profit, from navigating the legalities to the day-to-day demands of a startup foundation. Any human will benefit from the example she provides of turning tragedy into charity through selflessness and determination.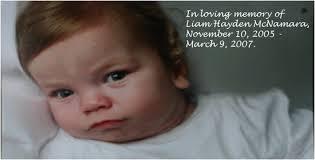 For more information, check out: morphmom and Liam's Room.