Meet Edie
Realtor, Politician, Publisher and Sage...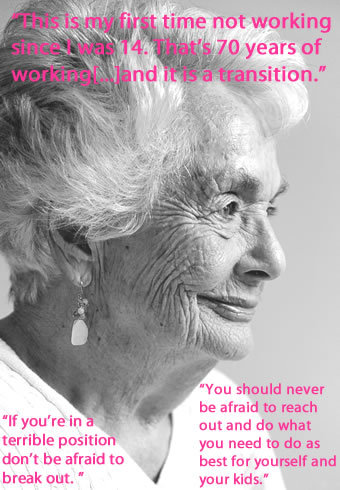 What did you want to be when you grew up?
"I didn't really dream about being this that or the other because... I was born in the depression years. We worked so hard just to live and grow vegetables... stay warm... it was difficult to think beyond those years."
What have you done?
"Before I was in the real estate business, I was head of town council and I was town clerk. I worked as secretary for the chamber of commerce and then I published one of the first Block Island Newspapers, "The Hooter." It forced me to do different things than I had planned on. I like the challenge of it. I did a lot of things that had not been done for the island."
What is one of your prouder moments?
I was the first woman to be First Warden in 1984, so it took a long time to get there... After 16 years I was getting a little bored and I said to them I'd like to run for First Warden. I went to my party, which was Republican, and I said I'd like to be running at the top of the ticket... well, there was heavy silence and I could see that they were not too keen on that... I said I'll leave the meeting and you can decide if you want me to run or not and if you don't that's fine... someone spoke up and said Edie, wouldn't you like to be a Council Member first? I said no. I'm not interested in that. I have been sitting here for 16 years listening to councils do this, that and the other and I want to be top dog and I'll tell you there's nothing like being top dog!"
What advice would you give to other morphmoms?
Always reach out to other people. People like to help people. It makes them feel good. They don't have to give you the time and help -- just the fact that you asked [is important].
Who was your greatest influence?
[My father] never let us feel that we were not just special people to him and loved us and gave us the confidence that a girl can do just what the boys do and that was rare in that time. I really knew that my mother and father truly loved me and that was like having a suit of armor for whatever life dishes out for you... they thought that I was just about right...All I learned about loyalty came from my mother, a truly wonderful woman. My sister Eileen, older by almost 10 years, taught me to appreciate art and how to make lovely clothes with style and color. My middle sister Betty was like a mother to me, very loving and always kind."
Are you happy?
Yes, yes but with some bittersweet losses, a husband at a young age, and a son in the prime of his life. I wouldn't have traded anything
To hear more of Edie's story, visit http://www.morphmom.com/
Photo credits to morphmom Lisa Berkery
http://www.lisaberkery.com/