"...She's an energetic multi-tasker who runs an interior decorator and fabric design business in L.A., renovates houses in France, and raises my brothers and me..."
That's how my eldest son, Oscar, described me in the college applications he was writing all last year. His father, on the other hand, was portrayed as an introspective nature lover who lives for solitary walks by the ocean. As much as I crave the leisure to stroll the beaches of Baja, I am far too busy doing all the things Oscar said and never taking a day off. After a hectic summer dropping by all the showrooms that carry my fabrics, entertaining houseguests on two continents, never getting to bed before 2 a.m., and dispatching Oscar off to college (sob!), I thought I would slow down in September and kick back with a twelve-city book tour for the promotion of my new book, Classic Country (as in French country house, not Nashville).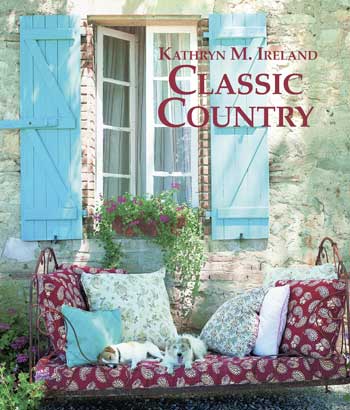 I vowed not to take on any new jobs and leave plenty of time to organize my teenage sons for the new school year and get my bulbs in.
Over Labor Day weekend, however, I met a couple who had recently moved into a sprawling California ranch-style estate. As they had bought the house fully furnished, nothing really needed to be done, save for a few curtains and slipcovers. Okay, I thought. I can easily fit in some curtains. This is the kind of thing I can do in one afternoon, still leaving plenty of time for boys and bulbs. Two weeks later, there I was, back at the ranch house, knocking down walls, knee deep in plaster, and ordering gorgeous tiles handmade in Marrakesh (www.houseofmosaics.com) for the bathrooms I had just gutted. How did I manage to convert hanging a few curtains and zipping a few slipcovers into one of the biggest decorating projects of my career? So much for time off. And when my clients gave me an incentive to do a rush job and get it all in by Thanksgiving, I knew I would practically be living at the site for the next two months. The good news was I would be close enough to spend time at my escape from L.A.: the Wallace Neff stable block in Ojai that I recently acquired and renovated. Vogue Living did a piece about it in the November issue.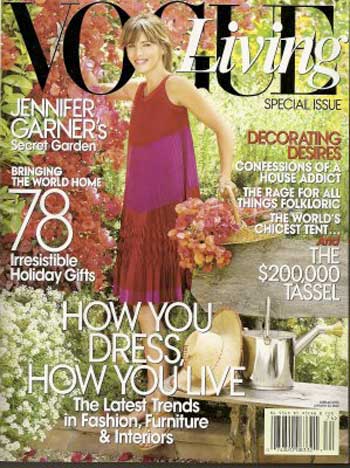 But first, I had to make a quick trip to New York. An old friend from my college days, Hamish Bowles, was being honored at a dinner in New York for his new book, Houses, Gardens, People.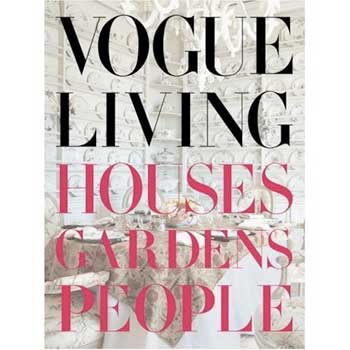 This collection of twenty years worth of Hamish's wonderful Vogue and Vogue Living articles is an absolutely breathtaking must-have, but make sure you bring a sherpa to carry it home. It's so ravishing, in fact, that I wanted to throw my own recently published book into the trash bin.
For twenty years I've stayed at the Carlyle, but having recently worked for the Blackstone Group, I decided to test drive their London Hotel.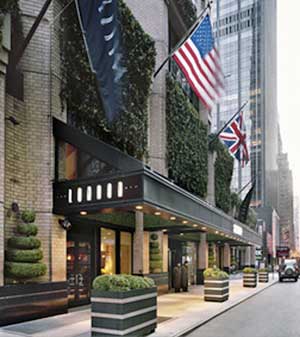 Gorgeously designed by David Collins, the rooms are completely removed from my style which is such a relief. The look is best described as sleek metropolitan chic and Suite 5101 is so expansive it's virtually the size of anyone's apartment that I know in New York. Usually, hotel rooms are pit stops for me but this one was so comfortable and serene, it actually made me feel like nesting.
The day after Hamish's dinner, I drove to Long Island to hit some of my favorite antique stores for furnishings for the new clients. I started in Sag Harbor at Dienst & Dotter where they specialize in exquisite Swedish furniture. Here I picked up an extraordinary 16th Century fisherman's cutting table. The instant I saw it on 1stdibs.com (the Roget's Thesaurus of the design business) I knew it would make the perfect center island for the kitchen. Forget that the soapstone top took ten men to move. Forget that the piece costs as much as any painting over a fireplace -- I knew this table would be the talk of the ranch!
(Decorating Tip: Don't get all hung up with spending most of your decorating budget in the living room. Put the $ where you most appreciate it.)
Further down Montauk Highway, my next stop was Russ Steele's antique store at Red Horse Plaza in East Hampton. Even though it was November, Russ, whom I've known for ages, was still in his Bermuda shorts. I reminded him Memorial Day was over. He said he hadn't had time to change. (I could relate.) This is a shop I love. What's great about Russ' taste is that it isn't era-specific. He just has a great eye. And though he has impeccable discrimination when it comes to buying for his store, he's incredibly indiscriminate in the way he goes about cramming his merchandise into random piles all around the shop. But I love a treasure hunt so I rolled up my sleeves to plunder his inventory. I found everything from a 15th century safe salvaged from the bottom of some Spanish armada where it had been growing barnacles for five centuries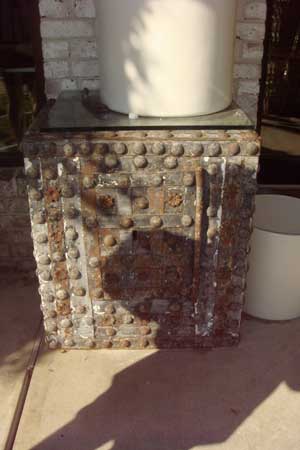 to a pair of sleek mid-century ceramic lamps. "God, my clients are lucky!" I was thinking right before I tripped over something that I just had to have -- the most exquisite mass of mangled iron. It was lust at first sight. I knew immediately that this work of art by local artist Peter Watson would make a fabulous outdoor fire pit for Ojai! Exhausted but exhilarated from all the ransacking, I waggled a limp finger at my new loot and said to Russ, "It all needs to be on a truck and in L.A. by the weekend. Can you make that happen?" He looked bewildered as I staggered to the door and blew him a kiss goodbye. I never buy for anyone unless it's something I would die for myself.
Before I headed back to the city, I checked out a dealer specializing in modernist design, Lisa Bowles, whose store, Roark, is where I found a phenomenal contemporary painting by Italian artist Laura Fiume. It was one of those rare Eureka! discoveries where the painting was so ideal for either my client's or my living room that everyone will think we started with the painting and worked around it. The oranges, the turquoises -- are almost identical to the colors in a design from my latest fabric collection inspired by Mexico.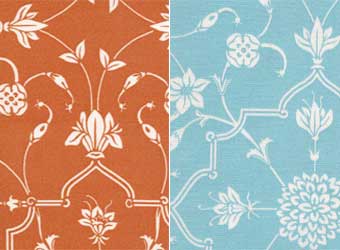 Completing a hat trick of luck at Red Horse Plaza, I was able to wangle a coffee table or two from Robert Stilin next door. He now has so many design jobs that he only buys for his clients now. Was my biggest job of all time really going to be my easiest? Stay Huffington Posted...