We've all heard about Taco Tuesday, Wacky Wednesday, Thirsty Thursday, Freaky Friday... why not Meatless Monday? I know we are all on the bandwagon of starting off the new year on the right foot -- better eating, less drinking, consuming way less sugar -- so why not skip the meat on Mondays? What drives me nuts as a healthy living coach is that most people will do the all or nothing: become a vegetarian overnight or, with a snap of the finger, no longer eat dairy. This type of dramatic ending -- or, shall I say, beginning of a new lifestyle -- is no bueno. It rarely works. Taking the approach of altering, give and take, or modifying the action proves to be far more effective.
If you eat red meat -- or really any kind of animal meat -- every single day of your life you may ask, "Why should I stop?" In a nutshell, no "protein" pun intended, reducing the amount of meat you eat can help with reducing your risk for heart disease and certain cancers. You would also be helping reduce greenhouse-gas emissions. Reducing the amount of meat that you eat can also help the animals. With less demand, it could change the "factory farm" to something that resembles building nests, eating grass, raising animal families and any other natural things that animals do.
So why not give this a try. It is simply being conscious and making a point that you as an individual will skip the meat on Mondays. I am excited to announce that MorningStar Farms is joining the Meatless Monday movement, which is already embraced by hundreds of thousands or people including nationally known chefs, schools, restaurants and whole communities. To help Americans have even more meatless choices, MorningStar Farms is launching two new "better for you" meat alternatives in January 2012, Meal Starters Veggie Meatballs and Veggie Dogs. The Veggie Meatballs have 80 percent less fat than the leading frozen fully-cooked meatballs, and the Veggie Dogs are a low-fat alternative to real meat dogs.
My Sunday Set-Up Club at www.kathykaehler.net will also be adding a Meatless Monday choice of recipes in the supper plans. If everyone makes the choice to reduce the amount of meat we eat on a regular basis it could make a huge impact in our bodies, for the animals and our environment.
Try this yummy supper recipe for Sun Dried Tomato Pasta. Add in some MorningStar Veggie Meatballs and you are on your to a Meatless Monday.
My super fab friend Andrea hosted book club today, and she served the most delicious lunch. More recipes will be in the club next week, but I couldn't wait to post this pasta. Delish hot or cold. So wonderful, and if you add sliced grilled chicken on top for your protein balance you have a winner.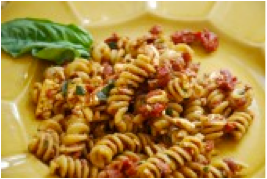 1 pound of pasta (fusilli is perfect for this dish)
1/2 tsp. sea salt
1/3 cup balsamic vinegar
1 tsp. Dijon mustard
1 Tbs. Worcestershire sauce
big handful of fresh chopped basil
1 tsp. crushed garlic
3/4 cup olive oil, you can use some of the oil from jarred tomatoes
2 jars Sundried Tomatoes in oil, chopped
2 6oz. containers of crumbled feta cheese
Cook pasta as directly on package. Whisk together oil, vinegar, Worcestershire, mustard, garlic, salt and pepper for the dressing. Pour over pasta, add tomatoes, feta and basil. Toss well. Heat the Veggie Meatballs and add to the pasta.
So what not try a Meatless Monday? It is a non-profit public health initiative of The Monday Campaigns, in association with the Johns Hopkins Bloomberg School of Public Health. The goal of the campaign is to cut saturated fat intake, which in turn reduces the risk of chronic diseases such as diabetes, heart disease, stroke and cancer. Going meatless one day a week can also decrease our carbon footprint and save precious resources like fresh water and fossil fuel. Since its launch in 2003, Meatless Monday has become an international movement with support from celebrities, universities and organizations around the world. Try it -- you'll like it!
For more by Kathy Kaehler, click here.
For more on diet and nutrition, click here.