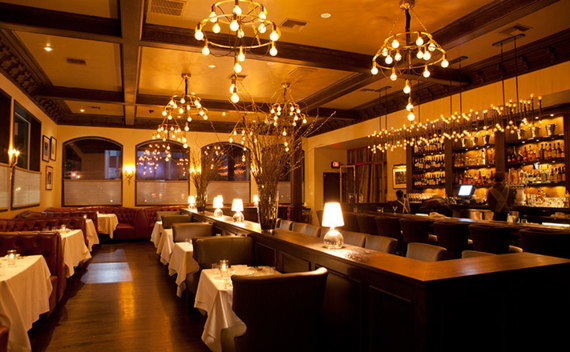 Above: Crossroads in Los Angeles
Valentine's Day -- totally commercial, totally contrived. But it's here to stay, and as busy as we are, many of us appreciate the calendar telling us to slow down, to make room for romance, to pay attention to our partners. Here are 3 tips for those new to the vegan lifestyle, those just dipping their toes into the water, and those who are simply looking for both romance and memorable dining!
Tip One: Use Happy Cow to find romantic vegan dining... no matter where you live.
Thousands of restaurants around the country offer both romance and memorable vegan dining. Happy Cow lists over 5,500 vegan or vegetarian restaurants scattered throughout the country, and an additional 5,000 that it calls "veg-friendly." Take a look at this list -- there's a restaurant listed for every state! Vegan dining in South Dakota? In Mississippi? Yep!
(List is alphabetized by city)
Organic Oasis (Veg-friendly), Anchorage, AK
Plant, Ashevlle, NC
Beets Cafe, Austin, TX
The Bottletree Cafe, Birmingham, AL
True Bistro, Boston, MA
Superfresh!, Brattleboro, VT
Karyn's on Green, Chicago, IL
OVO - Simply Veggie, College Park, MD
The Lamb's Bread, Columbia, SC
Portia's Cafe, Columbus, OH
WaterCourse, Denver, CO
Stix N Twigs (Veg-friendly), Dickinson, ND
HoDo Lounge (Veg-friendly), Fargo, ND
Sublime, Fort Lauderdale, FL
Little Africa, Grand Rapids, MI
Fire and Spice, Hartford, CT
Peace Cafe, Honolulu, HI
Spice Nation (Vegetarian), Indianapolis, IN
Trumpet Blossom Cafe, Iowa City, IA
High Noon Cafe, Jackson, MI
A Fresh Start, Kalispell, MT
Cafe Gratitude, Kansas City, MO
Sweet Melissa's, Laramie, WY
Wynn Hotel Restaurants, Las Vegas, NV
Pepe's Bistro (Vegetarian), Lincoln, NE
The Root Cafe (Veg-friendly), Little Rock, AR
Crossroads Kitchen, Los Angeles, CA
Heart and Soy (Vegetarian), Louisville, KY
Good Natured (Vegetarian), Martinsburg, WV
Mi Vida Cafe, Miami, FL
Ecopolitan, Minneapolis, MN
The Wild Cow (Vegetarian), Nashville, TN
Sinclair's Cafe, Newark, DE
Bhava, New Orleans
Candle 79, NYC
Susty's Cafe, Northwood, NH
Tamazul, Oklahoma City, OK
Vedge, Philadelphia, PA
Green Elephant (Vegetarian), Portland, ME
Bye and Bye, Portland, OR
The Grange (Vegetarian), Providence, RI
Good Karma Cafe, Red Bank, NJ
Phoenix Garden, Richmond, VA
Sage's Cafe, Salt Lake City, UT
Di Luna's (Veg-friendly), Sandpoint, ID
Thai Vegan, Santa Fe, NM
Casbah (Veg-friendly), Savannah, GA
Millennium, San Francisco, CA
Sutra, Seattle, WA
Desert Roots Kitchen, Tempe, AZ
Wayward Vegan Cafe, Washington, DC
The Cheese Factory, Wisconsin Dells, WI
Garden Grill Cafe, Wichita, KS
Tip 2: It's possible to feel just as special at home with any of these killer recipes. The first is from Chef Linda, culinary instructor for Compassionate Cuisine, Catskill Animal Sanctuary's vegan cooking program! Artichokes, featured in the dish, have been considered an aphrodisiac for centuries -- light some candles and cook up some romance!
Vegan Paella
Cauli-power Fettuccine Alfredo
Saucy Stuffed Peppers with White Wine Risotto
Mushroom Fondue
Chocolate Fondue
Chocolate Covered Strawberries
Seductive Raw Chocolate Walnut Fudge
3. Finally, if you want a little more time with your Valentine and a little less time in the kitchen, don't hesitate to cheat with the chocolates! These companies offer stunning vegan chocolates. You won't believe what you see, and I hear they taste as good as they look.
Rose City chocolates
Sjaak's Organic Vegan chocolates
Allison's Gourmet (vegan chocolates, cookies, and brownies)
If you're hesitating, be encouraged by the fact that for abundant ethical, environmental, and health reasons, interest in plant-based eating is at an all time high. More on that in the next post!