Who needs a time machine when you've got $2 in your pocket? Not us, that's for sure. My little girl is learning about the Romans at school, so during our summer holiday in Paphos I'd promised her we could go back to the 2nd century AD (well, sort of...)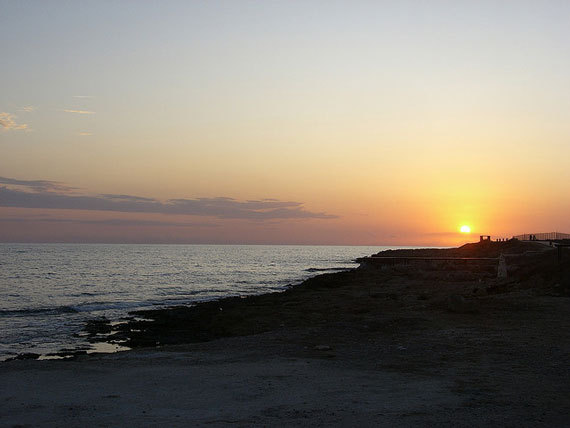 Photo credit: Peter Collins, via Flickr
History is her favorite subject -- and her nose is often buried in huge textbooks rather than in the likes of Enid Blyton or JK Rowling -- so she doesn't take much persuading to leave the hotel's pool.
It's just a short bus journey south along the scenic coast road to get to the Tombs of the Kings. The number 615 runs every 10 minutes along the route, so we don't have long to wait.
Like most of Paphos' historical sites -- and as this area has been inhabited since Neolithic times it has plenty of them -- the Tombs of the Kings costs just 1.70 euros to get in. The name is a bit misleading as the tombs here were built for Paphian aristocracy rather than actual royalty. But, they are no less stunning for that. And even my nine-year-old is awestruck by the site.

Photo credit: Glen Bowman, via Flickr
It's like stepping straight onto a movie set. I tell my daughter I half expect Indiana Jones to appear at any moment, but she just looks at me blankly -- hardly surprising given she was born 20 years after Indiana Jones and the Temple of Doom was released. "Like Lara Croft in Tomb Raider," I add to her.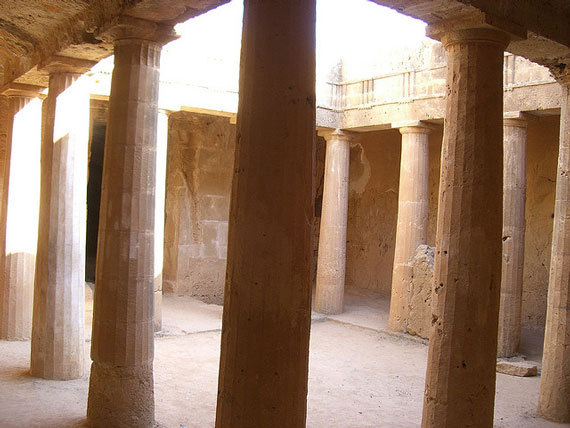 Photo credit: Peter Collins, via Flickr
The tombs here date from the 4th century BC until the 3rd century AD, when this site was no longer used for burials. They are cut into the rock and you can descend narrow, uneven steps to look into the tombs themselves, some of which are designed to look just like the tombs of the living.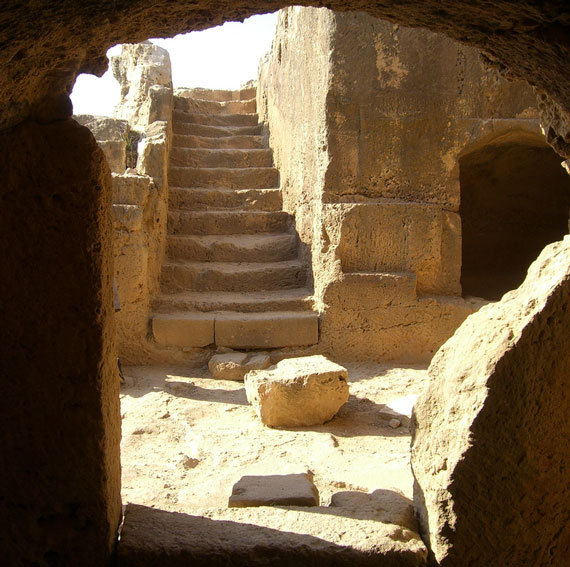 Photo credit: Peter Collins, via Flickr
We're here fairly early -- the site is open from 8am to 7:30pm -- to avoid the heat of the midday sun. And the shadows cast at this time of the day, of the tomb pillars, add further drama to the site.
From here, we head further south to our next historic attraction, the Paphos Archeological Park.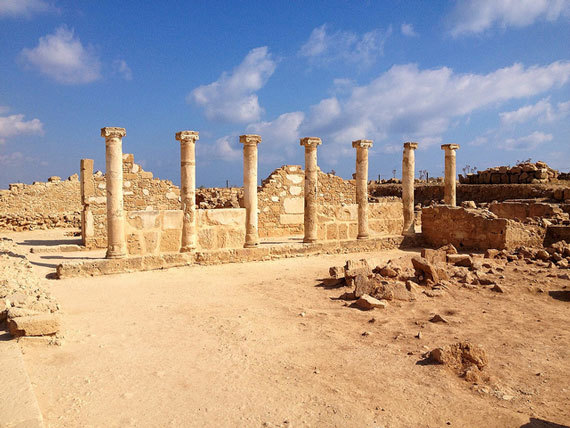 Photo credit: Michal Osmenda, via Flickr
This one costs 3.40 euros to get in, but it's worth it to see the star exhibits here -- the Paphos mosaics. Lining the floors of impressive Roman villas, they are some of the best preserved Roman mosaics anywhere in the world.
Most of them show images from Greek mythology, which is good for us because while my daughter is learning all about Romans in school this term, she's due to move onto the Ancient Greeks next term.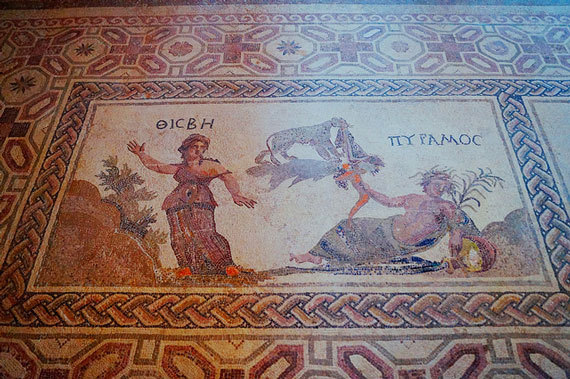 Photo credit: CTO Zurich, via Flickr
We spend a couple of hours matching up the mosaics with the stories about them. Our favorite is the huge artwork depicting the ill-fated love story of Pyramus and Thisbe. The lovers had arranged to meet in the forest. But Thisbe arrives first and flees when she sees a tiger lurking in the trees. Pyramus arrives shortly afterwards and sees his beloved's scarf covered in blood from a fresh kill. Thinking she is dead, he falls upon his sword.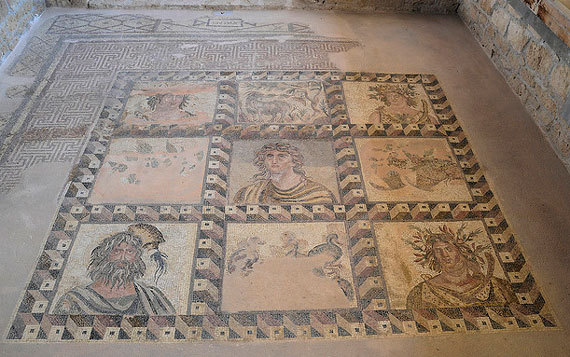 Photo credit: Son of Groucho, via Flickr
There's also a depiction of the four seasons, which is full of fascinating details, along with mosaics showing Theseus killing the Minotaur and Hercules.
There are a few shady spots to sit and have a drink, but soon the afternoon sun is becoming unbearably hot. So, we buy bookmarks to take back for her classmates and head on back to the swimming pool at our hotel to meet up with her daddy and brother, who's a bit too young to appreciate Roman history. They've been having a fine old time splashing about and, after half a day of sightseeing, we're ready to cool down too. I relax under a parasol with a book, while my daughter is off to whiz down those water slides again.