As women, it is our genetic right to hide under our comfy sweaters and thick socks during the winter. However, the skin-bearing spring and summer seasons will be back before you know it and there's no better time than the present to prepare. If you've covered up your scaly skin and hid your unpainted toenails over the last few months, it's time to face the truth. You've neglected the parts you can hide and now it's time for a Winter Beauty Retreat.
Here's an itinerary to get in tank top, tip-top shape from head to toe:
First Stop - Hair Care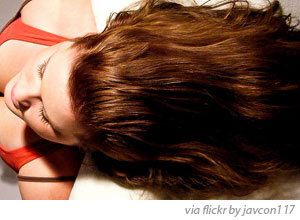 The dry winter air wreaks havoc on everything, especially our hair. The ends split, the roots lack volume and worst of all, dry hair conducts super static electricity. To correct this, start with a good shampoo and conditioner that give back what the dry air has stolen. MedicineNet's article, Winterizing Your Hair Care, suggests choosing products that contain essential fatty acids and humectants to help restore and moisturize hair. If scanning and deciphering ingredients isn't high on your to do list, try a shampoo for damaged hair like Keratase Bain Satin 3 Shampoo, a Bestcovery.com Best Pick.
One your hair is well-moisturized, think about what's causing the damage. Are you stepping out with a wet head, despite mother's warnings of pneumonia? Is your heat turned up so high it dries out the humidifier? For most of us, the answer is the same: heat damage. Blow dryers, flat irons and curling irons, scorching our locks into submission. Add dry air to the equation and your hair isn't just thirsty, it's damaged. One of my favorite products is Paul Mitchell's Gloss Drops hair serum. A small amount in wet hair will help balance the drying effects of your winter routine while a touch on dry hair adds shine and reduces frizz and static. For more advice on how to keep your hair happy, see TLC's Hair Care Tips.
Feel Free - Freshen Your Face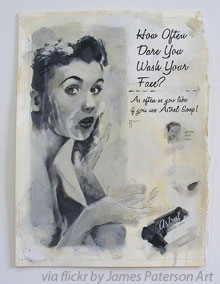 To freshen your face, you'll need to scrub off the layers of dry and damaged skin protecting you from winter's wrath. It's easy to think lip balm is the only answer for your pout, but forgetting to scrub our lips results in the formation of an undesirable white layer of dead cells. An effective way to prevent this is by using something like Lush Cosmetic's Mint Julips sugar scrub. It tastes great and leaves the first layer of your lips looking lovely. For the face that frames your smooth smile, try polishing up with StriVectin-SD Instant Retexturizing Scrub. This scrub has a peppermint scent and was named Best of Beauty 2011 and an Editor's favorite by Allure.
Once you're scrubbed down to your beauty base, preserve your glow with a well-chosen moisturizer. For your lips, look for natural products (since you're bound to end up tasting some) like Burt's Bees' ever-popular beeswax lip balm, Palmer's lip butter with vitamin E, dark chocolate and peppermint, or check your local shops to see what you have near home. One of my favorite places is The Soap Kitchen in Pasadena, CA.
Now any woman knows that choosing a moisturizer for your face, is a little trickier than selecting a lip balm. With different skin needs, it's hard to make the right choice. Try a questionnaire that recommends a few choices for you like Oprah.com's What's the Right Moisturizer for You? Or for tips on how to choose, try the Daily Glow's article on choosing the right face cream.
Carry On - Hands & Feet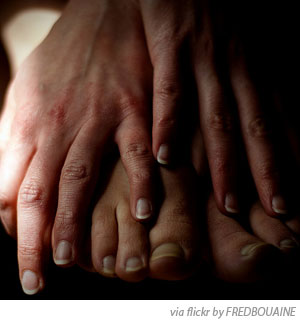 You may have hidden your hands and feet in gloves and boots, but it's time to take them out and really look at them. If you see drying, cracking, pealing or roughness anywhere, you need to act. The first step is to file any rough skin on the bottoms of your feet. Try a foot file that has two grain options like the Swedish Clover Foot File. Expert Village has created a video on the proper technique for using a foot file if you need a few tips. Next you'll want to clip and file your finger and toenails. Remember to clip toenails straight across to prevent ingrowns.
Once your nails are in shape, give them back what they've lost with OPI's Avoplex Nail and Cuticle Replenishing Oil. This is a great product for dry nail beds and ladies with brittle nails. For the ultimate product in nail care, you'll want to look no further than Nail Tek. Their clear polishes go great solo or with your favorite color and come in targeted formulas for healthy nails, soft nails that peel, dry nails that are brittle, and even difficult and resistant nails. Finish with a replenishing natural cream that will soak into your fresh skin like Yu-Be's Moisturizing Skin Cream, winner of Sephora's natural seal.
All Aboard the Body's Largest Organ - Your Skin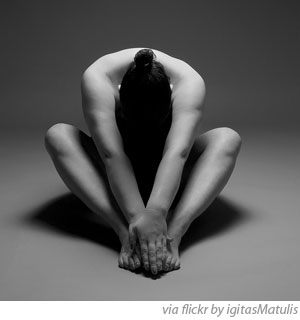 I know you've been hiding it. Thinking it's fine to skip moisturizing your legs today, you're wearing pants! But the fact is, just because you've hidden it under your keep-warm layers, doesn't mean you can continue to ignore your skin. It protects your body and it's your duty to pamper it. For polishing up and scrubbing down, choose an award winning scrub like Lisa Hoffman Spa Shower Body Scrub that's earned accolades from Allure, Lucky and pulled rank as Best Body Scrub by Bestcovery.com. You could also choose a salt scrub like The Body Shop's Shea Body Scrub with soy oil, rich in essential fatty acids or Bath & Body Works' relaxing Eucalyptus Spearmint Sugar Scrub.
One of my favorite ways to slough off my winter dry skin coat (yeah, you can have one of those) is with exfoliating gloves. Slip them on in the shower and rinse away a few skin cells along with the stress of your day. Remember to use soaps that add moisture to your skin, rather than leech from it, like Crabtree and Evelyn's Triple-Milled Soap with Shea Butter. After showering, use your favorite body lotion to keep skin from drying out. One ingredient to be mindful of is mineral oil. It works great as an inexpensive beauty base, but creates an impenetrable layer on your skin. For evidence, allow a graham cracker to soak in mineral oil for 15 minutes and watch as it hardens instead of turning to mush. If you're looking to try something different, try a spray oil like Tahitian Monoi Dry Oil to give skin the moisture it needs without the mess.
Where you choose to take your winter beauty retreat is up to you, but taking one is a must. Not only so your skin looks great for summer, but so that it feels great even under layered sweaters and fleece or flannel pajama bottoms. So take the time to relax your mind and pamper your body before the spring flowers bloom. If nothing else, it's a mini retreat that you can take over and over again while you're saving for a summer vacation.