When I was 27, I discovered that I was 8 ½ months pregnant.
At the time, I lived in Dar es Salaam, Tanzania. I'd been living there for a year with my fiancé, whom I'd met when we were both teaching in a rural village. We fell in love and eventually moved to the city together to begin the visa process so we could live in the United States. One week before his interview, we discovered the pregnancy.
I'd been ill, off and on, for months. I'd been temporarily hospitalized with a vicious bacterial infection. I'd been repeatedly tested for malaria and all sorts of bugs. One doctor told me I had swollen tonsils (I decided not to tell him I'd had my tonsils removed years ago). I'd given so many urine and fecal samples that it stopped being embarrassing to carry a bag of my own poop on a rickshaw.
Until one day my normal doctor wasn't in, so a bony German doctor with a long ponytail saw me. She looked at my chart and frowned. I knew the feeling; I'd been googling my symptoms on WebMD for months and it never gave me hopeful results. She asked me a few questions, and when she discovered my partner was a Tanzanian she clucked at me. "You can't trust them, you know," she warned me severely. "He's only using you for a visa." I was so gobsmacked at the error and inappropriateness of her statement that my eyes welled with tears. She took it as encouragement to continue, and by the time she was handing me yet another cup to pee in, she'd told me that this was the time to leave him, before the visa interview.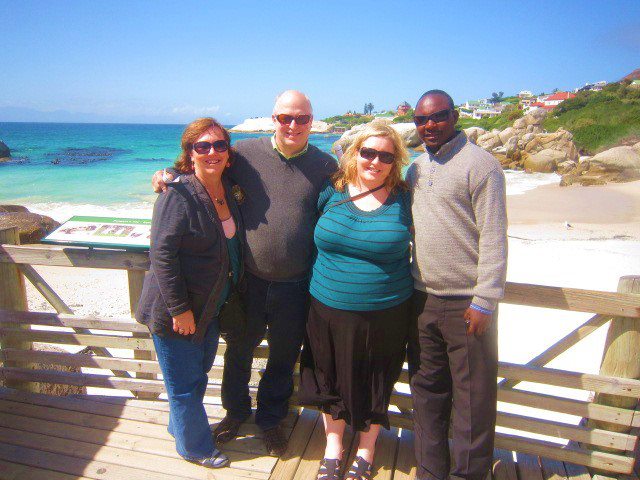 My family visiting Cape Town when I was about 7 months (unknowingly) pregnant.
I barely thought about the urine sample, or any possible results, when I handed it to the nurse and then, a few moments later, was ushered back into the room. The doctor sat on a stool and sighed. "You're pregnant," she announced, and I could tell she thought she was delivering terrible news. I was shocked to be sure. "Wait, but I've given at least ten urine samples in the last few months," I told her, "and they didn't... I mean, no one said anything about... pregnancy?"
She looked at my chart. "You weren't tested for pregnancy before," she said. And all of a sudden, my American naivety came crashing down. I stammered an excuse, of how if a woman of childbearing age complains of stomach problems in the U.S., she's automatically tested and... I'd just assumed that's the way it was here, too.
The ultrasound didn't tell us the gender, but it did stun us into silence when the doctor told us that I was likely about 34 weeks pregnant. All of a sudden my quickly-composed plans to deliver at home in the United States evaporated. On the plus side, my fiancé took the sonogram to his visa interview, and walked away with an American visa.
I delivered Grace via C-section at the AMI Hospital in Dar es Salaam, where a rooster crowed outside my window, which also held a view of a beautifully blooming jacaranda and, in the distance, the Indian Ocean. My blood pressure had shot up and I called my mom. "The doctor here doesn't seem worried," I said. "Deliver today," my mom ordered as she frantically searched online for tickets to Tanzania. "That's how pre-eclampsia begins." I didn't have time to be frustrated or scared at delivering in a foreign country away from my entire family. All of a sudden I cared so deeply for this little child, who, two weeks ago, I hadn't known existed.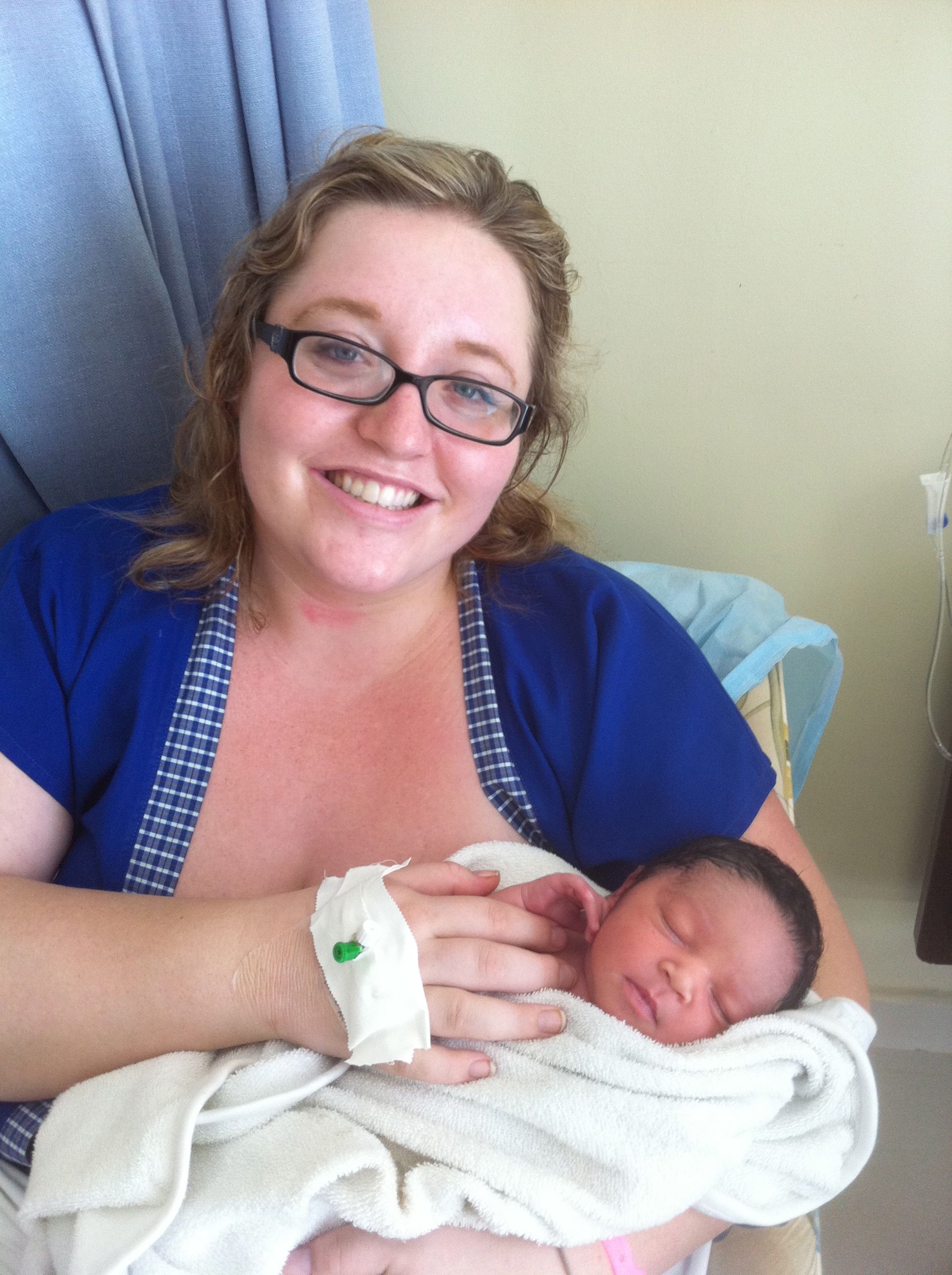 Me holding my daughter the day she was born (exhausted and in love!).
I don't always tell people that I didn't know I was pregnant. Although I'll never forget the surprise, I often wonder, "Why didn't I know?" I think back to the missed periods, which I dismissed after no one commented on my first urine sample, since my periods have never been regular and tend to go missing when I'm sick or stressed. I think back to the weight gain, which I had supposed was from lack of exercise in a new environment, as my weight tends to fluctuate around my midsection. I could excuse all the signs, really, which I missed while trying to adjust to a new country, the visa process, traveling, and a new fiancé, not to mention sometimes-crushing homesickness. My parents even visited my fiancé and me when I was seven months along, and had no idea.
I suppose it was the burden of being a foreigner in a foreign land. One Tanzanian doctor laughed at me and said she saw women in my situation all the time, but usually they were not American. I spent hours online, guiltily trying to assure myself that I wasn't alone in my ignorance, and was surprised to find many other mothers like myself. In any case, when Grace was one week old, she had her passport photo taken, and then a meeting at the embassy. Two weeks later, the three of us finally, finally made it to the United States.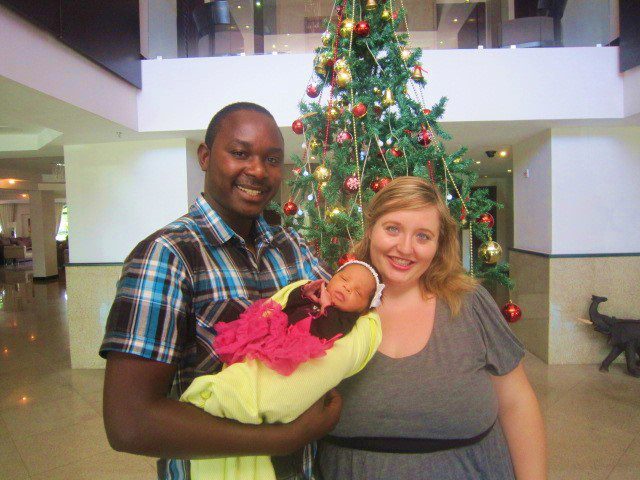 My husband, daughter and me in Dar es Salaam at Christmas time,
when she was only 10 days old.