I'm certainly no great chef. For a long time my specialty (because it was the only thing I knew how to make) was pancakes from a box mix. My mom hoped I would work in a restaurant after I left home so I could at least get a good meal once in a while.
But I could no longer avoid the kitchen once I became a vegetarian and then a vegan. My college town didn't have many vegan offerings besides Chinese food, and you can only eat General Tso's tofu so many nights in a row. So I had to figure out how to cook. "Great Chefs Cook Vegan" takes the cooking skills I'm still trying to grasp to a whole new level.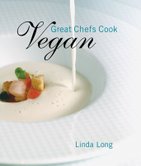 Compiled by photographer, writer and longtime vegan Linda Long, "Great Chefs" challenges award-winning non-veg chefs to create three- or four-course vegan meals. The resulting cookbook, which would be just as at home on a coffee table as a kitchen counter, is over 200 pages of vivid photographs, detailed ingredients lists and even a glossary for those of us who have never heard of carrageenan (it's made from a dried red algae and when softened in water, it will form a jelly).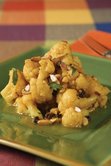 Even though I was intimidated by some of the dishes (what is wakame and where do I buy it?) I chose two recipes to test. First was Cat Cora's Curried Cauliflower with Currants and Pine Nuts, chosen because I had most of the ingredients in my kitchen already. Served cold and topped with an oil and vinegar dressing, this is a dish I felt confident making, and it is something I would make again.
Then I kicked things up a notch with Jason Cunningham's Stuffed Baby Bell Peppers with Sunflower Seed Risotto, and Fava Bean and Carrot Purees. The recipes in "Great Chefs" come with instructions for how to "plate" each dish so that it looks just as lovely at it would if a waiter were bringing it to you on a square-shaped plate in a dimly lit restaurant. However, since I was serving it on a Corelle plate in my kitchen, I cut some corners on the aesthetic stuff and didn't make the purees.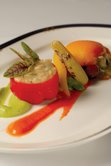 In the instructions for roasting the peppers, Cunningham warns you to make extra "in case there is a tear." Five out of my six peppers tore when I peeled off their charred skin. But I persevered, toasting the arborio rice on the stove and gradually adding the (store bought) vegetable stock until the rice had become tender and creamy. It's such a good feeling when food turns out the way it's supposed to, especially when you have five skinless bell peppers languishing on the counter next to you. The final product wasn't stuffed peppers with risotto so much as squashed peppers underneath a pile of risotto.
Although some of the chefs used tofu, there was no seitan or tempeh to be found in "Great Chefs." Instead there is an emphasis on vegetables, grains and mushrooms, the go-to ingredient for non-veg chefs cooking for a vegan. The recipes in this beautiful book are labor intensive and not for Tuesday nights after work. They are better suited for an adventurous cook preparing for a dinner party, especially if the cook has time to go to a gourmet market to find some carrageenan and wakame.