For the past two months, a photo of a Lakota man has greeted me daily when I open my computer. The man stands alone in a black cowboy hat, holding a drum. Isolated against a line of bare trees, he looks into the distance, a slight, defiant tilt to his chin.

I've never met this man, and I never will. His name is Ray Takes War Bonnet. Ray passed away this past September on Pine Ridge Reservation, leaving behind a long list of survivors, including five children, nine grandchildren, and his wife, Delores. Ray's ancestral line leads back to Supreme Chief Sitting Bull, and Delores traces her lineage to legendary Lakota war hero Crazy Horse--dominant figures during the Lakota resistance to U.S. government policies during the late-1800s.

Before Ray died of a heart attack at age 57, he told his wife, "You have a book in you. You need to get it out." Delores, 58, is the reason I look at Ray's photo everyday. In April, I made the 14-hour drive from Chicago to Delores' home on Pine Ridge.
Located in western South Dakota, 120 miles from Rapid City, Pine Ridge is about the size of Connecticut--2.7 million acres--and home to nearly 40,000 people. Flash statistics are staggering: 80 percent unemployment, life expectancy of age 48, and median income of $3,000 a year. As the Los Angeles Times recently reported, alcoholism is a continuous issue, bringing the tribe to "a breaking point." Fetal alcohol syndrome affects 25 percent of youths, and 75 percent of adults suffer from alcoholism, the article reports.
I went to Pine Ridge as a writer. Chicago chiropractor Tom Voitas, who travels to Pine Ridge to study Lakota spirituality, considered Ray a close friend and mentor, having participated in spiritual ceremonies with him over the past decade. Tom knew me as a reporter who had called him two years ago wanting to write a story about his work on Pine Ridge. In the wake of Ray's death, knowing what Ray had told Delores, Tom thought of me.

In April, I made my first trip to Pine Ridge, entering with caution. My caution was due to the fact that for centuries Caucasian anthropologists, journalists, and photographers have attempted to tell indigenous stories. The difference, I reminded myself, was that I had been invited. I planned to approach Delores' story through just as neutral a lens as I would any other. I am human; she is human, I told myself. Still, I was still nervous to meet the woman who would be re-living her life for me.
Delores and I would meet in the dining room at the Lakota Prairie Ranch Resort. As I waited for her, community leader Ed Young Man Afraid of His Horses offered some background to Lakota culture, acknowledging that Delores was nervous, too. I would have to adjust to her way of speaking, to the Lakota way of speaking in general. Lakota is a layered language, with one word encompassing different meanings and histories. To translate that into concrete English requires not only a structural reorganization, but a conceptual one. It takes time.

The Lakota people also tend to be a reserved, quiet, and thoughtful culture that considers direct eye contact rude. They rely on all senses to experience the world, Ed explained. "We taste with our eyes. We smell with our ears," he gestured toward the table condiments as example, saying that by truly looking at them, he knew how they tasted.

Then, he nodded toward the door. "Here she is."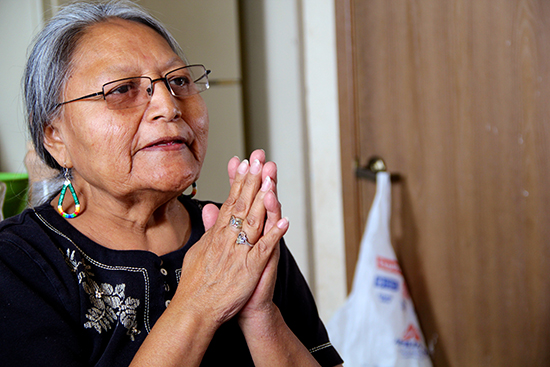 I turned to see two young women pushing a petite woman in a wheelchair. I went to them immediately. "Delores. I'm Katie. It's wonderful to meet you," I said, bending to hug her. As apprehensive as I had been leading up to this moment, to finally see her eased my fears of the unknown. She wore glasses, bright green earrings, and had pulled her gray hair back from her face.

Delores spoke so softly that I had to lean in close to hear. She introduced her daughters Bethel and Loretta. They were my age, and Delores was my parents' age. Though we came from very different worlds, this offered some perspective. Over breakfast, we set plans for our first interview back at Delores' home, a yellow house overlooking an uninterrupted landscape of rugged hills.

As we sat down to her kitchen table, I asked the question that had brought us together. "Why do you think Ray said that to you, that you have a book in you?" Two of Delores' grandchildren peeked out from behind a chair next to her, watching me, unblinking.

Delores shook her head. "I think he said that," she paused, "because I've been through so much." She looked from me to the table, and smiled a sad smile, her eyes moist.
This would be a journey for both of us.