Five of Colorado's best chefs led a stampede of heritage pigs straight into the Four Seasons Resort Vail on Sunday for the ultimate culinary competition that is Cochon 555.
It's a one-of-a-kind traveling culinary circus where heritage breed pigs take center ring. While Cochon 555 marked its fifth anniversary in January at the start of the 2013 tour, the number five is always the theme. In each of the ten stops across cities like New York, Los Angeles, Atlanta and Washington D.C., five chefs, five pigs and five wineries are showcased for hundreds of food-obsessed guests. And as for "cochon," it means "pig" in French.
Lon Symensma of Denver's ChoLon, Jason Harrison of Vail's Flame Restaurant, Alex Seidel of Denver's Fruition Restaurant, Hosea Rosenberg of Boulder's Blackbelly Catering and Kelly Liken of Vail's Restaurant Kelly Liken went snout-to-snout using an entire pig supplied by the locally based meat company, Tender Belly.
Above and beyond general gluttony, Cochon 555 does in fact have a purpose. Founder Brady Lowe's goal with the tour is to support responsible family farming and educate communities about the benefits of using and eating heritage breed hogs. Since its inception in 2009, Cochon 555 has donated over $500,000 to charities and local, sustainable farmers nationwide.
While the crowd worked their way through the competing chef stations, Bill Greenwood, chef of Beano's Cabin showed his lifelong love of pig during a live butcher demonstration. Other options to cleanse the pork palate were a caviar bar, freshly shucked oysters, gourmet cheese tables and a tartare bar. A panel of judges, which also factors in guest votes, selects the winning chef at each event who then competes for the coveted title of "Prince or Princess of Porc" at the Grand Cochon during the Food & Wine Classic in Aspen. While all of the chefs worked miracles with their meat, chef Jason Harrison and his team from Flame Restaurant took home the crown and will represent Colorado well come June.
His restaurant may be in the Four Seasons, but home-field advantage wasn't at all a factor. Harrison's menu was really that good: pork rillette with lardo brioche; crackling pea soup with smoked trotter broth and ribs; porchetta belly with Carolina truffle BBQ, pork jus and lardo whipped potatoes; black pepper char siu bao of lard dough filled with shoulder, butt and confit jelly; "The Nasty Bits" of head croquette, pastramie tongue, deviled kidney and brain terrine; and S'mores with bacon graham cracker, lardo fudge, candied belly, pecans, rind marshmallow.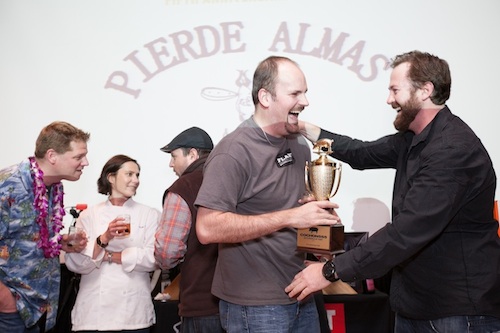 Winning chef Jason Harrison & Cochon 555 founder Brady Lowe (photo courtesy of Galdones Photography/Cochon 555)
Other highlights: Hosea Rosenberg's "Smoking Cajun" a deep cup filled with tobacco smoked loin, smoked hock collards and grits topped with Andouille gravy; Alex Seidel's luau-themed menu including pork shoulder shui mai and kalua roasted pork shank; Lon Symensma's spin on the Cracker Jack using bacon caramel pork rinds and peanuts served up in mini red boxes; and Kelly Liken's Eastern Carolina BBQ with smoked head and tasso-studded hush puppies.
The never-ending spread was paired with varieties from small family-owned wineries Antica Antinori, Jordan, K Vintners, Robert Kacher and Stags Leap. To celebrate five years, Cochon 555 also added five bourbons to the lineup from the barrels of Templeton Rye, Breckenridge Bourbon, High West, Buffalo Trace and Four Roses. The "Perfect Manhattan Bar" showcasing Hudson Whiskey, Eagle Rare, Luxardo and Camparo Antica successfully sent guests well over the edge of consumption.
Luckily, there's a three-month break for the Colorado crowd until Cochon returns. To keep up with the tour and purchase tickets for the Grand Cochon in Aspen (June 16) visit: www.cochon555.com.
*Note: The slideshow below is NSFV (not safe for vegetarians).
PHOTO GALLERY
A Taste of Cochon 555 Vail