When you think meatballs, don't just think Italian. Ground meat is a ridiculously versatile blank canvas for so many kinds of dishes, so many different seasonings. These take on typically Chinese seasonings, and are poached instead of sauteed or baked, resulting in meatballs that are very reminiscent of the inside of a steamed or boiled dumpling, just without the wrapper (and therefore much less labor intensive).
The super simple version has a delicate taste from a judicious amount of ginger, garlic, and soy sauce, and then the ramped up fork in the road version has even more flavor from additional ginger, optional five spice powder, and scallions, which also add pretty color. You can cook them all together in the broth, since you'll be able to tell which is which from the green flecks after they are cooked.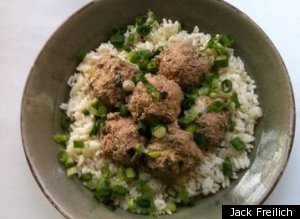 2 pounds meatloaf or meatball mix (a blend of ground beef, pork, and veal, and occasionally lamb, too; see Note)
2 tablespoons peeled and minced grated ginger, divided
1 teaspoon finely minced garlic
2 tablespoons soy sauce
1 tablespoon dry sherry
Kosher salt to taste
1 teaspoon freshly ground pepper
2 large eggs
1 tablespoon canola or vegetable oil
1/4 teaspoon five spice powder (optional)
1/2 cup chopped scallions (white part and 3 inches of greed), plus more for garnish
4 cups beef or chicken broth, preferably homemade
Hot cooked rice to serve
1. In a large bowl, using your hands, mix together the ground meat, 1 tablespoon of the ginger, the garlic, soy sauce, sherry, salt, pepper, eggs and oil, until well blended. Form half of the mixture into generous 1-inch meatballs using wet hands to prevent sticking, and place them on a wet plate.
2. Add the remaining tablespoon of ginger, five spice powder (if using), and scallions, and combine well, using your hands. Form the rest of the mixture into generous 1-inch meatballs.
3. In a large saucepan heat the broth over medium-high heat until it simmers. Add all of the meatballs to the broth, cover, and simmer, without lifting the lid, until cooked through, about 30 minutes. Listen to make sure the broth is at a gentle steady simmer, but not a full boil, adjusting the heat as necessary.
4. Place the hot rice in a serving bowl and use a slotted spoon to life the meatballs from the broth and serve over the rice, separating the ones with scallions to one side (or use two smaller serving plates). You can ladle on some of the broth, if desired, and sprinkle some or all with additional chopped scallions.
Note: Meatloaf or meatball mix are sometimes available packaged in the meat area of your supermarket, but if possible buy it from a butcher, who will have ground it freshly at the store.