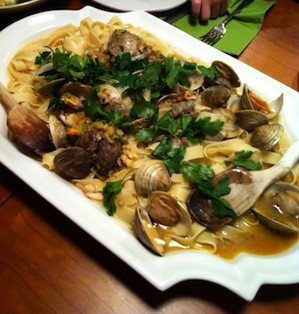 This is a stupidly clammy sauce, so full of clams, it should really be called clams with pasta. It's the monster truck rally of clam sauces. The clams in the shell are beautiful and whole and delicious, but the sauce is riddled with plump morsels of chopped clams, so every bite of pasta is filled with clams, not just the forkfuls that are accompanied by a whole clam from the shell. And the sauce is rich with simmered garlic, bright with white wine and vibrant with red pepper flakes and parsley. More red pepper flakes are welcome, either in the sauce itself, or passed at the table for those who like it hotter.
3 pounds littleneck clams
2 tablespoons cornmeal
¼ cup extra-virgin olive oil
4 teaspoons minced garlic
1 pound dried fettuccine or linguine
1 cup dry white wine
1 ½ cups chicken broth or stock (the richer the better)
1 pound chopped fresh clams
½ cup roughly chopped fresh parsley leaves, plus more to garnish
¼ teaspoon red pepper flakes, to taste
Kosher salt and freshly ground pepper, to taste
Scrub the clams. Fill a very large bowl full of cold water, and add a generous tablespoon of salt and the cornmeal. Soak the clams in the water at room temperature for one hour, or overnight in the refrigerator. Rinse them well in a colander under cold running water. Discard any that are open.
In a large skillet, heat the olive oil over medium-low heat. Add the garlic and cook, stirring frequently, for 10 minutes, until the garlic is soft and a very light golden color; do not allow the garlic to brown. Stir in the red pepper flakes, salt and pepper.
Meanwhile, bring a large pot of water to a boil. Add salt, and cook the pasta according to package directions. You'll want to cook it until just al dente, and then it will finish cooking in the sauce.
Raise the heat under the garlic oil to medium-high. Add the white wine, and the clams in the shell. Cover, bring to a simmer and after about five minutes, as the clams open, remove them with tongs to a side bowl and reserve them (this may happen over the course of several minutes; discard any that stay closed). Add the chicken broth or stock to the pot and bring to a simmer. Allow to simmer and reduce a bit, for about five minutes.
When the pasta is just al dente, drain it and add it to the simmering broth mixture, along with the chopped clams and parsley. Simmer, stirring frequently, for about 3 minutes, until the pasta is cooked to your liking, absorbs the flavors of the sauce and the clams are cooked. Pour into a serving bowl and top with the cooked clams in the shell. Sprinkle on additional parsley if desired.