I got a little touch of Thankgiving fever last week, and because I am not making the turkey this year, I felt compelled to make a pre-Thanksgiving bird. But not the whole bird, just the breast, which seemed a bit more manageable and less insane than roasting a whole bird just days before Thanksgiving. I'm also developing a recipe for brussels sprouts for Sam's Club. So, last Sunday, we had a having a weird dry run for Thanksgiving while everyone watched the Patriots game. Practice makes perfect.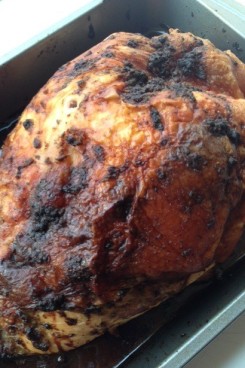 1 6-pound pound turkey breast
Zest from one lemon
1 shallot
2 cloves garlic
3 tablespoons extra-virgin olive oil
1 teaspoon kosher salt
1/2 teaspoon freshly ground pepper
1 teaspoon dried thyme
1. Preheat the oven to 350° F. Rinse and dry the turkey breast. Oil a roasting pan.
2. In a small food processor, combine the lemon zest, shallot, garlic, olive oil, salt, pepper and thyme. Blend until it becomes a paste.
3. Loosen the skin from the turkey breast, and using your hand rub the paste over and under the skin, covering the breast completely.
4. Place the turkey breast in the roasting pan and roast for about 2 1/2 hours until nicely browned, and a meat thermometer shows an internal temperature of 170 °F. Let sit for 15 minutes for the juices to redistribute before slicing.