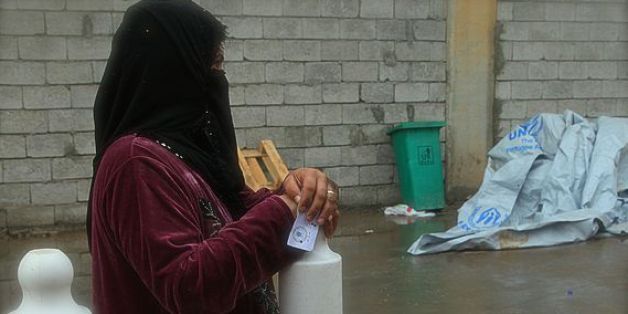 Photo by Rewan Kakil for UNFPA
Ameerah makes the long, arduous walk at night to use the restroom very carefully. In the Iraqi refugee camp she is forced to call home, this shared, public toilet is far from her tent, and it is not safe for her to move around alone. I imagine her slow, cautious steps this late in her pregnancy, and the soreness of her hips with each movement. I picture her supporting her growing belly by leaning back, the same way I walk to the bathroom each night -- several times per evening -- with my own growing belly.
"My baby is coming to an unknown destiny," the 25-year-old told a translator and aid worker last week, responding to questions I had sent her, via email. "I'm worried and scared. Worried about the future and how my baby will be born."
Worried, because at 9-months pregnant, her baby is coming soon.
Like Ameerah, I am also 9 months pregnant. But her story and my own could not be more different.
Ameerah was forced to flee her home in Mosul, Iraq, one harrowing morning at 3 a.m. following word of an ISIS threat. She ran, then seven-months pregnant, with her husband and four children, one of whom is disabled. They fled from Mosul, now an ISIS stronghold, to Khazar, and from Khazar to the camp in Erbil they now live in.
They could take only the clothing on their backs that fateful morning. "It was horrible," she said.
According to the United Nations Population Fund (UNFPA), an agency that promotes human rights for women and children and provides care to pregnant women in areas of conflict, the number of displaced Iraqis fleeing the threat of ISIS now tops 1.8 million. Of these, an estimated 72,000 are pregnant women like Ameerah. In Baharka, the camp in which she lives with her family, there are 3,500 displaced persons -- 110 are pregnant women, who, just like me, need prenatal care and emotional support as they prepare for the magnitude of childbirth.
In recent weeks, I've packed my hospital bag and read up on how to install my car seat (I'll be a first-time mom), along with articles on sleep training and optimal foods for breastfeeding. I enjoy prenatal care which now includes a weekly visit to my Harvard-affiliated obstetrician, along with prenatal yoga. With less than two weeks to go, I think about the baby I will soon be welcoming home. I worry about the pain of labor and delivery, even though I know I will be in the best possible hands in the Boston hospital where I will deliver.
Like Ameerah, I hope for nothing more than the health of my baby. Having suffered the pains of miscarriage before, I cherish each kick and each check-up, and hold my breath at every ultrasound until I hear the words "your baby is healthy."
But half a world away, women like Ameerah suffer through untold hells while preparing for their own childbirth. They endure all of my worries and experiences, while trying to save the lives of their families and unborn children. They suffer the traumas of war and homelessness and terror alongside pregnancy pains and hormonal extremes and the devastation of pregnancy loss. And they live under the threat of ISIS.
Ameerah's baby will be born "in refuge," she said. She will experience her baby's first smiles under the tent she now shares with her family. She will tend to her painful postpartum care by using the shared public toilet she must walk to. And, the season has grown colder.
"Winter is also already here and I have no clothing for my newborn," she said.
With this in mind, I stare at the closet that houses the clothing and gifts I've received in preparation for my baby's soon arrival. "Too many fleece winter outfits," I think to myself, staring at the drawers divided by age and clothing type that I have meticulously organized in recent weeks. "Too many onesies. Too many burp cloths."
The only joy Ameerah can glean from these last two months is the wonder of begetting new life. But even here, she is torn.
"Bringing a new life to this world was always my greatest joy. But now, I am not happy. I feel sad that I'll bring a baby to suffer and not to live normally."
It's possible Ameerah and I will welcome our babies into this world on the same day. We don't know each other, but we might experience life's greatest miracle together, albeit a world apart.
But, it will be different. And when I finally meet my baby, I will be thinking of hers, too.