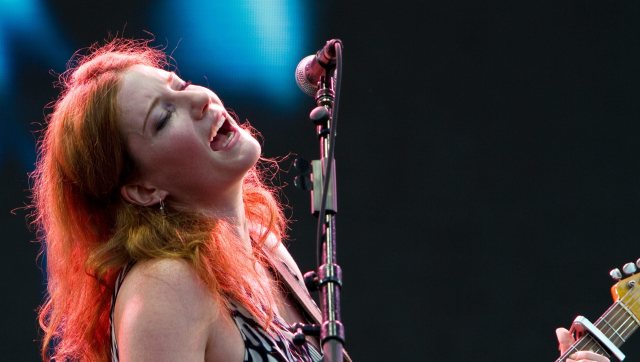 When I mention my childhood summers spent at the Southern Girls Rock 'n' Roll Camp (SGRRC) in Murfreesboro, Tennessee, people aren't exactly sure how to react. Usually they're just confused. "What exactly happens at a rock 'n' roll camp?"
Middle Tennessee State University student Kelley Anderson (now of Those Darlins) founded SGRRC in 2003 after attending the Rock 'n' Roll Camp For Girls in Portland, Oregon. Almost 10 years later, the camp is going strong each summer and has spawned multiple teen music programs in the Nashville area. I attended SGRRC from 2003 to 2006, three years as a camper and one as a counselor. While I haven't been back since moving away from my hometown, my memories of SGRRC remain some of the best from my teenhood.
SGRRC is a week long day camp for girls aged 10 to 17. Each day includes instrument instruction, workshops, panels, guest performances, and band practice. Campers form their own bands and perform in a showcase at the end of the week. No prior music experience is necessary. Girls show up on Monday morning having never picked up a guitar and by Saturday night, they've mastered a three-chord Ramones song.
I attended SGRRC with my high school friends. Each summer, we looked forward to camp week. Before it even started, we planned our bands and carefully chose a song to cover in the showcase. For one week we came together with like-minded individuals and expressed our love of music. Our camp counselors helped us to hone our instrument skills and introduced us to a myriad of new bands that we hadn't heard before. I was an outcast in high school but SGRRC gave me a place where I felt I could belong.
SGRRC's goal was simple: to empower young women both on and off the stage. Though it has progressed in recent years, the music industry is still very male dominated. SGRRC taught us that the girls rock just as hard as the boys. The counselors -- both male and female -- are incredibly supportive of the campers. I'll never forget watching the girls that I had coached perform at the 2006 camper showcase. I was beaming like a proud mother.
A typical day at SGRRC began with homeroom-style morning announcements. To get us pumped up for the day, the counselors led us in silly chants and sing-alongs of Bratmobile songs. We then separated for instrument instruction. Classes were offered in guitar, bass, drums, vocals, keyboards, and electronic music/DJing. We came together again for panels. The topics ranged from marketing our bands to touring. The SGRRC directors wanted us to learn not only how to play our instruments, but also the details of the music industry.
We looked forward to lunchtime as it gave us a chance to catch up with friends in different instrument classes. MTSU often hosted other summer camps during the same time as SGRRC so naturally, us rocker girls had to make our presence known in the cafeteria. We often broke out into Joan Jett's "I Love Rock 'n' Roll" and our camp chant: "Who are we?" Southern girls! "What do we want?" Rock 'n' roll! One year, Murfreesboro indie rock heroes the Features stopped by during a lunch break. We grabbed our cameras to take paparazzi-style photos of the hometown boys that had made it big.
After lunch, we attended workshops. Again, there were multiple options for campers to choose from: songwriting, screen-printing, recording, zine making, etc. When I came back to camp as a counselor, a friend and I hosted a music theory workshop. Our campers weren't exactly thrilled to learn the circle of fifths but hopefully we taught them something useful!
Our days always ended with band practice. On the first day of camp, we formed our bands and picked "band managers." The band managers were invaluable. They helped to diffuse any brewing band drama, taught us how to play our songs, and were our biggest cheerleaders. My friends and I chose outrageous band names and covered songs by artists like the Cure and Oasis.
At the end of the week, the entire camp came together for the showcase. Outfits were meticulously chosen. Parents and assorted family members filled the Tucker Theater at MTSU and cheered us on. As a camper, it was a chance to show off the new skills that I had acquired over the week. As a counselor, it was a chance to see just how far the campers had come. Girls came to camp having never touched a guitar or a pair of drumsticks and by Saturday night, they were playing a gig. It was incredibly impressive and I found myself in awe of what both the campers and counselors could accomplish.
My experiences at SGRRC shaped the person I am today. The counselors introduced me to DIY and indie culture. SGRRC empowered me as both a female and a musician. When I moved to Boston to attend Emerson College in fall 2006, I was comfortable in my music geek skin. I still am.
Rock 'n' roll camps for girls have popped up all over the country. I strongly encourage any parents, grandparents, aunts, uncles, or whoever to enroll the music-loving young ladies in their lives in these camps. Not only do these camps teach girls a performing art (yes, three chord punk songs are still art!), they instill self-confidence.