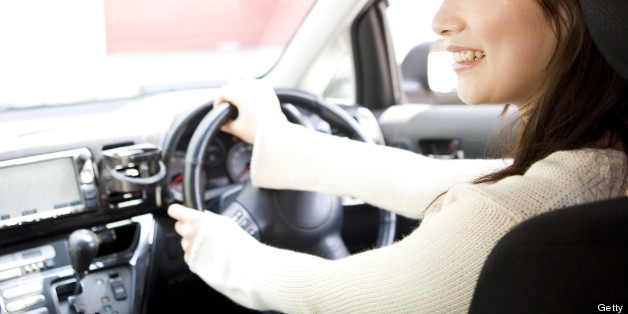 I've been driving the same car since I was 16. As I am now in my mid-twenties, I realize this is quite a feat. My car is almost as old as I am but my mechanic grandfather taught me how to treat her well. Sure she doesn't look as pristine as she once did, but she still runs like a dream.
When I turned 15, I weirdly initially had no interest in learning how to drive. Perhaps I just didn't feel ready. Eventually, I warmed up to the idea and my mom administered my first driving lesson before declaring that it was too stressful. The task of teaching me to drive was passed to my dad. A calm and levelheaded former Marine, he was a great driving instructor. I'm still in shock that he let his 15-year-old behind the wheel of his prized car but once I felt confident enough to begin driving, I picked up the skill with ease.
My dad was the one that found the car that would become mine. Though it was more than 10 years old, it had low mileage and few previous owners. I eagerly took my driving test on my 16th birthday and embraced the freedom that came with having mobility. My car was truly my haven. Though my high school experience wasn't the best, I enjoyed the 45-minute drive to and from school each day. It was just me, a lonely Tennessee highway, my extensive CD collection and my car. Artists like the Smiths and Black Rebel Motorcycle Club were regular players on my stereo.
I moved away from home at 18 to attend college in Boston, somewhere that I knew I wouldn't need my car. I swiftly learned to navigate the MBTA. But whenever I went to visit my parents, my car was still there. She got a great workout on those trips as I drove all over middle Tennessee visiting my high school friends that were also home from their respective colleges. It was exciting to play the mix CDs that I made in Boston in my trusty car.
I lived in Boston for five years. My parents adopted the car as their own. Then I moved to San Francisco. After six months of riding MUNI and hating every second of it, I brought my car to California. Included in my rent was a dedicated parking garage that went unused. I had used Zipcar for shopping trips and the like, but my car always felt more comfortable than an unfamiliar rental. Having my car in San Francisco allowed me to explore the city and its surrounding areas even further. My car handled the city's steep hills surprisingly well and I soon mastered the art of parallel parking.
Last week, some bastard broke into my car while it was parked in the garage (which admittedly opens up to the street). This person broke the lock on the driver's side door to gain entry and quickly went to work trying to remove the radio.
I felt violated. Sure, this is San Francisco. Almost every car owner here has experienced at least one break-in. For this reason, I don't keep anything of value in my car. I had always feared for my poor car's safety when I parked it in the city's sketchier neighborhoods. Once after a night singing with friends in a private karaoke room downtown, I was nearly car jacked at a red light on Eddy Street. I knew the likelihood of something happening to my car was high but I naively thought it would be safe in the garage in my "nice" neighborhood.
Who knows who broke into my car? Their motive was clearly the stereo and I am glad they were unable to lift it. From what I could surmise, they were probably spooked and ran away from the car quickly -- the driver's side door was left ajar so I had to pony up $120 for a new battery as the dashboard lights had drained it.
My mind reeled in the wake of the break-in. I felt violated and unsafe in my own home. After a friendly mechanic from AAA replaced my battery, I went downtown to meet friends. I didn't want to be at home because suddenly, home no longer felt secure. Driving my car was odd. I felt a bit scared -- what if the thief had stolen a part from under the hood and neither the mechanic or I noticed? Someone had been in my car uninvited. The car that I had driven since age 16 no longer felt like mine. The thief had left the only CD in my car at the time, Lush's Gala, so I drove to the Cat Club hoping that Lush would soothe me. It didn't really work. By the time I finally met my friends at the club, I was shaking.
I know I'm not the only one that has felt this way after a vehicle break-in. When I Googled "car broken into," Google immediately suggested "car broken into feel violated." The thief was unable to lift the radio in my car so he or she made off with nothing. It was both a relief and unsettling -- what if the thief copied the information from my proof of insurance card in the glove box? Will my identity be stolen? What about the VIN? Will the thief come back? My thief seemed to be in a rush so I should quell these fears but if you're reading this after experiencing your own break in, it's smart to look for little things that might be missing.
Eventually, my nerves will settle and my old car will feel like a safe haven once again. She and I are due to be parted again -- she'll go back to Tennessee while I move back to Boston for a new job. Though she's been bruised, she'll be able to join me on some last-minute day trips around the Bay Area: my favorite record store in the East Bay, the gorgeous drive along Highway 1, a jaunt to Santa Cruz...
For many of us, our cars become an extension of our homes. We develop emotional attachments to these automobiles. In my case, this is my first car and she's seen me through a lot. Additionally, she was the last car that my grandfather worked on before his sudden passing in November 2012. A break-in is deeply unsettling and turns a safe place into a scary, unfamiliar one.