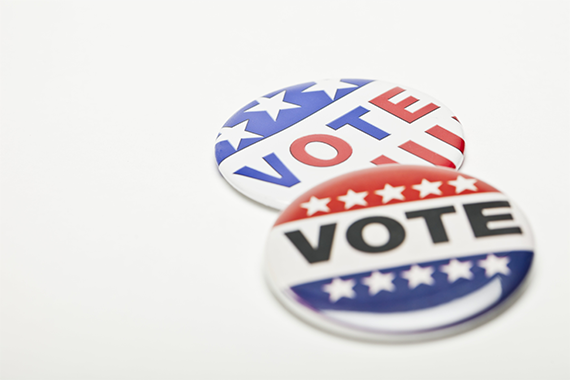 It might at first seem that a bank would have little in common with a youth-focused get-out-the-vote organization. But this month, our organizations -- Amalgamated Bank and Rock the Vote -- are joining together to encourage New Yorkers to register to vote and go to the polls this November. Why? Because while our day-to-day work is very different, we share a common vision: We are committed to improving the lives of every citizen, and one of the most effective ways to do that is to work to ensure everyone gets the chance to vote.
Getting out the vote is especially important now because fewer Americans are going to the polls than in the past. In 1840, over 80 percent of the U.S.' voting age population voted in the Presidential election. In 2008, only 57.5 percent did. And that's about as good as it gets these days: Last week, only 16.6 percent of voters in Boston turned out for their primary elections, and fewer than 10 percent of Democrats in New York City voted in their gubernatorial primary, to cite a couple recent examples, among many. In the last few years, there have also been efforts across the country to make it harder for some people to vote. These efforts are driven by politicians who calculate that they will be more successful if fewer people weigh in -- a shameful tactic that we need to combat.
Low voter participation opens the door for elected officials to feel less accountable to the public and, often, more beholden to the special interests that support them. Whether you are on the left or the right, you have to agree that that's bad for everybody.
We can do better. In 2012, Quartz found that 58 countries had better voter participation than the U.S. Democracy simply doesn't work as well when lots of people are on the sidelines, and there's no reason why voters in countries across the globe should be more engaged than we are here.
That's one reason why we're so excited that our organizations are working together to drive up voter registration in New York City. Starting this week, we're teaming up to make voter registration forms available to the public in all Amalgamated Bank New York City branches. We are also launching an advertising campaign to remind New Yorkers of the November 4 general elections, and are holding events with special guests to get people excited about voting. While this may be a little unusual for a bank, we think every person and organization can do their part to improve our democracy.
Other organizations are also doing great work to boost registration and turnout and aid voting rights in other ways. Groups like the League of Women Voters and the NAACP have fought back against the wave of challenges to voting rights that have surfaced in the last few years. The Brennan Center for Justice and Project Vote keep a close watch on changes to voting laws, and work to hold elected officials and judges accountable if voting rights are diminished. And organizations such as Vote Smart have created valuable online clearinghouses that provide extensive information about elections across the country.
Individuals can make a big difference as well, and this means you. Not sure where to start? There are many ways to help boost voter participation. You could volunteer with an organization that registers voters, like Rock the Vote. Interested in something a little more issue-focused or partisan? Help a candidate you support - regardless of the candidate, you'll be helping democracy at the same time. Or you could take the day off and help out at your local polling place or help people get to the polls. It doesn't matter how you vote, or how you get involved. It only matters that you do.